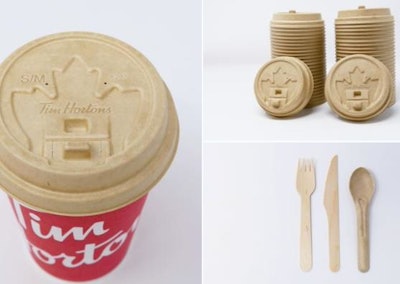 ThePackHub
Packaging continues to see a lot of change of materials driven largely by sustainability objectives. Plastic replacement is still top of the agenda for many brands and retailers as they look to switch out of the material to solutions that may offer a better environmental footprint, or at least be better received by anti-plastic focused consumers.
Learn more about ThePackHub's Innovation Zone here.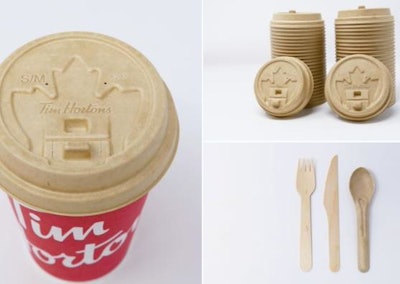 Tim Hortons Unveils New Compliant Packaging
Canadian restaurant chain Tim Hortons has unveiled changes to its cutlery, lids and sandwich wraps that will be in stores starting in early 2023. Tim Hortons' 4,000+ Canadian locations began the switch in January, replacing plastic cutlery and lids with wooden and fiber cutlery and fiber lids for its bowls and cups. The new items will eliminate the use of an estimated 90 million single-use plastics a year across Canada, the company said in a press release. The wooden cutlery is made with wood certified by the Forest Stewardship Council based on its sustainable forestry standards. The announcement came on December 20th, coinciding with the federal government's ban on the import and manufacturing for sale of single-use plastics. These include bans on plastic checkout bags, cutlery and food-service ware made from problematic plastics. The company also encourages its customers to use reusable mugs (and bowls) by offering a 10% discount.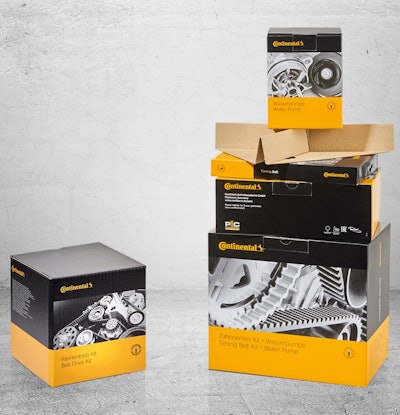 Automotive Parts Manufacturer Continental Reduces Packaging by 70%
German multinational automotive parts manufacturer Continental has moved its Timing Belt Kits with Water Pump packaging to a smaller, more sustainable format. The new packaging is 70% smaller than the previous incarnation. This is because previously, the kits (belts, water pumps, tension pulleys, etc.) were packed in individual boxes, which were then assembled in a large outer board box. Going forward, a specially folded board reinforcement will ensure that all components remain safe and secure in the box, even without individual packaging. The new format saves around half the amount of board used in the manufacture of boxes, which substantially reduces CO2 emissions. CO2 is also reduced during transport, as around 70% more kits will fit on a pallet. This means a reduction of 98 truck trips per year in terms of logistics, which calculates to 390 metric tons less CO2 annually.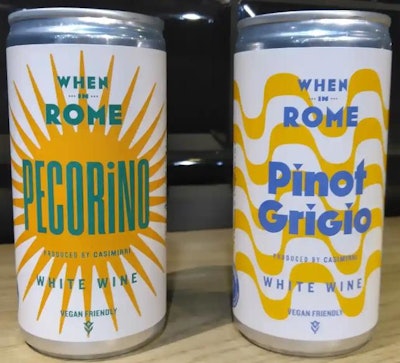 Supermarket Waitrose Moves to Aluminum Cans for Smaller Wine Bottles
British supermarket chain Waitrose has announced that it is moving most of its small wine bottles from glass to aluminum cans. The new cans will include a wide range of grape choices including whites, reds and rosés, and will be available in 187ml, 200ml and 250ml sizes. Due to appellation restrictions the move will not include varieties such as champagne, prosecco, cava and rioja. It is expected that the move to aluminum will save more than 300 metric tons of glass packaging, and will halve the carbon footprint per drink, because the recyclable cans require less energy to transport as they are lighter and take up less space than bottles. The supermarket planned to have moved to aluminum by the end of January 2022. It has been reported that drinks producers have been seeking alternative packaging because the price of glass has almost tripled since the pandemic.
Learn more about ThePackHub's Innovation Zone here.
Companies in this article