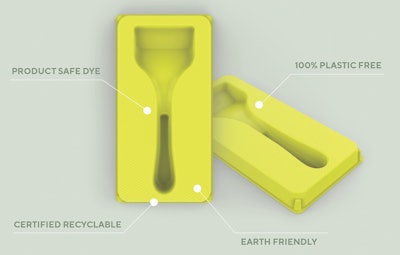 For its new GilletteLabs with Exfoliating Bar razor product, Procter & Gamble brand Gillette chose a recyclable, colored, plant-based inner tray from packaging supplier Footprint. As Footprint Vice President of Sales Solution Development Collin Euteneuer shares, when Gillette approached the company about designing a tray to hold the razor—a new concept that integrates an exfoliating bar into the razor's handle—it was looking for a solution that would eliminate petroleum-based plastics entirely, would be recyclable, and would align with Gillette's branding and style, including its brand colors. In the case of the GilletteLabs with Exfoliating Bar package, that color was a neon green Pantone.
---
---
Footprint is a materials science company that designs and develops plant-based fiber solutions for a range of applications, including frozen and shelf stable foods, fresh meats and produce, foodservice packaging, cups and lids, and non-food applications, among others. Among the materials used are bagasse, or sugar cane, bamboo, softwood, and hardwood, along with patented, proprietary barrier coatings that enhance functionality for an application. One somewhat recent example of Footprint's capabilities is a microwavable, fiber bowl for frozen Healthy Choice meals from ConAgra.
Until the Gillette tray, applications using Footprint's technology have been a kraft-like color or white. "This project was unique for Footprint in that it was the first dyed product [we] produced in high volume that required developing a wet-end process to support the color and achieve consistent color from part to part," explains Euteneuer. "It was critical that we develop a product-safe dye so that Gillette's branding style and color palette could be maintained.
"We also had to develop a technology to prevent fiber transfer to the product and create a coating solution that would prevent fiber transfer while also maintaining recyclability and the specific Pantone color of the tray."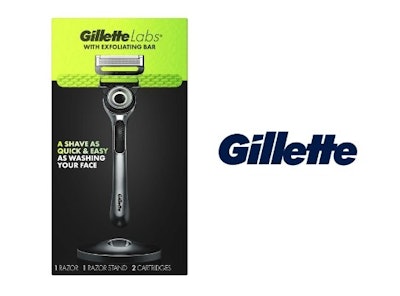 Euteneuer explains that it's critical when using dye in a molded fiber application to ensure it doesn't transfer to the product or the consumer's hands while at the same making sure it's environmentally safe. "This was a learning process for us because we've never launched a product-safe dye solution at this scale before," he says. "The packaging was built from the ground up and went through multiple iterations and experiments before we landed on our final product." The process, he notes, took approximately six months.
The tray is made from bamboo and bagasse, which Euteneuer says were chosen because the materials are local to the facility in Asia where the package is being manufactured. He adds that production engineering was customized to accommodate the manufacturing of the specialized fiber materials, maximizing line capability.
The new GilletteLabs with Exfoliating Bar product was introduced by P&G in early 2022, with the razor held in the inner tray that is housed in a plastic-free, recyclable paperboard carton.
The packaging for the new Gillette razor is not the first time the P&G brand has used a colored, molded-pulp tray. In 2011, Gillette, along with Be Green Packaging and Burgopack, moved from a clamshell approach and opted instead for a formable pulp tray made of renewable bamboo and bulrush fiber-based material. The package, for the Gillette Fusion ProGlide Power Razor, was a first for the industry and was said to result in a 79% reduction in plastics, a 17% reduction in gross weight, and a 16% improvement in pallet density; all of which was achieved without any cost increase or detriment to the aesthetics of the pack.
---
---
Companies in this article