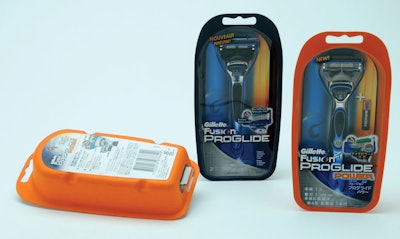 Bamboo and bulrush form the basis of new packaging for Procter & Gamble's Gillette Fusion ProGlide razor, a DuPont Diamond award winner for Excellence in Innovation, Cost/Waste Reduction, and Sustainability. Launched in April throughout Europe and Asia, the razor package replaces the traditional clamshell format with a formable pulp tray made of renewable fibers, supplied by Be Green Packaging LLC.
About a year ago, Gillette partnered with package design company Burgopak and Be Green to develop a Cradle-to-Cradle® certified solution that could also retain shelf impact, brand identity, brand protection, and cost neutrality.
"The innovation revolves around stretching the boundaries around what moldable pulp can do in relation to a depth-to-draw relationship, creating a packaging system that can be colored and bleached without adversely affecting the environment—yet maintain strong shelf impact for consumers," relates Damon Jones, global communications director for The Gillette Company. "We also implemented a new way to introduce methods that will maintain a sealable closing system that is easy to open but is hard enough to drive theft away."
The new structure is said to use 75% less plastic, including the outer fiber-based packaging and the plastic razor organizer tray, which was reduced in size and weight for greater environmental benefit. The package also represents a 17% reduction in pallet weight and improves pallet density by 16%. All these improvements are said to have been accomplished without any cost increase or detriment to pack aesthetics.
Given the capital investment required to produce this new package, Gillette is rolling out the innovation gradually to markets around the world. Jones reports that the Gillette Fusion ProGlide pack made with renewable fiber materials is expected to launch in the U.S. within six to nine months.
Companies in this article