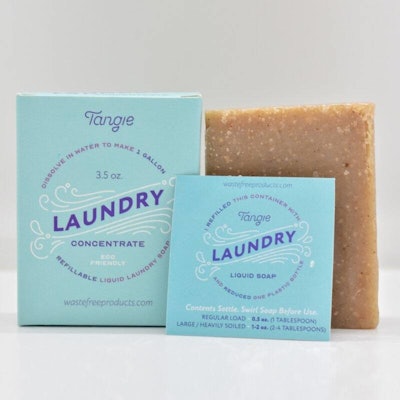 The average American uses and throws away 110 pounds of single-use plastic every year, with only 8% of plastics getting properly recycled. As more brands shift their focus to more sustainable packaging, some companies like Tangie by Waste Free Products are figuring out how to eliminate packaging waste entirely. Angie Ringler, the founder of Tangie, started making chemical-free cleaning products in her central Florida garage to help alleviate her own set of skin sensitivities. But once her non-toxic, natural laundry detergent turned into a high in-demand product for people across the country, Ringler encountered a huge packaging waste problem.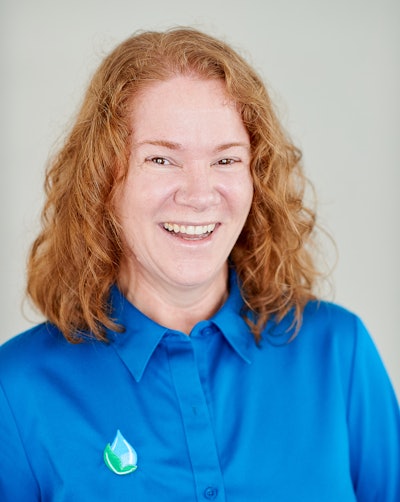 Since 2012, she has been focused on delivering her natural laundry soap with innovative packaging and formulation with the motto of zero waste, zero water, zero single-use options, and zero plastic packaging.
---
---
Packaging World: As a small brand, how did you arrive at being able to offer a sustainable package?
Angie Ringler: When I wanted to start selling my laundry soap, I used traditional packaging, which was plastic bottles with sprayers. I knew that shipping these gallons of liquid laundry soap seemed so wasteful to me and it just felt wrong. So, my business model was to sell the soap wherever I could drive it, which wasn't sustainable, but I did it for a while. I started wondering where all the bottles were going, and whether I was still a part of the solution if I was pushing all this wasteful packaging out into the world. My first solution was to put on the label, "Return this bottle for $2 off of your next purchase." This way, I could get the bottles back. I maybe only got two dozen bottles back, but it might as well have been none. I wondered how I could make natural liquid laundry soap without being a bottle pusher. I reformulated my liquid products into three and half-ounce laundry concentrate blocks that dissolve in water to make a gallon of liquid laundry soap. Now, it didn't need a bottle. I am really trying to stick to only two types of packaging, which are paperboard and aluminum, because those are the items that recyclers are incentivized to make sure that they get recycled.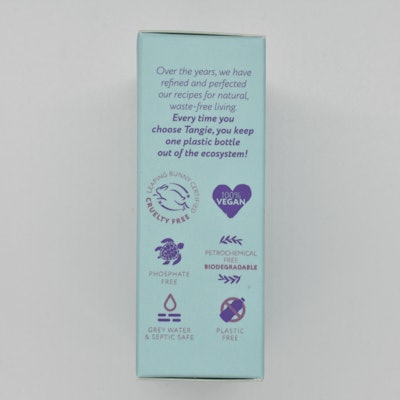 Packaging World: Tangie is advertised as being waste-free. What role does packaging play with a waste-free lifestyle or product?
Angie Ringler: You can order Tangie products online with or without packaging. The soap bars are sturdy on their own. So, when you order something package free, we're simply taking a little piece of recycled kraft paper and wrapping it around the soap, and then, we put it into a paper padded envelope. All the packaging is compostable, recyclable, and we purchase carbon credits through Terrapass to offset 100% of our carbon footprint by investing in strategic forest preservation projects.
---
---
Packaging World: How did you find suppliers that aligned with your sustainability and eco-friendly goals for Tangie?
Angie Ringler: When I started looking for packaging, I wanted a company that could tell me what they're doing with the forest or how they are handling wastewater. My packaging supplier in Oregon, Your Box Solution, only picks from sustainably managed forests, where they can trace where the wood is being plucked from to make sure that they're also planting the trees in its replacement. Doing things like that is important to me, and because I don't have control over that aspect of my business, I kind of must rely on my packaging printer to hold up that side of the business for me. They're using sustainable inks and the equipment they use is green certified.
Packaging World: With waste-free packaging, whether you're selling in-store or online, how do you maintain strong branding?
Angie Ringler: When you order a packaged laundry soap online, it comes in a corrugated paste box with the Tangie branding, and you can also order a usage sticker to place on the reusable container of your choice. This sticker has some usage directions and branding. In-store, owners usually make signage of their own, or we assist them in making signage that shows our brand and how-to-use information, but because all these stores have very different displays and setups of how they're doing things, they're not all the same.
---
---
Packaging World: Do you see the waste-free lifestyle influencing consumer demands and packaging for larger brands and companies in the future?
Angie Ringler: I feel like consumer demand is pushing it. I'm just a little fish in a big pond, and I'm doing it. I'm offering the ability for people to deliver package-free things. How can the bigger players not offer the same thing? Now, I get that it's an issue when you're talking about stocking a product on a very traditional grocery store shelf, right? It can't just be sitting out there naked, as great as that would be. I don't see a way for that to happen for many products, even though, when you walk into Whole Foods, they've got a table in the beauty section where they've got raw bars of soap. That wouldn't have happened 10 years ago, but it's happening today. So, in a way, that's going to come into play more. A lot of wholesalers that I sell have zero waste stores, where you can buy products without a package. They are being creative with the way that they can offer products without a package. But it's not like a big grocery store where you're walking up to the counter and a clerk needs to scan a UPC. Those are the finer points that would have to be worked out. I got to believe at some point, we can figure out a way to sell less packaging waste.