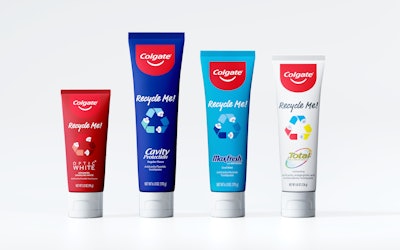 Colgate-Palmolive has been promoting and building up to recyclable toothpaste tube for some time now (read a 2021 Packaging World column on the topic), but it's finally a commercialized reality. To alert consumers that the tube is now recyclable, Colgate is including on the tube's front panel a prominent "Recycle Me!" message as well as a stylized image of three tubes in the shape of the well-known "chasing arrows" recycle symbol.
"As the global toothpaste leader with a brand found in more homes than any other, we want to lead in waste reduction and, in particular, making toothpaste tubes a part of the circular economy," says Dana Medema, Vice President & General Manager, Oral Care for Colgate-Palmolive in North America. "The Recycle Me! Tube is designed to educate and engage consumers and the recycling community, who are both essential to progress."
---
| | |
| --- | --- |
| | Read these other recent Packaging World articles about Colgate Palmolive toothpaste tubes: |
---
Colgate-Palmolive's tube is the first to be recognized by external authorities, specifically the Association of Plastic Recyclers, as recyclable. It's made from HDPE, the same plastic used for milk and detergent bottles. Removing the aluminum layer that has for so many years served as the product protection component was a key to making it recyclable. Replacing aluminum as a barrier material is EVOH. Multiple layers of blown HDPE are extrusion laminated to a blown coextrusion that includes EVOH. The recyclable tubes for the U.S. market are made in Colgate's Morristown, Tenn., facility. And according to Colgate-Palmolive, the recyclable tube has on average an estimated 25% smaller carbon footprint and a 40% lower water footprint.
The Recycle Me! tubes are available online and at major retailers for the following:
Colgate® Total Whitening 4.8 oz, MSRP: $3.99
Colgate® Max Fresh Cool Mint 6 oz, MSRP: $2.99
Colgate® Optic White Advanced Sparkling White 3.2 oz, MRRP: $4.99
Colgate® Cavity Protection 6 oz, MSRP: $1.67
Two additional points are worth noting. First, Colgate is sharing its recyclable tube know-how with other companies, including competitors. This decision was made in recognition of the simple fact that for recyclable tubes to succeed, it requires a critical mass of tubes on shelf that meet recycling standards.
Second, Colgate-Palmolive is developing a recyclable tube pilot program in partnership with peer companies and working with a leading MRF (Municipal Recycling Facility) and re-processor in the U.S. The pilot will focus on one county or municipality to test how educational efforts can build tube recycling rates and assess the quality of the tube material that is collected for reprocessing. The data will be used to define easy-to-action best practices for tube recycling to be shared with communities and recyclers around the country.
For more on the background and development of this potentially game-changing package, read this Packaging World View from the Top article. PW