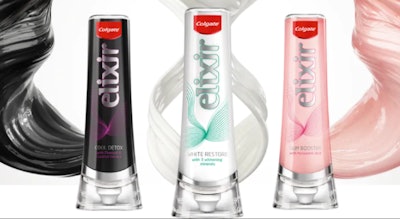 Colgate-Palmolive is inviting European consumers to make toothbrushing part of their beauty ritual, with its new Elixir line of three toothpaste formulas in a striking PET package that breaks from category norms in every way. Says Colgate-Palmolive Co. Worldwide Director of Oral Care Packaging Liz Mellone, "Colgate Elixir is toothpaste reimagined—breathtaking design with beauty-inspired ingredients in a unique packaging technology that is recyclable and designed to let people enjoy the toothpaste to the last drop."
According to Mellone, the three innovative toothpaste formulas—White Restore, Cool Detox, and Gum Booster—were co-developed in tandem with the package, a clear, inverted, 80-mL (2.7-oz) PET bottle with a clear overcap. The sleek and stylish container is a significant departure from, and a more eco-friendly alternative to, traditional toothpaste tubes, which are made from a multilayer construction of plastic and aluminum that renders them non-recyclable.
---
---
What makes the use of PET possible in the Elixir application is a breakthrough coating technology from LiquiGlide that eliminates the friction between the inside of the package and the product, allowing the toothpaste to flow freely from the container, evacuating the toothpaste completely. Explains LiquiGlide CEO Dave Smith, "The reason toothpaste isn't in PET packages, other than Elixir, is because it sticks and won't come out easily. The LiquiGlide coating enables PET squeeze bottles to work for standard toothpaste."
An MIT innovation
The frictionless coating technology was co-invented by Smith and Professor Kripa Varanasi at the Varanasi Lab at MIT. In 2012, the two co-founded LiquiGlide with what they say was "a vision to eliminate the no-slip boundary condition to minimize material, water, and energy waste and enable new and better products, processes, and technologies across industries."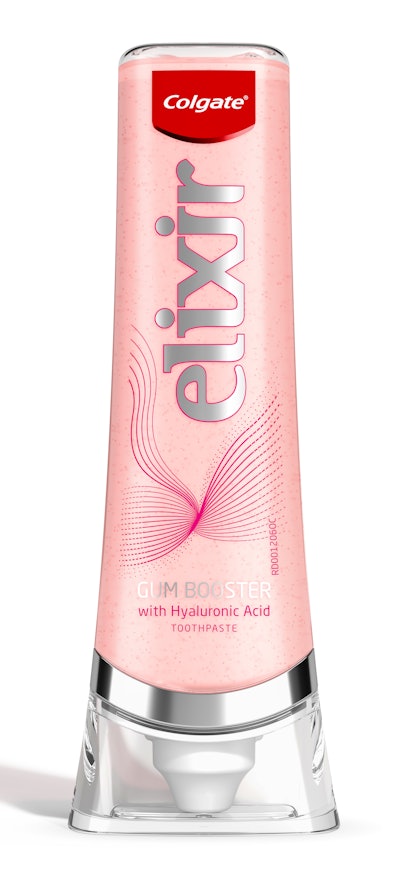 Explains Smith, "We're not inventing new materials, we're combining them in a way to create this stable, slippery effect, and the right choice of materials depends on the product properties. The platform is flexible enough that we're able to make coatings from safe, common materials that won't alter or compromise the product." For example, for food applications, LiquiGlide develops coatings from FDA-approved food ingredients; for skincare products, like lotions and creams, coatings are formulated from common, dermatologically-safe, skincare product ingredients. The thickness of the coating varies depending on the needs of the application and can range anywhere from a micron to tens of microns.
In 2012, LiquiGlide released a video of the ketchup being dispensed from a bottle coated with its super-slippery lubricant. Despite the overwhelmingly positive reaction to technology, it has taken a while for it to become commercialized. "Breakthrough innovation can be challenging for CPG and health and beauty, which are traditionally conservative and slower-moving industries," says Smith. "However, brands like Colgate and others recognize the importance of creating value, differentiating from the competition, and taking serious steps to achieve their sustainability goals. These are the types of brands that are ready for a frictionless future."
PET plus LiquiGlide a natural choice
According to Mellone, LiquiGlide came to the attention of Colgate-Palmolive when its Strategic Innovation Group was searching for next-generation technology and dispensing. "Together with the MIT Industrial Liaison Program, we conducted a summit, which ultimately led to the connection with LiquiGlide and this partnership," she shares. "Previously PET was not suited for viscous products such as toothpaste. The PET bottle married with the LiquiGlide technology is unique and enabled us to use PET with more viscous toothpastes. The clarity and recyclability of PET as well as its great barrier properties for toothpaste made it the natural choice."
The bottle design, led by Colgate-Palmolive's Global Packaging & Design Team, was developed from a human-centric perspective, Mellone explains. "Functionally, it's quite important for the bottle to intuitively work as a toothpaste package in terms of form, squeezability, and nozzle design," she says. "Aesthetically, clarity was critical to both showcase how the product dispenses and to highlight the toothpaste aesthetics. Moving into a rigid format enabled us to achieve a 'counter-worthy' appearance throughout the entire usage cycle of the product."
The cap was designed with an opening that allows the viscous product to dispense onto a toothbrush while also enabling air into the bottle for a smooth outflow of the toothpaste. The cap is made from a thick-walled PETE, which ensures the entire package is recyclable.
---
---
While Colgate-Palmolive does produce its own packaging in many instances, for the Elixir project, the company partnered with an unnamed external supplier for the bottle and cap. The bottle is produced through a single-state ISBM (injection/stretch blow-molding) process and is assembled with an injection-molded polypropylene shoulder shroud.
The coating, which is added to the inside of the bottle before filling, is applied by Colgate-Palmolive using new equipment from Sprimag. According to Smith, the coating formula developed by LiquiGlide and licensed by Colgate-Palmolive, comprises a natural, plant-based oil and common toothpaste ingredients.
Adding to the container's premium appearance, it uses a combination pressure-sensitive label printed in four colors, with dual matte and gloss varnishes as well as two cold-foil applications, with a reverse-printed back label.
The Colgate-Elixir line was launched in April 2021 in several European countries, including the U.K. and Germany, and will be rolled out in other European countries throughout the year in various retail environments, with a focus on e-commerce.
Says Mellone, "We are quite excited about this technology and what it enables from a user experience standpoint, and we are looking at other ways to apply it."

Companies in this article