In a recent article in The Financial, Gartner, Inc. estimated that 90% of those companies that have made commitments to sustainable packaging—in particular, 100% of their packaging being reusable, recyclable, or compostable by 2025—will not meet their goals. That begs the question, what happens then? Is it merely about consumer perception? Are consumers even aware of these commitments? Who's keeping track?
One organization that's keeping very close track is As You Sow. As You Sow is a non-profit foundation chartered to promote corporate social responsibility through shareholder advocacy, coalition building, and legal strategies. Last year, the foundation released a comprehensive report, the "2021 Corporate Plastic Pollution Scorecard," that evaluated 50 of the largest consumer-facing companies in North America against 44 metrics divided among six pillars of corporate responsibility on plastic packaging: Packaging Design, Reusable Packaging, Recycled Content, Public Data Transparency, Supporting Recycling, and Extended Producer Responsibility (EPR).
---
---
To compile the scorecard, As You Sow gathered metrics information for each company from sources such as the Ellen MacArthur Foundation's Global Commitment 2021 Progress Report and from companies' sustainability reporting. From that information, it gave each company a grade in each pillar and an overall grade, from A to F. Spoiler alert: None of the companies in the report received an A, and only one company received a B. The rest of the 49 companies received a C, D, or F.
Who got the B, you ask? The Coca-Cola Company. The next tier, C+, is occupied by Keurig Dr Pepper, Nestlé, Walmart, Colgate-Palmolive, and Target.
Says Kelly McBee, Waste Program Coordinator for As You Sow and the author of the report, "What we see here is that these companies are not doing anywhere close to enough. We want to see a lot of companies in A and a lot of companies in B. And we think if companies take more action across these 44 metrics, we will see them get there."

Among the more notable findings, As You Sow reported a ninefold increase in the number of companies having a plastic reduction goal, compared to the number of those who reported having one in the foundation's "2020 Waste & Opportunity" report; a majority of the 50 companies have committed to 100% recyclable, compostable, or reusable packaging; and while the reusable pillar was one of the lowest-scoring pillars, the majority of companies evaluated are beginning to explore reuse, with some conducting pilots.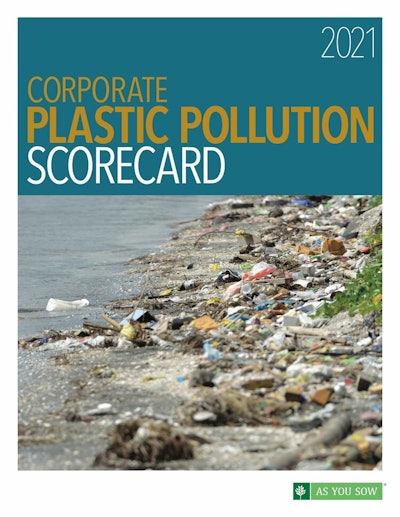 Also uncovered, an increased number of companies—now nearly half—have established goals around the use of recycled plastic content. "However, the availability of supply is lacking, and in order for companies to meet their goals, they need to support policies that will increase the availability of recycled material," shares McBee. "This means supporting EPR schemes, supporting deposit return schemes [DRS], and the like, so there is more material available for companies to use in their packaging."

One positive trend, McBee noted, was the increase in companies reporting the amount of plastic they use, which is a critical data point. In 2020, only 11 were reporting this information; in 2021, that number rose to 24. "However, for investors to adequately track corporate success in meeting their goals and in progress toward finding solutions to this plastic crisis, companies need to drastically increase their disclosure.

"This is an important indicator for investors to track how companies can simultaneously balance growth while decoupling that growth from plastic, especially disposable plastic. Are these companies growing while exploring reuse, for instance, or are they growing while continuing to rely on disposable packaging? Without having data on the tonnage of plastic and overall units sold, this is an evaluation that can't be made."

And this is where companies begin to see the consequences of not working toward or meeting their published sustainability goals. According to Bruno Monteyne, Senior Analyst at investment research house Bernstein Autonomous, who spoke during a webinar on the As You Sow scorecard, "Whether you call it a fad or not, there's a massive obsession in the asset management industry with ESG, or environmental, social, and governance issues. The big institutional investors want to make sure that how they invest their money is in line with these ESG goals. And obviously plastic is a very big part of the environmental issue. It's such a big trend, if a company doesn't do enough in this area, it will struggle to attract investors."

A second risk, he shares, is to the company's brand. "Big companies live by the grace of their consumers," he says. "They have a right to charge $10 for something that only costs $2 to manufacture, but they can only earn that right through an emotional connection with their consumers. Therefore, as this topic shoots up on the priority list for consumers, failing to act poses a massive risk."

---
---
Another risk, he shared, is around legislation. Although all of the companies in As You Sow's report have North American operations, a majority also have operations in Europe, where packaging legislation, especially around the reduced use of virgin plastic, is progressing rapidly. "If a company is not ready for this transition, they risk legal consequences," Monteyne said.
And finally there is the risk that companies that don't act on sustainable packaging changes will be at a cost disadvantage versus their competition. "This transition to more sustainable packaging or no packaging is extremely expensive," Monteyne explained. "If you don't do it quickly enough with the right R&D, you risk being as a cost disadvantage."
In conclusion, Monteyne explained, "there are plenty of risks—sales risks, legal risks, cost risks, and profitability risks" to not meeting company sustainability commitments. And companies can bet firms such as his will be closely monitoring reports, such as As You Sow's scorecard, to point investors in the right direction.