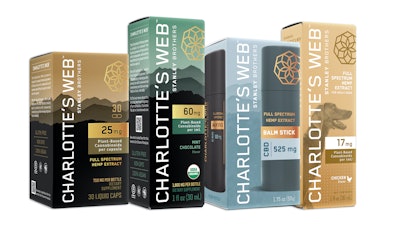 Since 2019, CBD industry pioneer Charlotte's Web, which produces "The World's Most Trusted Hemp Extract™," has been partnering with Diamond Packaging—recently named winner of Cannabis & Tech Today's 2021 Sustainable Leadership Award in the Packaging category—for its CBD packaging, selecting the converter based on its like-minded sustainability vision.
Charlotte's Web was founded in Colorado more than a decade ago, producing high-cannabidiol (CBD), low-tetrahydrocannabinol (THC) whole-plant hemp health supplements in a variety of forms, such as tinctures, topicals, capsules, oils, creams, and gummies. Shares company Vice President of Marketing Reed Damon, Charlotte's Web's quality standards extend from field to final product. "This includes diligent soil testing, using Charlotte's Web's propriety seeds and cultivating certified organic plants on American family farms," he explains. "By the time customers receive a Charlotte's Web product, it's been tested more than 20 times from cultivation through manufacturing."
Built upon the motto of "Do well by doing good," the Charlotte's Web brand is committed to pioneering a better future for the planet and all who live upon it. That's why its goal is to build and retain trust in the company through fully transparent actions, from its organic and regenerative farming practices to its products and the packaging that holds them—which is what led them to Diamond.
---
---
"Diamond packaging is an ideal partner for Charlotte's Web because they offer not only sustainable packaging, but a fully sustainable mindset," says Damon. "The company's ability to incorporate a sustainability focus into their designs, materials, and methods allows Charlotte's Web to innovate in multiple aspects of our packaging. Diamond Packaging is a true innovation partner for our company."
Diamond's sustainable converting methods include the use of recyclable or recycled paperboard materials, many of which are Forest Stewardship Council (FSC)-certified, converted in a Zero Waste to Landfill (ZWL) and Carbon Neutral (Scope 1 and 2) facility that uses 100% clean, renewable wind energy.
Currently Diamond is producing paperboard cartons for several Charlotte's Web product lines, including its Full Spectrum Hemp Extract (tinctures and capsules), CBD Oil, Hemp-Infused Balm Sticks, and Feist brand of CBD/botanical products. The cartons are made from Clearwater Candesce® SBS paperboard from Clearwater Paper. Damon says the material was chosen for its performance characteristics and because it's 100% recyclable and made from a renewable resource. "Its smooth surface is tailored to faithfully reproduce the most sophisticated printed images and the high demands of flawless cold foiling and embossing," he adds.
---
---
The cartons are offset-printed with PMS and dense black inks, in-line with a UV matte coating, a UV spot gloss coating, and Diamond's DiamondTouch™ soft-touch coating. Says Damon, the overall soft-touch coating adds an appealing, tactile quality that promotes consumer interaction. Several of the cartons feature embossing and hot foil stamping. "Embossed accents, which include the logo, add depth to the graphic design and provide an upscale appearance unique to hemp-derived CBD products," he notes. "Hot foil-stamped accents—for example, the logo mark, product name, and copy on quantity and size—add distinction and reinforce Charlotte's Web as a premium brand."
In 2020, Charlotte's Web earned its B Corp Certification, which means that it is meeting high standards of verified performance, accountability, and transparency on factors from employee benefits and charitable giving to supply chain practices and input materials. Says Damon, "This further solidifies our company's ongoing commitment to being a business that is also a force for good."
Charlotte's Web products are available for sale on the company's website, as well as in a number of retail locations, including pharmacies and health and wellness stores, in a range of price points.
Companies in this article