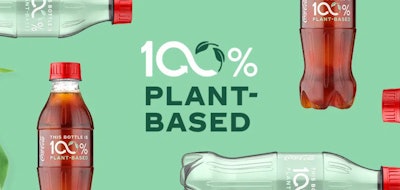 Anne Marie Mohan reported in October 2021 that the Coca-Cola Company has found two paths to a 100% bio-based bottle, one that uses sugar from corn, and another that uses forestry waste.
The Coca‑Cola Company's sustainable packaging journey has crossed a major milestone this week with the unveiling of its first-ever beverage bottle made from 100% plant-based plastic, excluding the cap and label, that has been made using technologies that are ready for commercial scale. The prototype bottle comes more than a decade after the company's PlantBottle debuted as the world's first recyclable PET plastic bottle made with up to 30% plant-based material. A limited run of approximately 900 of the prototype bottles have been produced.
"We have been working with technology partners for many years to develop the right technologies to create a bottle with 100% plant-based content—aiming for the lowest possible carbon footprint—and it's exciting that we have reached a point where these technologies exist and can be scaled by participants in the value chain," says Nancy Quan, Chief Technical and Innovation Officer, The Coca‑Cola Company.
Companies in this article