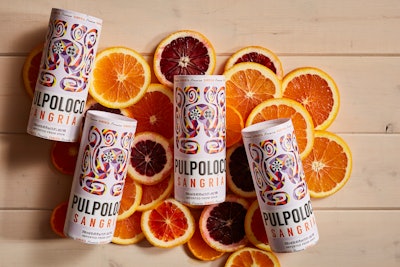 Splash Beverage Group, a Fort Lauderdale, Fla.-based company specializing in the manufacture, distribution, sales, and marketing of non-alcoholic and alcoholic beverages, announced in June that it was "enhancing its commitment to developing market share for innovative, socially conscious brands that are sustainably focused." Walking the walk, the company is the sole distributor outside of Spain of a sangria brand with indisputable sustainability street cred: Pulpoloco Sangria.
Says Splash CEO Robert Nistico, three things attracted Splash to the brand: "The sustainable, game-changing packaging, the sangria liquid itself, and the branding!"
Imported from Spain, Pulpoloco is made from a blend of Tempranillo wine, fruit, and spices, and comes in Soft Rosé, Crisp White, and Smooth Red flavors. What really differentiates the brand, however, is its unique packaging. Instead of glass or aluminum, the mixed alcoholic beverage is packaged in a 250-mL, smooth-finish, aseptic paper can, the CartoCan®, developed by German equipment supplier Hörauf, that's decorated in colorful, mosaic-like graphics. It's the full package.
Log in to view the full article