From humble beginnings as a vendor in Seattle's famous Pike Place Market more than 30 years ago, Cucina Fresca Gourmet Foods is now a leading U.S. producer of natural, prepared pastas, and sauces. Owned and operated by executive chef Brad Glaberson since 2005, the brand is inspired by fresh, high-quality ingredients like vine-ripened tomatoes, premium cheeses, and garden-picked basil. The Cucina Fresca line of prepared foods has grown to more than 130 products that are available in more than 1,500 grocery stores, specialty shops and foodservice channels nationwide.
Cucina Fresca strives to create great tasting products while staying true to a philosophy of sustainability, a position that further endears the company and its products to a wide range of consumers.
"If we don't do it at home, we don't do it at work," Glaberson says. This philosophy translates into company initiatives include everything from composting food waste to choosing more sustainable packaging materials.
Fans of Cucina Fresca products have come to appreciate this approach. So when the company started expanding its retail line of handcrafted pastas and sauces, some began to express concerns that the products came in plastic packaging.
To address this, the company first transitioned from its original PVC with EVOH barrier sealant semi-rigid, to PET with EVOH barrier sealant. But the changes didn't stop there. Sealed Air then introduced CRYOVAC® Brand Plant-Based Rollstock (PBR) to Cucina Fresca, which they would eventually choose to use to replace all of the EVOH and part of the PET.
"We were getting emails from some of our customers with concerns that our packaging was plastic. We knew we needed plastic MAP to keep the products fresh, but we also wanted to address their concerns. We'd been talking to Sealed Air about PBR but weren't sure it was right," says Cucina Fresca president Patrick Clingman.
That's because Cucina Fresca stakeholders were initially skeptical when introduced to packaging with barrier properties come from corn-based materials. That's a common response from brand owners facing these choices. But once they tested material, saw that it also ran flawlessly on existing equipment, and ably protected their products, they were believers.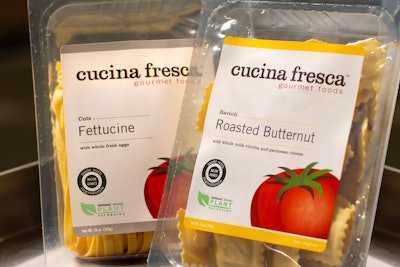 The new multi-layer tray structure
While exterior layers of the multi-layer tray structure remain traditional PET for safety, durability, and thermoforming properties, the corn based renewable PBR barrier layer is sandwiched between the two external layers of either PET or recycled PET.
"The PBR layer replaces 28% of the 'regular' plastic content in the forming web," says Monty Kayes, Director of New Business Development, Sealed Air. "They continue to use traditional barrier flexible film for their lidding film, so to account for the lidding, we would say approximately a 24% reduction of fossil-based plastic for the whole pack. We also introduce a very thin sealant layer to seal to top webs on traditional packaging equipment."
When we hear "plant-based," the mind leaps to PLA. This is not PLA, nor is it related to PLA. A unique process produces the Plantic® resin, used in this Sealed Air PBR, from a specific high-amylose corn. This special corn is grown separately from corn intended for human or animal consumption and requires minimal land usage for this product. PLA is not easily biodegradable or combatable with the PET recycle stream. The Plantic portion of this web is biodegradable and when combined with PET skin layers is compatible with the PET recycling stream. Unlike PLA, Plantic supports both a renewable and a circular plastics economy.
The Plantic layer offers oxygen barrier that is equal or better than most traditional barrier resins, according to Kayes. Many barrier packages use EVOH or PVDC for the oxygen barrier, but this is no longer needed thanks to the plant-based layer. So not only does PBR offer excellent product protection and shelf life, its more sustainable since it replaces significant portions of the petroleum-based plastic.
This is owing to the fact that renewable materials like corn are agricultural crops that can be replenished by natural or other recurring processes in a reasonable amount of time. Renewable materials added to plastics help reduce dependence on petroleum-based resources, and also help to reduce the carbon footprint of packaging.
Growing and converting corn requires much less energy than extracting oil and converting that oil to resin. It is a major step in reducing our dependency on oil, again while not sacrificing protection of our perishable food products. Food waste is a major contributor to our carbon footprint so we know any solutions we bring to the market should not sacrifice protection.
Recyclability chops
While the remaining portions of the material are traditional oil-based plastics, the PBR forming web, is designed to be recycled right alongside them. The PBR material is RIC1 approved so it is identified as PET in typical sorting processes. In the recycling process, the materials are ground and washed. During this process, the corn layer can wash away, leaving PET to complete the cycle. It is not advertised as recyclable, because these thermoforms are not generally collected curbside in the U.S. at rates high enough (Federal Trade Commission's Green Guides suggest >60% of the population must have direct access to collection).
"But we will be ready when the collection infrastructure catches up," Kayes says. "So, we are introducing renewable content and will also be able to introduce recycled content—offering a very strong beginning of life impact. Once collection improves, we will be able to complete the circular economy with our Plant Based Rollstock."
Adds Clingman, "Once we understood how it took [a portion of the] regular plastic out of the equation it was a no brainer. Now we're excited to share this change with our customers."
In fact, they've redesigned their labels to call out the use of CRYOVAC brand plant-based rollstock, and they will be developing content on their website to help educate their customers on the benefits of using renewable resources in plastic packaging.
"To us, it's pretty simple. We want to leave this world a better place, not just for us, but for our kids, our customers, and our customers' kids. We want to make sure the plastic we use leaves the least environmental impact, and that's what we've got with CRYOVAC," Glaberson says.
So why aren't more companies making this transition? Because, says Sealed Air, it's still in its infancy. Also, it's a technology that Sealed Air has exclusivity rights over in certain food markets in North America. The company partnered with [chemicals manufacturer] Kuraray to expand this technology and have made significant investments in new assets to produce these products in the U.S. While the materials are designed to run on traditional packaging equipment, the production of these materials is a very specific technology that requires specifically designed equipment. -PW
Companies in this article