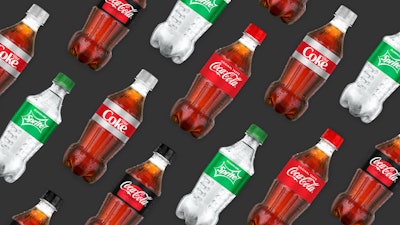 Producing more than a fifth of the world's PET bottle output of 500 billion bottles per year, The Coca-Cola Company has a significant stake in advancing the sustainability of single-serve plastic packaging. Not only are consumers looking to global Consumer Packaged Goods companies to make more eco-friendly packaging to reduce plastic pollution, but proposed legislation in a number of U.S. states will also likely demand such innovation in the near future.
In its ongoing efforts to tackle plastic waste, which the company says is "one of the globe's largest environmental concerns," Coca-Cola has announced it has begun transitioning a selection of plastic bottles across its U.S. beverage portfolio to 100% recycled PET, or rPET, excluding the cap and label. As part of this transition, the company will also be launching a new bottle size, switching from green to clear plastic for Sprite, and moving away from bioplastics for its Dasani brand.
Through the use of internal company tools and analysis, Coca-Cola says it has determined these innovations will reduce the use of new plastic by more than 20% compared to 2018—a 10,000-metric-ton reduction in greenhouse gas emissions annually, or the equivalent of taking 2,120 cars off the road for one year.
---
See: Coca-Cola to use 100% rPET bottles for water and tea in Western Europe

---
Brands making their debut in 100% rPET—beginning this month and rolling out through summer 2021—include all Coca-Cola Trademark varieties (Coke, Coke Zero Sugar, and Diet Coke), as well as Fanta, Sprite, Dasani, and smartwater. Of particular interest, the first 100% rPET bottle to be launched is a new, never-before-seen 13.2-oz "sip-size" bottle for the Coca-Cola Trademark brands, Sprite, and Fanta. Says Coca-Cola, the conveniently sized, sippable bottle was introduced to make sustainable innovations accessible to all.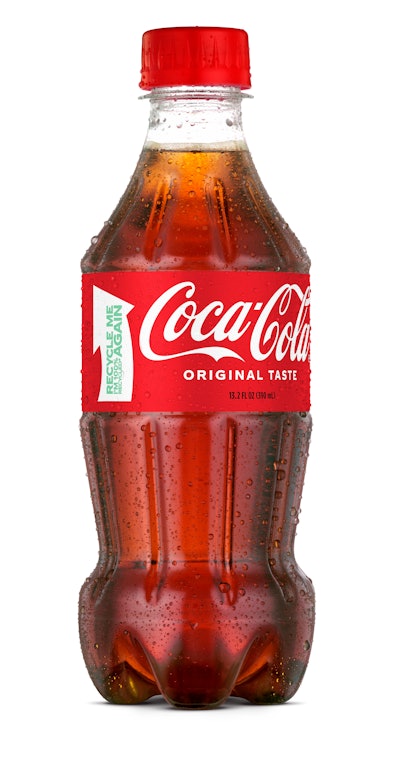 Also included in the launch is a 20-oz 100% rPET bottle for Coca-Cola Trademark brands, Dasani water, and smartwater, as well as a 20-oz bottle for Dasani made from 30% rPET, and a new 18-oz aluminum bottle for smartwater.
The move to 100% rPET is a major step forward in Coca-Cola's sustainable packaging strategy. However, given the U.S.'s woefully low PET recycling rate of 30% coupled with the increasing demand by CPGs for more and more of the material, the question becomes, how will Coke find the quantities of rPET needed?
---
See: Coca-Cola Unveils 25% Recycled Marine PET Bottle

---
Shares Alpa Sutaria, Vice President and General Manager, Sustainability; North America Operating Unit of The Coca-Cola Company, "We are working with several suppliers to source rPET for use in our packaging across the United States and are also continuing to invest in local recycling programs and infrastructure. In turn, this ensures that Americans can recycle our bottles and cans conveniently whether at home, at work, or in public spaces, which are—in turn—recycled and reprocessed to make rPET for use in our bottles and other products."
In addition, in the largest on-pack messaging effort ever by the company, each 13.2-oz bottle features a prominent "Recycle Me Again" message on the label to encourage consumers to take action and recycle their bottles so they can be remade into new ones.
Another notable change to its packaging—the use of clear PET, rather than green—for its Sprite beverage in the 13.2-oz size was made, says Coca-Cola, to make it easier for bottles to be recycled and remade into new bottles. The company's long-term goal is to transition all Sprite bottles to the new, clear packaging by 2022.
Sutaria acknowledges that one hurdle to introducing 100% rPET in the past has been the haziness resulting from recycled materials. "There is a slight tint to 13.2-ounce 100% recycled plastic, which has to do with the fact that these bottles are made from recycled plastics, and it is challenging to make the plastic perfectly clear," she says . "Clear or blue-tinted bottles are necessary to make new bottles for made from recycled PET, so for this reason, we are also introducing a new 13.2-ounce bottle made from 100% recycled material in a new, clear package in the Northeast, Florida, and California this month."
Also of note, Coca-Cola is moving away from the bioplastics-based PlantBottle, in use since 2009 for its Dasani brand, opting instead for a new 20-oz 100% rPET bottle. Explains Sutaria, "New 20-ounce bottles made from 100% recycled plastic will start rolling out in March 2021, building on Dasani's growing portfolio of more sustainable packaging. The evolution from PlantBottle to HybridBottle [announced in 2019 and made from 21% PlantBottle material, 30% rPET, and 49% virgin PET] to 100% rPET reflects Dasani's ongoing commitment to finding more sustainable solutions that meet consumer demand.
"We have pivoted our plans in 2021 to focus on 100% rPET for sparkling and water brands in response to consumer testing, which showed a clear preference for 100% recycled content packaging over other choices, including renewable material."
Following is the timeline for the rollout of the new packaging:
· The new 13.2-oz sip-sized bottle is being introduced this month at convenience retail locations in the Northeast, Florida, and California, for Coke, Coke Zero Sugar, Diet Coke, Fanta, and Sprite, with an SRP of $1.59.
· Also debuting this month is a 20-oz bottle made from 100% rPET, available in California, New York, and Texas.
· A new 18-oz resealable, reusable 18-oz aluminum bottle for smartwater is launching this month as well, in California and Florida.
· In March 2021, Coca-Cola will launch the 20-oz, 100% rPET bottle for Dasani in New York, California, and Texas.
· The 20-oz Dasani bottle made from 30% rPET will be available across the country in April 2021.
· In July 2021, smartwater will be introduced in a 20-oz, 100% rPET bottle in New York and California.