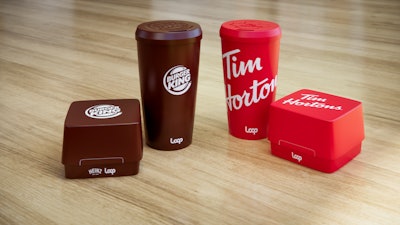 Quick-service restaurants Burger King and Tim Hortons, both part of Restaurant Brands International (RBI), will soon be piloting a program in partnership with TerraCycle's Loop circular packaging platform that will allow guests to specify reusable containers and cups when they order select food and beverage products. The closed-loop system will require guests to pay a deposit that will be refunded upon return of the packaging, which will then be cleaned by Loop for reuse, again and again.
The initiative falls under RBI's sustainability platform, Restaurant Brands for Good. "As part of our Restaurant Brands for Good plan, we're investing in the development of sustainable packaging solutions that will help push the foodservice industry forward in reducing packaging waste," says Matthew Banton, Head of Innovation and Sustainability, Burger King Global. "The Loop system gives us the confidence in a reusable solution that meets our high safety standards, while also offering convenience for our guests on the go."
Guests, Banton emphasizes, are at the center of all the decisions RBI makes. Therefore, when the company saw its guests expressing greater and greater interest in minimizing their impact on the planet, it pursued the idea of reusable packaging as one strategy.
"Understanding that reusable packaging is not something that's typical within the QSR space, we wanted to make sure we found the right partners that could help us explore the topic and also present it in a way that could be executable," Banton says. "So, we connected with the team at Loop, and we found we had mutual interests, starting essentially with minimizing our impact on the planet. Once we agreed on those principles, it was clear the partnership made sense on both sides."
---
See: Burger King and Tim Hortons to Pilot Reusable Containers Through Loop

---
The pilot will launch in 2021 in select Burger King restaurants in New York City, Portland, and Tokyo, and in select Tim Hortons locations in Toronto. These pilot cities were chosen for two reasons, shares Banton: "One, we have amazing franchises in those locations—we have good operators and good footprints for our businesses there. On top of that, those are also markets that leverage the networks where Loop is already established, which will help maximize our ability to get into these pilots as quickly as possible."
Prototypes of the reusable packaging, which include a container for sandwiches and a beverage cup for soft drinks and coffee, were developed by RBI's in-house design team along with one of its agency partners. Banton says the prototype is just an initial starting point; he foresees many tweaks in the coming months before the designs and materials are finalized. Considerations include what functional features will be needed, such as opening and closing and the height and width of the packaging, and how these will fit into the QSRs' supply chain systems, how the packages can be adopted around the world, and how they can be made scalable. RBI is also targeting a minimum of 100 uses for the packaging. "Then, ultimately, it will depend on how guests adopt the program once we do the pilot," Banton adds.
The container deposit cost is also still being determined. RBI is working with Loop to identify the proper threshold to ensure the deposit is low enough that guests will adopt the program, but high enough that they will be encouraged to return the packaging. "There's still a lot of work to do to finalize that piece," says Banton. "I think it also goes hand in hand with the final creation of the reusable asset, because those things are intrinsically tied. So, I think they'll come together at relatively the same time."
As for the return and deposit collection system, RBI currently envisions a system whereby when the consumer is ready to return the reusable packaging, they will scan the cup or container through the use of the Loop app, at which time their deposit will be returned, and they will place the package into a designated Loop receptacle or collection bi
---
See: First Pet Food Brand Joins Loop

---
The packaging will then be professionally cleaned and sanitized by Loop. Says Burger King, "Our partnership with Loop aligns with Burger King restaurants' rigorous safety procedures around cleanliness and hygiene, all of which have become even more pressing during the current pandemic. Loop's cleaning systems have been created to sanitize food containers and cups, meaning each will be hygienically cleaned and safe before each use."
While Banton says no one knows the future when it comes to sustainability and some of the new green packaging initiatives, RBI is testing things now to make sure its business is future-proofed. "So, will reusables be part of the future? I'm not sure. But if they are, we'll be ready."
WATCH Loop and Seventh Generation's 8-minute video chat with Editor Matt Reynolds during PACK EXPO Connects last Fall.


Companies in this article