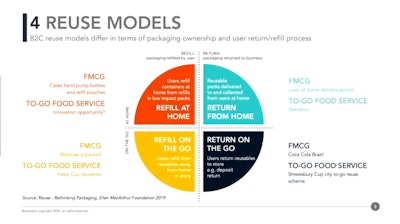 Smithers
Martin Blacher, Director of Sustainability at Bockatech, spoke at the Sustainability in Packaging Europe conference earlier this week about developing new manufacturing technologies so that brands and converters can take advantage of this untapped opportunity, with "low cost durable containers that allow innovative reuse models at scale."
Blacher said, "Reuse is throwing down a challenge to materials and packaging manufacturers to come up with new solutions that really suit this format of packaging." Bockatech, a five-year old green tech company and the developer of a new manufacturing technology called Eco-Core, creates technology for both single use packaging and reusable packaging, and licenses it to others to use. Bockatech currently holds licenses in Europe and the US.
Blacher explained the current reuse model that was created by the Ellen MacArthur Foundation:
Refill at Home
One example is for hand cleaners or similar products, where the consumer buys a hand pump bottle in a supermarket, but the refills come in the form of pouches and are refilled at home, so that excess plastic or hand pumps don't have to be produced.
Returning from Home
Reusable packs are delivered to, and collected from, users at home. One example is Loop, a delivery service using high value packs that are delivered to customers in their home. The customer returns the containers when their next delivery arrives. Said Blacher, "To-go-wise, I think this is probably a very fertile area for the likes of the new food delivery companies like Deliveroo, where if they're delivering regularly to households, they can drop off reusable packaging and then pick it up again when the next delivery is dropped in."
Return On-the-Go
Users return the reusable through a store, normally with an associated deposit return. One example is Coca-Cola Brazil, with PET bottles. Customers return the bottles to the store, and then the store returns the bottles to Coca-Cola when they deliver their next shipment for resale. Blacher said other examples are city-wide cup reuse schemes, like the Shrewsbury Cup in the UK or the Freiburg Cup in Germany, where users can pick up a cup at a to-go a food service provider, pay a deposit, and then return that cup to any one of a number of people who are part of the scheme, and get their deposit back.
Refill On-the-Go
This is where the user goes to the store with their own container and can pick anything from fruit to breakfast cereals.
Low cost is the first requirement of packaging that supports reuse, according to Blacher, both to reduce the economic risk and also to support an increase in profitability. He said that high value packaging such as stainless steel can be an economic risk due to the high cost of the package, and the unknown element of consumer acceptance.
Other factors include high durability, good strength, good stiffness, good resistance to washing, and also cleanliness. Blacher said, "If you're creating containers that might need to contain food through several cycles, making sure that the washing can be carried out effectively to ensure you are placing food back into a food-safe container is absolutely imperative. Overall, high durability is about maximizing the number of reuses from any reuse packaging container."
Technology that will support design flexibility for different innovations is also important - allowing different forms to be created, and then allowing different functions such as caches, fixing lids, etc. Graphic innovation is also important, with sufficient branding area that can be printed on with high-quality print. This is, said Blacher, "Absolutely essential in a capacitive marketplace where products have to sell themselves off the shelf. Overall design flexibility, what that's driving is innovation and increase in sales."
A final requirement is a low eco impact. Blacher said, "With reusable packaging, what we're looking to do is to divide any primary manufacturing eco impacts such as CO2, by the number of reuses, so that we deliver a low overall environmental impact. But it's important to be realistic about the number of reuses that will actually be seen from a container and to make sure that it's used more times than the break-even point. The last point to make is that when products do reach the end of their life, they should be recyclable so they can be used again in other packaging or other product forms."
Eco-Core
Bockatech's Eco-Core technology is made using standard injection molding machines and polypropylene, creating skin foams, or skin wall structures. There is an outer skin, a foam core, and then an inner skin. But because of the way that Bockatech creates the skin foam, said Blacher, "Skin wall structure is very quick in terms of cycle time, very similar to normal, solid rural injection moldings."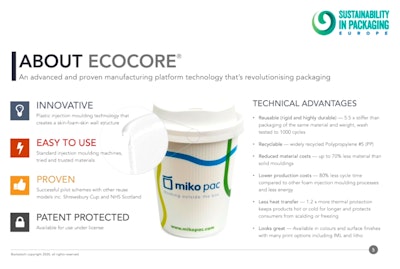 In terms of reuse, it's both rigid and highly durable - five times stiffer than packaging of the same material and weight. It is recyclable, has reduced material costs (for a product of the same strength, material costs are reduced by about 70%, said Blacher), and low production costs (80% less cycle time compared to other foam injection molding processes).
The other benefit is that the foamed core provides a natural thermal barrier for foods that are either hot or cold.
Blacher added that Eco-Core's reuse at scale may realistically not be a very high number of reuses. "It's likely to be more convenience with lower cost and a lower number of reuses, but certainly environmentally beneficial, nonetheless." He said that as consumers get used to the idea of reuse, technology is aligned with realistic reuse projections for the short term, but in the long term more robust containers could be produced. "For one of the coffee cup city reuse schemes, we provide the containers that have survived over 1,000 washes, and even those have a break-even reuse point of around three uses."
For more information on the Sustainability in Packaging events, click here.