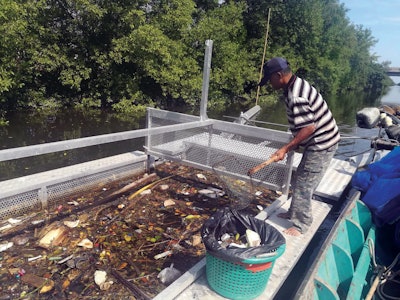 While ocean plastics pollution is a global issue—some of the highest concentrations of plastic litter particles have been found as far as remote parts of the Arctic—90% of this pollution originates from only 10 rivers, eight in Asia and two in Africa. The main offenders are China, Indonesia, the Philippines, Vietnam, and Thailand and are the result of poor or mismanaged waste systems in those countries.
In 2018, TerraCycle founded the TerraCycle Global Foundation (TGF) with $450,000 in seed money from The PepsiCo Foundation. TGF is a 501(c)3 public charity dedicated to dramatically reducing the volume of marine debris and plastic waste found in the world's waterways. The foundation's inaugural platform is focused on Thailand (the Thai Foundation, or TGFT).
---
See: P&G dish soap bottle comprises 10% ocean plastic, 90% PCR plastic
See: PepsiCo-led Initiative Raises $25 Million for U.S. Recycling
See: PepsiCo Innovates, Collaborates to Reach Sustainable Packaging Goals

---
According to Burgess Davis, Vice President, Global Sustainable Plastics at PepsiCo, the company chose to support TGF because it aligned with PepsiCo's focus on creating a circular economy for plastics. "We look for recognized partners like TerraCycle that have deep expertise and a demonstrated track record of success as well as hyperlocal, respected waste management organizations as part of our global portfolio of partners to reduce plastic waste and build a world where plastic need never become waste," she explains. "Our Foundation's partnerships are focused on outcomes—including tons of waste recovered and CO2 avoided—and we prioritize investing and funding projects with partners that are innovative, scalable, and can create lasting systemic change.
"Our goals through this partnership are to recover tons of plastic waste from our waters, increase public awareness and engagement to reduce plastic pollution, catalyze funding from others to scale impact, and ultimately to use recycled waste to create materials like primary packaging and road or constructions materials."
---
See it Live at PACK EXPO Connects Nov. 9-13: Direct vs. Flexible Package Handling Systems:  Conveyance to Palletizing Design Considerations, by Intralox. Preview the Showroom Here.
---
In 2019, TGFT partnered with the Blue Carbon Society, a local Thai environmental group, to support the Thai government in installing marine debris capture devices, the River Trap, in the tributaries of the Tha Chin River, located in Samut Sakhon. Says Davis, "In Bangkok, in close collaboration with the Bangkok Municipal Administration, TerraCycle Global Foundation has installed three river plastic capture devices in the Lat Prao Canal that are intercepting five metric tons of plastic waste per week, and they anticipate installing additional devices in the surrounding waterways to further prevent the large volumes of plastics from reaching the wider rivers and oceans."
Other projects of TGFT include working with local waste pickers to improve collection rates by providing fair wages, tools, supplies, financial literacy, education, care for children, and health and safety training; engaging local district governments and organizations to ensure the long-term stability and maintenance of the collection programs; and engaging a network of partners to identify innovative recycling solutions and end markets to sell the collected materials.
---
See it Live at PACK EXPO Connects Nov. 9-13: Case Packing Solutions, by MASSMAN Automation Designs, LLC. Preview the Showroom Here.

---
"We believe the TerraCycle Global Foundation will lead international public awareness about the need to address river and ocean plastics, and by finding recycling solutions for the collected materials, it offers a holistic approach to reducing plastic waste to create meaningful, long-lasting change that can be replicated across the world," says Davis.
The foundation's plans for the future include expanding to local communities in Central and Southeast Asia, including India.
Read the full interview with PepsiCo's Burgess Davis here.