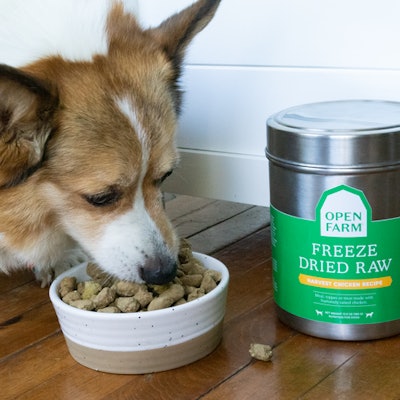 Since it was introduced in early 2019, the amazingly ambitious and potentially game-changing Loop circular shopping platform has expanded rapidly. First launched online in mid-2019 in New York City and Paris, Loop was rolled out nationwide just one year later. Not only has its footprint grown, but so too has the number of brands offering their products through the platform—a pretty impressive accomplishment, given the total redesign that's typically required for a CPG to make their packaging reusable.
One recently added brand is Open Farm Pet Food, the first pet food company to partner with Loop. Evan Shuster, VP of Marketing for Open Farm, says Loop was a good fit for Open Farm, given the two organization's shared values around sustainability. Toronto-based Open Farm has built its business on delivering clean, nutritious pet-food products made from ethically sourced and whole ingredients. "Joining the Loop platform presented an amazing opportunity to further our mission and continue leading the way in sustainable packaging," Shuster says.
---
See related stories on Loop from Packaging World:
Global CPGs Embrace Transformative Loop Circular Shopping Platform
Loop complements Mondelēz's waste-reduction strategies
Loblaw announced as first Loop retail partner in Canada
---
Open Farm and Loop's sister company, TerraCycle, already have a long and successful history in advancing sustainable packaging. In 2014, they established a recycling program for pet-food bags, 95% of which are considered unrecyclable. To date, the program has recycled 275,000 of them.
For the Loop program, Open Farm began work on the project in 2019, progressing through many iterations of packaging, logistics, and fulfillment testing in advance of the June 2020 launch of its products.
Schuster shares Open Farm's goals for its Loop packaging: "First and foremost, it had to be durable and secure to deliver our food safely and securely throughout the entire supply chain. We also wanted to ensure that it delivered a great, premium experience in a consumer's home and was something they could proudly display in order to serve their pets quickly and easily. Finally, we wanted to ensure that it represented a natural, premium evolution of our brand through this new package format and made it clear to consumers what the product was, knowing this was going to be a way for us to introduce Open Farm to new consumers."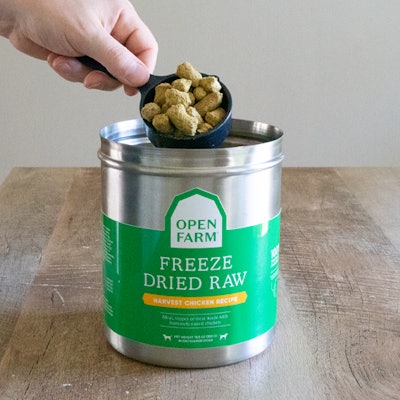 The final package is a stainless-steel tin that holds 13.5 oz of either Freeze Dried Raw Harvest Chicken or Pasture-Raised Lamb product, with no inner bag needed. The stainless-steel lid is securely sealed with a tamper tab that runs down the side of the package, beginning at the lid. Says Shuster, the tin has been designed to last through multiple consumer uses, as are the labels that decorate the container body and lid.
One unique feature of Open Farm's traditional retail packaging is a lot code that consumers can enter on the company's site to see a description of each ingredient in the bag, as well as the ingredient's origins, for "full transparency from farm to bowl." According to Shuster, this feature has been carried over to the Loop tin. "This was part of the fun, innovative process of working with Loop on the launch," he says. "We wanted to ensure we were able to deliver the full Open Farm experience through Loop. We will be applying the lot code on every individual tin that we ship to Loop so consumers have the same full traceability on every tin of Open Farm Freeze Dried Raw."
Open Farm is working with its existing supply chain partners to help fill, pack, and ship its products. For the Loop e-commerce platform, brands supply their products to Loop, which fulfills consumer orders directly. Once Loop's retail partners launch the platform in-store later this year, brands such as Open Farm will ship product directly to the retailer as well.
Concludes Shuster, "We will continue to gather learnings from the pilot phase of the Loop launch and explore how we can deliver more Open Farm products in more sustainable ways that leave a positive impact on our environment. We are really excited to see where the Loop platform can grow from here and are excited to be part of the program."