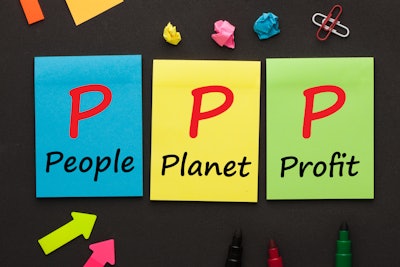 Conventionally antithetical to one another, sustainability and profit are starting to become a necessary pairing in the business world. It is clear that sustainability is a growing trend due to rising environmental concerns, evident in an increased focus on preventing climate change. For example, following Oregon and California's lead, New York established a law eliminating the use of plastic bags throughout the state, while Maine, Vermont, and Connecticut are expected to follow suit over the next year. As part of its plan to cut waste in half by 2030, the European Commission said in March that it will introduce new waste reduction targets and sustainability laws to ensure that products placed on the EU market are recyclable, repairable, designed to last longer, and reduce over-packaging.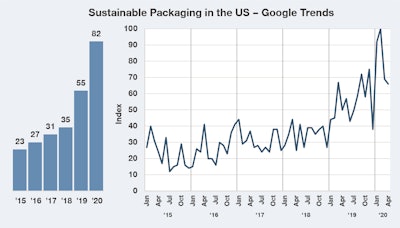 Additionally, Google trends indicate that the interest in sustainable packaging as a topic has increased by 274% since 2015 (see Figure 1). Sustainability and the impact products have on the environment frequently take the spotlight—anywhere from the political stage to day-to-day conversations or a corporate conference room. Consumers are demanding more from corporations when it comes to social responsibility, and how corporations respond to these trends will determine the winners over the years.
This is contributing to a shift in the business world as companies strive to meet the demands of consumers while also turning a profit. We can all easily feel this shift in our day-to-day lives, as claims of sustainable packaging, shipping, and manufacturing processes are more frequently featured in marketing materials and advertisements. Almost all of the major fast-moving consumer goods (FMCG) companies by revenue have made a commitment to more sustainable practices. Even investment firms can see where the trends are headed. BlackRock financial planning and investment management firm stated in their client letter, "We intend to make sustainable funds the standard building blocks in [our investment] solutions wherever possible."
Ten out of 11 major global players in the paper and packaging industry have sustainability highlighted on their landing page, indicating that they sense the magnitude of this trend and are responding to it. But are these responses adequate to stay ahead of the curve?
---
Read these articles on sustainable packaging from Packaging World:
PepsiCo Accelerates Plastic Waste Reduction Efforts
Nespresso Coffee Capsule Made from 80% Recycled Content
100% Recycled PET for Diageo's Whiskey
Recyclable Mono-material Pouch Uses One-Way Valve to Keep Soft Pet Chews Fresh
Quest for a Plastic Packaging Circular Economy
---
Although these major paper and packaging players show that they are thinking about sustainability by displaying their progress in this area so prominently, when you go a step further, their strategies begin to vary. The uncertainty about what customers truly value and, more importantly, how that value can be translated into willingness to pay becomes obvious. Some companies are focusing their sustainability efforts on the back end, with an emphasis on cost- and material-saving measures that are then promoted to customers. Some have a sustainable product as an option, but it's hard to find in the overall product portfolio, while others place it front and center. Some major players, for example, not only have an extensive landing page dedicated to explaining their sustainability practices, but they also promote their more sustainable products outside of the "sustainability section" of their website. While other companies also have a landing page dedicated to the topic, there is no mention of any sustainable attributes when perusing their product offerings.
While some might argue that one of these strategies is better than the other, that may not always be the case. We propose that these "uncertainties" can be summarized into two main challenges:
1. There are many different definitions of sustainability. Which one should packaging companies focus on?
2. Is there really a willingness to pay for these potentially costlier or more complicated sustainable packaging products?
Definitions of sustainability
In a recent Simon-Kucher study, consumers were asked a series of questions focused on the sustainability attributes of water bottles with the aim of identifying:

1. How consumers define sustainability
2. What matters during the purchasing decision
3. Consumers' willingness to pay for sustainable food and beverage packaging

The study focused on consumers who had actually purchased water bottles and covered a range of demographics such as age, education, income, household size, and 2016 political region.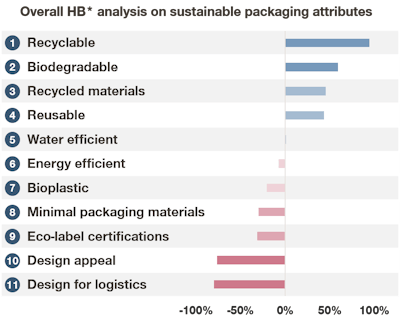 There is a variety of nomenclature surrounding the topic of sustainability, and consumers are more focused on certain definitions than others. When asked in a study on water bottle packaging to select the words or phrases most aligned with their definition of sustainability, "Renewable," "Energy Efficient," and "Long-Term" were selected by the majority of respondents.
In the same study, consumers were asked to rank the packaging attributes they valued highly. Interestingly, consumers tended to choose attributes that would allow the consumer to play a role in the sustainable "action" taking place (see Figure 2). Recyclable, biodegradable, recycled materials, and reusable ranked the highest, while water efficient, energy efficient, bioplastic, minimal packaging, and eco-label certifications materials ranked much lower.
This makes a lot of sense when you look at consumers' greatest concerns surrounding the level of sustainability of the products they buy. When asked why they would not use a certain channel for information (after being asked which channels they would use), "bias" ranked highest in almost all major categories that could be influenced by a business owner: social media, product labeling, general marketing, and corporate websites. Social media was the only category in which "bias" wasn't the top-rated issue, beaten only by "inaccuracy."
Because the involvement of sustainability in everyday business is a relatively new concept, many consumers are as confused as businesses about what it means for something to be truly "sustainable." Is it being water efficient or using more sustainable shipping methods? How can companies be trusted that they are truthful in their claims? At this stage in the movement, companies should focus on how to involve their customers in the process. In doing so, they will remove concerns that their sustainability efforts could be just for show. This is where the opportunity lies for paper and packaging companies. In order for a consumer to feel that a package is truly sustainable, they need to be the ones either recycling or composting it, and paper and packaging companies need to facilitate this for the consumer through their offering.
Obviously, being a sustainably-minded company isn't that simple. A company can't claim sustainable practices and lay all of the responsibility on the consumer. This strategy certainly won't age well as sustainability is one of the largest issues in our world today, and companies' and consumers' knowledge of the finer details of sustainable practices continues to grow. However, this is the best way to communicate to the consumer that your product is sustainable and make them feel good about it.
Where does value become willingness to pay?
We've discussed that consumers are more interested in certain types of sustainable practices than others, but the real question is to what extent that interest translates into dollars. This can only be reviewed in conjunction with another equally important topic: customer segmentation.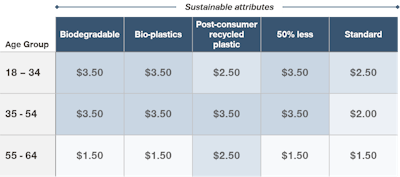 In the same water bottle study, we found that, unsurprisingly, certain segments of the market are more willing to pay for sustainable attributes than others (see Figure 3). Respondents younger than 55 years old would generally pay $2 more for a "sustainable" water bottle than those over 55.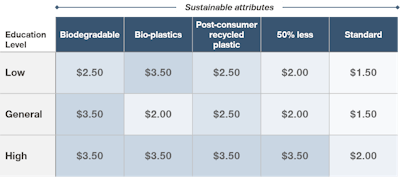 When segmenting respondents by education levels, we also found differentiation in willingness-to-pay. Those in the category of "High Education," with a Master's degree or higher, had about $1 higher willingness-to-pay for a sustainable water bottle (see Figure 4).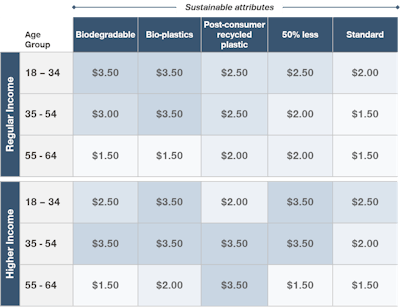 When income level and age were combined, there were some interesting findings as well (see Figure 5). Young and middle-aged regular earners (less than $100k) as well as middle-aged high-income earners (greater than $100k) had the highest willingness-to-pay by approximately $1 to $2. Consistent with the above, older respondents (55+) had the lowest willingness-to-pay overall.
Although sustainability is a rising trend, and almost every consumer is at least familiar with the concept, not all are willing to pay for it. As a paper and packaging company, it is important to ask yourself who your customers and your customer's customers are. Only in certain segments do concerns for sustainability translate into willingness-to-pay and therefore make it to the bottom line.
In summary, there three key priorities your company should consider when deciding when and how to incorporate sustainability into the packaging strategy:
1. Focus on involving the consumer in the sustainability process as much as possible.
2. Know your customers, and their customers, to identify segments that care about sustainability.
3. Capitalize on the added value to your products and adjust prices according to your customers' willingness-to-pay.
This article was contributed by consulting firm Simon-Kucher & Partners and was written by William Humsi, Partner, Dylan Vest, Manager, and Rosemary Schatz, Consultant, for the company.