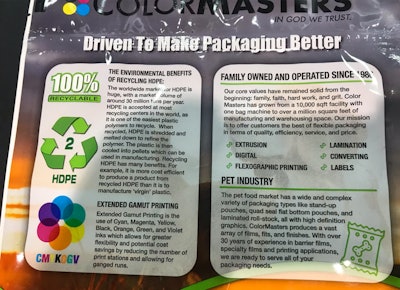 Single stream recyclable materials are increasingly getting the nod for multiple types of flexible, stand-up pouches over multi-layer films and resins that aren't easily recycled.
Several were exhibited at PACK EXPO East, with one notable pouch being from Converter Colormasters LLC. The new offering exhibits many of the important functional properties required by multi-layer materials, such as rigidity and barrier, without sacrificing Stream 2 direct-channel recycling capability. The pouch is in the midst of being commercialized in poultry applications and will have ample applications for pet food and treats, among other industries.
"The world-wide market for HDPE is huge, with a market volume of around 30 million tons per year," the company says in its literature. "HDPE is accepted at most recycling centers in the world, as it is one of the easiest plastic polymers to recycle. When it is recycled, HDPE is shredded and melted down to refine the polymer. The plastic is then cooled into pellets which can be used in manufacturing. Recycling HDPE has many benefits, for example it s a more cost-efficient to produce from recycled HDPE than it is to manufacture virgin plastic."
"PMMI Media Group editors have purchased carbon credits through cooleffect.org to ensure any flights we take to cover events in 2020 are carbon neutral."