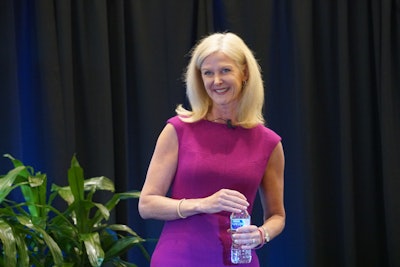 PET packaging for beverages was made for reuse—or, more precisely, to be recycled into new packaging. The problem is, many consumers don't realize it. That's according to Katherine Lugar, President & CEO of the American Beverage Assn. (ABA), who spoke at the 13th edition of The Packaging Conference in Austin, TX, this week. In her keynote, Luger shared with attendees the impetus behind the new Every Bottle Back initiative, a coalition of American's leading beverage brands and NGOs to increase recycling rates through consumer education and investment in recycling infrastructure. Packaging World reported on the launch of the program in November 2019.
ABA is the trade association that represents America's non-alcoholic beverage industry, including bottlers and concentrate makers. And although it represents some of the country's largest beverage companies, Lugar explained it has always been a community-centric organization. "Hundreds and hundreds of our bottling partners lie in every community across this country," she said. "We sort of say we're one of those unique industries where our products are made, and bottled, and shipped, and distributed all in America's hometown."
Because of this focus on community, she elaborated, more than a decade ago, the industry began to understand that when it comes to societal issues, it had a role to play. "That it's fundamentally important that where we can, we work across industry to offer bold, new, proactive solutions," she said. In the past, this has included taking sugar-sweetened beverages out of schools and providing on-pack calorie information before it was required, among other initiatives.
See related articles on sustainability from Packaging World:
"Plasma gasification closes the loop (on sustainability)"

"Plasma gasification can enable circular economy sustainability for packaging"
"Static Bottle Recycling Rate is Insufficient to Meet CPG Demands for rPET"

Now the association is throwing its weight behind an issue that has become a hallmark of the beverage industry: environmental sustainability. Fundamental to the discussion, Lugar says is consumers' misperception that PET bottles are single use. "So we're going to have to really understand how to define and differentiate our product as non-single use, because what's so important to explain to people, is that very intentionally, our PET plastic bottles were made to be remade," she said.
Through in-depth research, ABA learned that an astounding 60% of U.S. consumers don't know or don't believe that the beverage industry is making 100% recyclable bottles. It also found that 81% of consumers believe the most important thing beverage companies can do to make them feel good about the product they're consuming is to ensure that the packaging is 100% recyclable, including the cap. Next on the list in importance is ensuring that every plastic beverage container can be turned into a new product, at 78%, followed by providing more recycling bins and containers, at 76%, and reducing the plastic footprint of beverage companies by half, at 70%.
"Those are the foundational elements, the beginning of our Every Bottle Back campaign," said Lugar.
Launched last fall, Every Bottle Back was formed by Coca-Cola Company, Keurig Dr Pepper, and PepsiCo along with World Wildlife Fund (WWF), The Recycling Partnership, and Closed Loop Partners. "So not only are America's leading beverage companies working together, but we are also working in partnership with World Wildlife Fund," said Lugar. "That has never happened in an industry-wide initiative."
The first pillar of the program is a significant education and awareness campaign—much of which will be done by brand owners in their own brand voice—that establishes the uniqueness and the value of PET plastic in bottles and the fact that when bottles are recycled, beverage brands don't have to use as much new plastic.
Next, beginning this year, there will be uniform on-pack messaging to denote and distinguish that bottles are fully recyclable. "We are finishing the testing around one uniform message that you will begin to see in all of America's non-alcoholic beverages saying effectively, '100% recyclable, please give it back.' What we have found is that while certain brands may go further, having that uniform message allows people to connect the dots in a powerful way," said Lugar.
The next element of the program is to create a fund that will focus on infrastructure improvements in those areas of the country that need it the most. "Our industry put in $100 million," said Lugar. "They are now leveraging that. We are looking for $400 million so that we can move the needle further, faster together." Every Bottle Back began its first program earlier this year in the Dallas-Fort Worth area.
"This was step one. This is just the beginning," said Lugar. "We are going to be bringing this to life across the country and in our communities with our assets that we have within our industry and with our partners and through every part of the supply chain.
"As we were building out the early phases of Every Bottle Back, part of the conversation that was happening with our industry leaders was, 'Look, this is complicated. The minute our product leaves our delivery trucks, we effectively lose control of it. So how can we control what we can control as an industry? And then how can we continue to work with our partners from beginning to end to do something that is good for communities, that is good for our environment, and it lets our business continue to deliver products that our consumers and customers enjoy every day?'"And so, we feel really good about this opening rollout. I will tell you our companies are taking this really, seriously. I can't give away all the secrets, but it's going to be a lot of fun I think for you all to see how this comes to light through each individual company in their own brand voice."
"The last thing I'll say is that I think there's a powerful opportunity right now. We're not Pollyannaish about how hard this is going to be, but we do think right now, right alongside aluminum, this has one of the lowest carbon footprints when it's used as intended. And so making sure that folks understand that and certainly about the environmental attributes, and that we're providing an array of packaging options and making sure that we're then leading to that closed-loop system is absolutely imperative. Other countries are doing it, and we think there's a lot of opportunity here in the U.S."