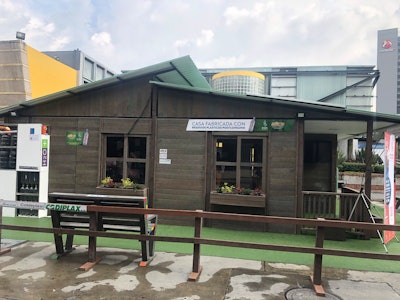 In a bright and spacious house, sitting in comfortable chairs placed about a round table, we talked with John Berrio, director of the Fundación Llena una Botella de Amor ("Fill a Bottle with Love" Foundation), about a project that is calling a large number of companies to a high-impact and environmental social crusade. Through the window, I could see a small park with benches, planters and playgrounds.
The conversation takes place in complete normality, although something seems out of place: that house, that room, that furniture and that park are in the middle of the Corferias exhibition grounds, in one of the main pavilions, in the midst of packaging and processing machines, equipment and technologies presented at the recent Andina Pack fair. The whole scenario is amazing: all components of this small town within the fair consist of post-consumer recycled plastic, recovered from flexible packaging.
"Some time ago we received a call from the organizers of Andina Pack, expressing a desire to learn about experiences that would help solve the plastic waste problem," shared John Berrio." Then we showed them our Llena una Botella de Amor project, and we were invited to the fair."
Initially, John requested a hundred meters to install a house, but Andina Pack executives, excited about the idea, gave them 650 square meters where they built the house and the park, with participation by several allied companies.
Flexible Packaging Waste in a Bottle
Llena una Botella de Amor emerged in 2016 as an initiative to provide a comprehensive, sustainable management solution for difficult-to-recover flexible plastic packaging waste, and to improve quality of life for large segments of the Colombian population. With an approach that involves participation by business, educational communities, institutions and society in general, the Foundation promotes filling plastic bottles with flexible plastic packaging waste generated in homes, study centers and companies, which the Foundation receives and then transforms with other companies into "plastic wood."
With this material, the Foundation has so far managed to deliver nine houses to low-income families, and is working with the Colombian company Essentia – a producer of polypropylene, polyethylene and masterbatches for the plastics industry – on a project for 20 more homes in Cartagena. The Beatriz Londoño Foundation of Medellín will build another 60 homes. Also in Medellin, an additional 20 houses are planned with the support of Beneficencia de Antioquia, assigned to lottery vendors in the city. Expansion plans for this model are far ranging. "In ten years we hope to meet the goal we have set, to build 300,000 homes in Colombia and 4 million in Latin America," says John Berrio with confidence. When we ask him how he will achieve this ambitious goal, his answer is blunt: "We estimate these figures based on the existing housing deficit in the region and the indexes of plastic packaging waste generated. If we take advantage of just 20% of the flexible packaging available, we can meet our goals over the course of a decade."
Backup from Various Fronts
The Foundation's director explains that currently only 1% of the flexible plastic produced in Colombia is recycled, and for rigid packaging recovery is only 10%.
If you think about the volumes of plastic waste necessary to build the number of homes estimated by the Foundation, you are struck immediately by the complexity of the collection, logistics and management processing. The dimension of the task is even more daunting when John states that the Foundation consists of just four people in the administrative area in Colombia. But the project appears viable when its director describes the steps taken to fulfill the mission.
The Foundation has an operating scheme in place to collect flexible plastic packaging within bottles in Colombia, Argentina, Ecuador, Chile and Panama, and has a strategic alliance with the firm Econciencia, which is responsible for transforming the recovered materials. "We still don't have the ability to transform the material into products, homes and solutions, but we see things moving in a good direction every day," says John Berrio with optimism.
Calls come in daily from people interested in hosting the recovery program in different cities and regions of Colombia, and from other Latin American countries. More than 104 companies and entities currently support the initiative, with participation as varied as the filling of bottles by employees, delivery of industrial surpluses from plastic processing operations, donations in kind and cash, and contributions such as image and dissemination services for the advancing work. "This is a project that summons the concept of collaborative economy, and any contribution obtained is very important to move toward our goals," affirms Berrio.
An Award-Winning Initiative
Fundación Llena una Botella de Amor recently received significant media support through an award granted by Caracol, one of the main Colombian media conglomerates, as the winner of the Titans Award in the Sustainability Category. "This distinction was very significant for us," says John Berrio. "However, it has also generated a lot of work, because all this publicity has attracted many people who are asking us, in Colombia and other countries, when we will take our projects to their region."
This media coverage has also inspired many companies and people to approach the Foundation and offer their help, and express their intent to engage in this crusade for sustainability and social responsibility. Homecenter, one of the leading construction materials and household products sellers in Colombia, donated 20 thousand square meters of ceramic floor to the Foundation, which will go to plastic-wood homes produced with flexible packaging waste.
An Idea that Inspires Love
Llena una Botella de Amor is a project with purpose, as described by its creator, and its success lies largely in its three supporting pillars: a high social impact, a huge environmental recovery projection for a considerable amount of plastics, and a move towards future self-sustainability. "The moment we manage to set up a plant for processing the recovered plastic, we can generate our own resources," Berrio explains.
Berrio points out that for any materials, there are mechanisms that favor recovery in terms of weight, volume and value. "But in Colombia, no flexible plastic waste could be recovered under a scheme other than the Foundation's." This conviction arises from a study undertaken by the Foundation to evaluate the cost of reverse logistics to recover a kilo of flexible plastics, compared to European countries. The results indicate the cost is similar to Colombia's, with one difference: in Europe, due to extended producer responsibility (EPR) regulations, the companies pay the cost of these logistics, while in Colombia it is the Foundation that does the job. "Companies are increasingly aware of the responsibility they have when providing flexible packaging, hence their strong support for us," explains Berrio. "We all win: the industry saves on these costs, and we generate a collaborative economy, where the benefits are shared by society."
"Every day we see more companies falling in love with the Foundation," states Berrio, from the living room of the house in Andina Pack, just like one thousands of families in Colombia and Latin America may have, thanks to the work of John Berrio and his team, and to the flexible packaging waste collected in millions of "love bottles."
*****