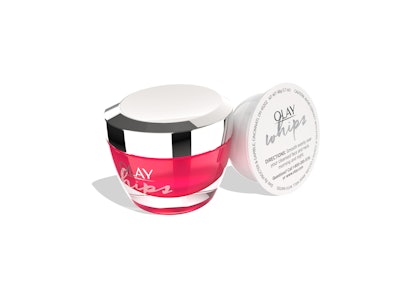 Beginning in October and running through the end of the year, Olay will be piloting a new way of shopping for skincare that it says could dramatically reduce the amount of plastic used in the beauty category. The news was announced today by Marc Pritchard, Chief Brand Officer at P&G, and Virginie Helias, Chief Sustainability Officer at P&G, at the 2019 Sustainable Brands Conference in Detroit. During the pilot, Olay will offer its Olay Regenerist Whip moisturizer with a refill pod that fits right in the jar. If adopted, and if the brand moves a significant portion of Olay Regenerist moisturizer jars to refillable pods (e.g., 5 million jars' worth), it would result in a savings of more than 1 million pounds of plastic.
Consumers will be able to purchase the refillable Olay Regenerist Whip package that contains one full jar of the product and one refill pod of moisturizer that can be placed inside the jar once it's emptied. The package will be sold and shipped in a container made of 100% recycled paper and will not contain an outer carton in order to reduce the use of paperboard. The pods themselves will be made from polypropylene, recyclable in those municipalities that accept PP.
Says P&G, Olay's refillable product concept is just one step in the brand's commitment to making more of its packages recyclable or reusable and are part of P&G's larger sustainability initiatives. P&G was the first Consumer Packaged Goods company to respond to TerraCycle's Loop circular shopping platform, which relies on reusable packaging.
Says Anitra Marsh, Associate Director of Brand Communications, Global Skin and Personal Care Brands at P&G, "The ultimate goal is to find and adopt many more sustainable packaging solutions, and the refillable Olay Regenerist Whip package is the first step of that journey. It's really important for us to get it right because only then can we bring this concept to market at scale."
Olay will test its refillable moisturizer on Olay.com in the U.S. and the U.K. and select retailers online for a three-month period, with pricing to be determined. It will then evaluate the learnings to inform future packaging. Olay hopes to learn more about the way consumers interact with refillable beauty products, for example, whether they like the idea of refillable skincare products and whether Olay's design is intuitive. Over time, the refills could be sold separately.
Companies in this article