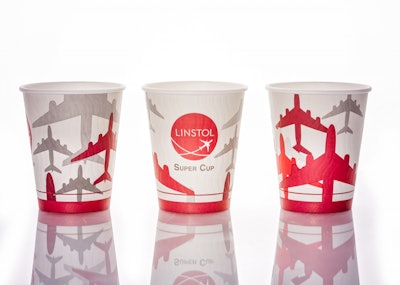 Linstol, a distributor to the airline cabin product industry, has completed a license agreement with Smart Planet Technologies to use the supplier's EarthCoating for its new Super Cup paper cup.
Traditionally, disposable paper coffee cups are difficult to recycle because of the plastic coating used on the inside of the cup. Instead, Smart Planet reports, it is estimated that 15 billion coffee cups wind up in U.S. landfills annually.
Linstol's Super Cup uses EarthCoating on its interior. Fully-compatible with traditional recycling systems, EarthCoating allows the Super Cup to be recycled universally. The cup also uses 43% less plastic content than a traditional paper cup and is designed with a 40%-smaller storage footprint, allowing more cups per sleeve.
Says Linstol CEO Mark Russell, "Helping reduce our airline alliance partners' environmental footprint is an initiative that is at the core of who Linstol is."
Companies in this article