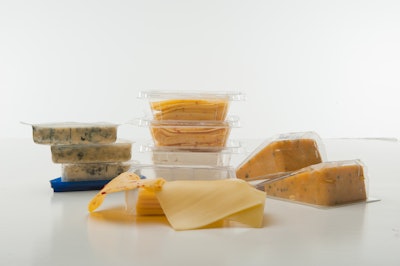 Dutch company FrieslandCampina, one of the world's five largest dairies, Südpack, a producer of film packaging for food, and PET resin and sheet producer OCTAL have joined together to create a unique packaging solution for cheese. 

Two objectives brought these companies together. FrieslandCampina wanted to replace the existing bottom sheet for its cheese packaging with material that is recyclable but also stronger than the laminated amorphous PET (APET)/polyethylene (PE) structure in use. Südpack was driven by production requirements for a material that met or exceeded the demanding specifications of its form/fill/seal technology.
OCTAL provided the packaging material solution that met the objectives of both: OCTAL DPET™ (direct-to-sheet PET) provides greater strength than laminated APET/PE with the added benefit of being 100% recyclable, says the company. Moreover, DPET increases the integrity and performance of the packaging. According to OCTAL, DPET sheet combines sustainability and product performance, including high consistency, easy forming, high machine output, and good aesthetics.
OCTAL says DPET is the first and only direct-to-sheet polyester sheet in the world. OCTAL's direct-to-sheet process eliminates five energy-intensive stages of the conventional sheet production process (pelletizer, SSP, compactor, dryer, and extruder).

This exclusive technology produces PET sheet characterized by enhanced optical and mechanical properties, increased productivity for thermoformers, and environmental advantages. Through proprietary software programs and process control technology, OCTAL maximizes roll-to-roll product uniformity, bringing a range of advantages to the PET industry.
Companies in this article