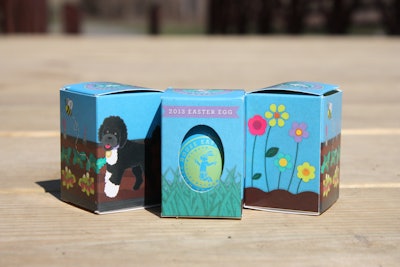 For the fifth straight year, the National Park Foundation, the official charity of America's national parks, has packaged the official White House Easter Egg—used in the annual Easter Egg roll on the White House South Lawn taking place today—in a gift box made from paperboard certified to the Sustainable Forestry Initiative (SFI) Standard®.
"We are pleased that the National Park Foundation is leading by example and sourcing certified products," SFI president and CEO Kathy Abusow says. "This decision will inspire others in the public and private sector to support responsible forestry."
The Easter Egg gift box marks the second time this year that SFI-certified products have played a role in a historic Washington event. In January, President Obama took the oath of office for his second term on an inaugural platform made from wood certified to the SFI Standard.
The official 2013 White House Easter Egg itself is crafted from Forest Stewardship Council-certified U.S. hardwood, and comes in four custom colors and includes the stamped signatures of the President and First Lady.
More information on the 2013 White House Easter Egg Roll and how to order official White House Easter Eggs is available.