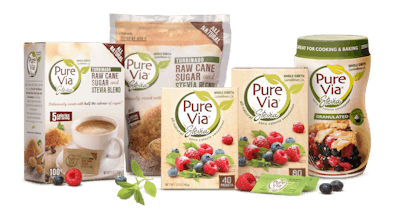 Pure Via®, the Whole Earth Sweetener Co.'s all-natural, zero-calorie sweetener made from the sweetest part of the stevia plant, now has a new look. Moving forward, both the brand's packaging and Web site employ a natural look and feel that better reflects the health-conscious and active lifestyle of the Pure Via user.

Chicago-based Whole Earth Sweetener Co. says its new packaging uses "inviting earth tones, including warm and welcoming shades of brown and green, which breathe new life into the brand. The consumer's eye is quickly drawn to the mouth-watering blueberries and raspberries dusted with Pure Via that sit atop a soft bed of stevia leaves. While the brand was crafted to be perfect in coffee, Pure Via can also be used to sweeten other hot or cold drinks, or sprinkled on cereal, fruit, or yogurt. The increased number of stevia leaves that now appear on the carton and in the brand's logo communicate the circle of life, energy, and movement."
The package redesign was handled by two firms: DuPuis for the three beige-colored packages shown at the right side of the image shown here; Kaleidoscope for the two white-colored packages in the photo.

The packaging, says the company, continues to be made from 100% recycled fiber, with 35% post-consumer content.

Pure Via is available in 40- and 80-count boxes and a 4-oz jar for suggested retail prices of $2.49, $4.29, and $4.99 respectively. Consumers can purchase Pure Via® in the sweetener aisle at grocery, club, and mass merchandise stores across the U.S., and online. Pure Via is a registered trademark of Whole Earth Sweetener Company LLC.

Boehmer supplies the 16-pt clay-coated cartons, Prolamina the 24-lb kraft paper/8-lb poly sachets, and Royal the 32-ECT, C-flute master cases. The packets are filled automatically on Cloud Packaging Equipment. Pure Via bags are packaged by Pak Technologies. Jars are filled by Power Packaging.

Meanwhile, Pure Via's Web site contains similar earth tones along with striking photographs that portray the bohemian lifestyle. Easier navigation allows users to quickly find product information, healthy lifestyle tips, traditional recipes, and tasty treats, as well as offers and promotions. Visitors to the site can now also visit the "you" section to take a "Lifestyle Quiz," or use the sugar and body mass index (BMI) calculators to learn about their weight category and the amount of sugar they're adding to their diet.
Companies in this article