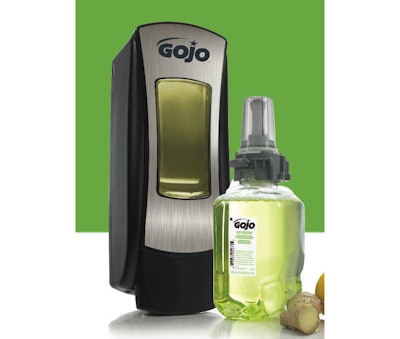 Akron, OH-based GOJO Industries, Inc., a global producer and marketer of skin health and hygiene solutions for away-from-home settings, has released its new GOJO ADX™ dispensing system, which the company says has been engineered for reliability and easy servicing with features that "raise the bar for sustainable packaging and delivery systems."
Designed to promote human well being and reduce environmental impacts, the ADX dispensing system was under development for four years. The system dispenses GOJO and Purell sustainable formulations, including a line of new USDA BioPreferred and EcoLogo™-certified formulations in sustainable packaging.
"The ADX dispensing system is a more sustainable delivery system, another step in advancing sustainable skincare innovation while setting new standards for performance and sensory appeal," says Nicole Koharik, global sustainability senior marketing manager for GOJO. "ADX systems feature oversized sight windows, clear refill bottles made from easily recyclable material, and colorful formulations that make it easy to check product levels."
The ADX system is available in the high-capacity ADX-12 1,250-mL version, and in the small-footprint ADX-7 700-mL size. Both are fully ADA-compliant. The packaging includes GOJO Sanitary Sealed™ refills made with GOJO Smart-Flex™ technology, including recyclable PET using 30% less material than high-density polyethylene bottles. The sustainable packaging design features refills with removable pumps to facilitate recycling.
According to Courtney Cooper, GOJO product systems manager, a product Life-Cycle Analysis has revealed outcomes consistent with the company's sustainable packaging objectives. "Analysis shows that if one-third of all schools in the U.S. placed the GOJO ADX system, we would realize energy savings that could heat 3,473 homes. The carbon emission reduction would be the equivalent of taking 5,518 cars off the roads," she says.