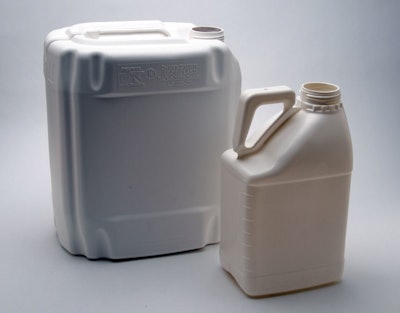 Winner of a Gold Award was The Virtuous Cycle, a reverse logistics approach in Brazil that diverts used multilayer agrochemical bottles from landfills and steers them instead into high-value recycled content. Greif/Cimplast implemented this process in collaboration with INPEV, DuPont , and Cimflex.
The impetus for this program was the 2000 passage of a law affecting the final destination of packaging used for agrochemicals. In response to this law, the National Agrochemical Producers Association in Brazil created an agency called INPEV to come up with a way of reclaiming used bottles from the farms where agrochemicals are used. Through INPEV, the bottles make their way to recycling centers, the most prominent one being Cimflex, a division of Greif/Cimplast.
Historically, the recycled content coming from such multilayer bottles is used for low-end, low value products—if it's reclaimed at all. But the help of a DuPont polymer compatibilizer called Fusabond makes it possible for Cimflex to turn this mixed-material waste into high-quality material that's stable enough to be used in one of two ways. Either Cimflex uses it to make flexible pipe for building construction, or Greif/Cimplast uses it to extrusion blow mold motor oil bottles.
Through this process, more than 150,000 tons of empty, multilayer, plastic agrochemical bottles have been collected from the field since 2002, saving an estimated 374,000 barrels of crude oil and keeping more than 160,000 tons of CO2 equivalents from being released into the atmosphere.
Companies in this article