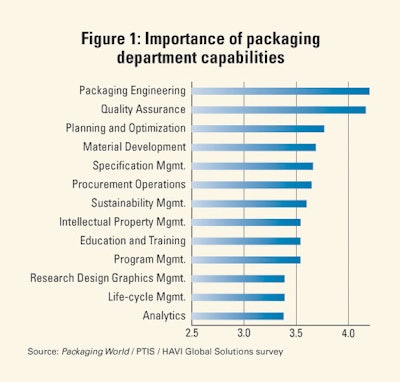 What is the importance to your company of key packaging department capabilities? And for each capability, how would you rate your company's strength?
These two questions were at the heart of a recent survey conducted jointly by Packaging World, Packaging & Technology Integrated Solutions and HAVI Global Solutions. Responses to the survey raise this question: If the importance of a capability is perceived as high but the company's strength in that capability is recognized as low, what's the best way to close the gap between perceived importance and recognized strength? The answer, according to the analysis of those who authored the survey, is to build a set of integrated capabilities that packaging pros can use to meet greater corporate challenges.
The survey covered such key capabilities as packaging engineering, material development, and program management. Respondents ranked functions on a one-to-five scale from "not important" to "very important."
Then, respondents made a second ranking, this time rating whether a function was "weak to strong" in the respondent's packaging department, also on a one-to-five scale.
Leading the list of important packaging functions was packaging engineering and quality assurance (Figure 1). Respondents ranked packaging engineering at 4.2 and quality assurance at 4.17 on the survey's one-to-five scale—clearly standing above other functions in importance.
"Packaging engineering is the main focus of most CPG packaging professionals' jobs, so it is no surprise it is ranked high," says Brian Wagner, a PTIS principal and co-author of the survey.
The survey amplified the packaging professionals' challenges by pointing out where there is room for improvement. When the importance of packaging engineering was compared to how strong the function is within companies, a significant gap appeared (Figure 2). The gap was 0.6 points on the survey's one-to-five scale.
One reason for the gap may be the changing skill sets needed by packaging engineers.
"Like most professional fields, packaging engineering has different needs than it had 10 years ago," offers Tom Biddie. He is vice president of product development-Americas, at HAVI Global Solutions. For packaging engineers, he lists the following as key skills needed today:
• Ability to strategize. "In the simplest terms, it is being able to connect the dots," Biddie offers.
• Process engineering
• Equipment engineering
• Sustainability
• Being business savvy—the capability of packaging professionals to understand the business/financial impact of their decisions
"The ideal packaging engineering function continues to evolve," Biddie continues. "It needs more specialized expertise in sustainability, bio-substrates, and packaging strategy development. Professionals need to integrate these skills with more traditional engineering expertise in the areas of substrate, structural design, manufacturing processes, and project management."
PTIS's Wagner offers this analysis of today's needs, "The challenge is often that packaging engineers are expected to be well rounded and have deep technical skills. Yet they must have deep business skills, too. We see that continually in the training and mentoring we do, and that is a big part of the gap between importance and strength that showed up in this survey."
An insight comes from one survey respondent who suggests the gap in between importance and strength may reflect the increasingly important role of private label in retailer strategies. "I develop private-label packaging for a large retailer," the respondent said. "The vast majority of retail merchants don't value development time and [are] familiar with only sourcing a finished product." Packaging, this respondent suggests, isn't the least bit important, but rather is viewed as an unavoidable and thus necessary part of the total cost of goods.
Like packaging engineering, the quality assurance function also saw a 0.6-point gap between importance and strength. But the reason for the gap is related more to technical issues. "It probably reflects technical training more than business issues," says PTIS' Wagner. He notes that the way quality assurance is handled today compounds problems seen with packaging recalls.
"In my early career, we received frequent training on statistical process control," says Wagner. "Some packaging professionals today receive training and certification in Lean Manufacturing and Six Sigma quality programs. However, it is not emphasized as a standard part of development and training. At the same time, quality assurance groups have been cut over the last 20 years, with more emphasis applied to the suppliers, with expectations that they will assure quality-delivering COAs and COCs with their products. Unfortunately, quality issues, including packaging-related product recalls, have become 'normal.'"
HAVI's Biddie offers this insight, "We suspect that challenges related to specification management may be captured as a gap under quality assurance. Companies may believe they are doing spec management sufficiently well, but the problems are captured during the quality assurance process. Companies need to build the business process and integrate quality assurance into their business model."
A number of survey respondents from overseas said global sourcing may also influence the gap between importance and strength in quality assurance. Survey respondents reflected packaging's global nature today with about one in five from organizations located outside the United States. U.S.-based multinationals also added to the global scope of respondents.
India and Latin America were dominant locations of non-U.S. companies answering the survey. This is consistent with forecasts that see India and Latin America as emerging economies poised for major growth in the next five years. "We believe that India and Latin America are two strong emerging markets; they have developed the infrastructure and are searching for technical knowledge," notes HAVI's Biddie.
One of the overseas respondents to the survey puts the overseas quality assurance issue in this light: "Quality cost is too high. In our country, the majority wants cheap products."
While packaging engineering and quality stood "head and shoulders" above all packaging functions in importance, other capabilities were more tightly grouped, with a gradual drop in importance (Figure 3). Training and education showed a gap between perceived importance and recognized strength about as large as for packaging engineering and quality assurance.
"Universities turn out top-notch talent," comments Wagner, "but there is a need for more continuing education. Training and education need to emphasize competencies and platforms that are important to the specific organization.
"Training programs need to be based on identification of each employee's strengths and weaknesses. Establishing a training and education roadmap for an organization and for individuals is critical. With everyone seemingly too busy, this often lacks priority."
Sustainability ranked in the middle of the pack where importance is concerned. Considering all the ink it's generated over the past few years, this is a bit surprising. Mike Richmond, a PTIS principal who has authored training materials on sustainability, makes this observation. "The packaging professionals who are implementing sustainability have to get senior management buy-in on programs. It needs budget along with staff. This is an area where a business sense is important, too. Sustainability strategies and business objectives have to align."
Another perspective comes from Jennifer McCracken, a senior environmental manager at HAVI Global Solutions. She says, "Companies that use life cycle management to guide product and packaging design are not only managing risks but also gaining a competitive edge. To succeed, it is essential to leverage resources that can identify critical sustainability issues across the product's lifecycle, address them with practical solutions, and inform business strategy."
One survey respondent underscored packaging's role in sustainability. "Packaging engineering and material development will definitely drive the packaging world towards the rising agenda of sustainability," he wrote.
Food companies, with about one-fourth of the overall responses, accounted for the most responses to the overall survey. Beverage, health care, consumer products, and industrial products were other major industry segments responding.
Consumer products was the industry segment that ranked packaging highest overall in importance, giving it a 4.5 out of 5 (see Figure 4). Yet they ranked their overall strength at only 3.75, so there's a sizeable gap between perceived importance and recognized strength. This could reflect a need based on the drive toward innovative products in today's changing market. However, corporate management still has to commit to the resources in packaging to deliver the innovation and packaging strength they want to drive sales of consumer products.
Food, beverage, and health care also topped 4.0 when it came to ranking the overall importance of packaging. Driving up the scores in beverage were companies producing high-value products such as distilled spirits. In health care, the regulatory environment that's in place helped drive the overall importance of packaging. As for food, it could be that the gap between perceived importance and recognized strength reflects input by companies in developing countries where the regulatory environment has not yet reached U.S. standards.
Overall, packaging's move toward having a "seat at the corporate table" is progressing, observes PTIS' Brian Wagner. "This survey shows that packagers have an increasing role in answering corporate objectives," notes Wagner. "That's good news as the profession gains the recognition it needs. But it also gives us the challenge of expanding our professional competence to further embrace marketing, innovation, and strategic directions."
Jim Peters is a 25-year veteran of the packaging community with experience as an editor, author, consultant and educator.

Companies in this article