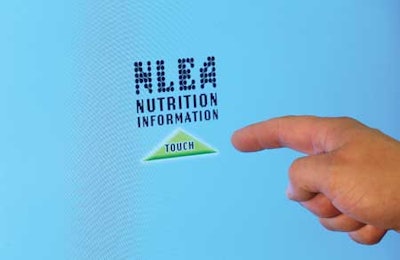 If you had no budget and no limitations, how would you engage shoppers and create packaging that would demand shelf space, really grab a consumer's attention and make an impact? Here is a list of "What ifs" to ponder:
• What if … shelves used technology to build brand equity?
Using innovative technology, brand-building tactics are maximized to support consumer brand recognition and engage interaction. Grocery store shelves use LCD screens built into shelf strips below products. Current commercials run on these screens to tighten the brand experience.
• What if … packaging could be changed
in an instant?
Revolutionize packaging with interactive technology. Packaging is alive! Through the use of paper-thin LCD screens, brands showcase their graphics in real time. Images and product shots are movies, and appetite appeal is at its tastiest.
• What if … packaging could be interactive?
Touch-screen, paper-thin LCD screen technology promotes interactivity on consumer packaging! This "smart" packaging form allows for interactivity through the use of touch-sensitive LCD screens.
• What if … a package, once purchased, minimized
redundant graphics?
Consumers are recognizing the value of great design. This is becoming an increasingly popular trend when considering packaging design. "When I got home and unpacked my groceries, the shampoo bottle I'd purchased appeared to have undergone a metamorphosis. Not only does it look great, but it complements the clean, minimalist look I've created in my bathroom."
• What if … "green" technology were brought in-store for environmentally conscious brands?
A growing number of consumers want products that support environmental efforts. With many emerging organic brands, it's good to assume that environmental consideration takes place within the product's agricultural stages, but how about extending awareness across the brand's journey of life?
• What if … in-store clutter were eliminated to streamline the shopping experience?
Busy shoppers are always looking for a gap. Take refuge in an "exhibition-style store" where single products are viewed in a gallery-like setting. Using your "Go Shop" scanner, scan item codes to view more information, or simply press "add to cart" to purchase. Items will be collated, bagged, and made ready for your collection at your convenience.