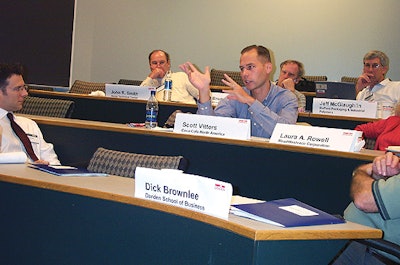 More than 30 people attended the cradle-to-cradle meeting held July 11 in Charlottesville, VA. The meeting was co-hosted by MBDC (the consulting firm of William McDonough and Michael Braungart, originators of the cradle-to-cradle concept) and the University of Virginia's Darden School of Business, which provided the meeting facilities. The event was conducted and facilitated by GreenBlue, a new nonprofit founded to facilitate the adoption and implementation of the principles of cradle-to-cradle design.
Below is a list of companies and other interested parties represented at the meeting:
Packagers
Aveda
Coca-Cola
Hewlett-Packard
Nike
PepsiCo
Starbucks Coffee Co.
Suppliers
Alcoa
Dow Chemical
DuPont Packaging
Klöckner Pentaplast
MeadWestvaco
Printpack
R.S.V.P., Inc.
Government and Trade Groups
Packaging Machinery Manufacturers Institute
U.S. EPA, Environmentally Preferable
Purchasing Program
U.S. EPA, Office of Solid Waste
U.S. Dept. of the Interior,
Office of Environmental Policy and Compliance
See the story that goes with this sidebar: Cradle-to-cradle catches on
Companies in this article