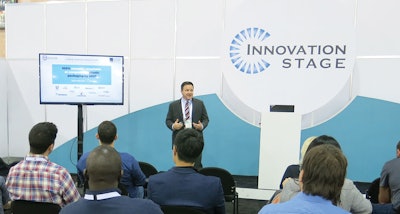 Here's a review of some of the highlights on the floor. Presented by PMMI, PACK EXPO East will return to Philadelphia March 3 to 5, 2020.
Forum format is a hit
A new counterpart to tried and true Innovation Stage presentations, Forum sessions proved to be a popular addition at the show. These lightly curated and moderated interactive sessions used brief introductory talks on weighty industry topics to serve as jumping-off points for small-group discussion among interested parties. The OpX Leadership Network, Institute of Packaging Professionals (IoPP), Contract Packagers Association (CPA), and PMMI Business Intelligence coordinated to curate and MC the sessions.
Students make robotics connection
High school students involved in the FIRST Robotics Competition and Program toured the many controls and automation demonstrations at PACK EXPO East. Students demonstrated and displayed their own competition robots at designated booth space on the show floor. While their competition robots don't very closely resemble practical industrial robotics, students came away understanding that the underlying technologies are similar, and similarly interesting.
Women's meeting inspires
The first regional meeting of the Packaging & Processing Women's Leadership Network invited participants to both listen and speak up.
Keynote speaker Diane Wilhelm shared her inspiring personal experiences overcoming obstacles in the workplace and leading with confidence over the course of an extensive career in the military, with General Motors, and in her current role at Harley Davidson as chief engineer advanced manufacturing.
Members also participated in a collaborative exercise led by Debra Zabloudil, president and CEO of The Learning Studio, Inc.
Pharma-forward feel
Thanks in part to its northeast location, the show had strong pharmaceutical and medical device representation among attendees and exhibitors alike. Serialization for pharmaceuticals and Universal Device Identifiers (UDIs) for medical devices were top-of-mind among controls and machine vision suppliers, labelers, and more, as OEMs and their big pharma customers hone their solutions for track and trace.
There was also a noticeable nod to pharmacy needs, 503B compounding, nutraceuticals, and other small- to medium-sized manufacturers on the periphery of traditional big pharma. One example was FP Development's robotic syringe filler and tray loader with backlit smart table and Cognex VC200 vision system. Also, Omega Design Corp. demonstrated its Impact line of desiccant feeders and unscramblers that take advantage of the company's strong pharmaceutical packaging experience but are configured to order for shorter lead times at a lower price point.
E-commerce, drone potential tantalizes
An outgrowth of the e-commerce rush, PMMI collaborated with electric truck and drone maker, Workhorse, to simulate what the future of last mile package delivery and e-commerce might entail.
The interactive display offered a real visualization of the final process that brings a package to a consumer's home.
On the floor, Texwrap, a ProMach company, demonstrated its e-commerce-ready 2410 intermittent motion side seal machine designed to scan, handle, seal, and label multiple different product sizes in right-sized packs that might arise in order fulfillment center-type settings. And PAC Machinery showcased its Magnum horizontal bagger for fulfillment centers that works with coex mailer tubing as well as bag-on-a-roll.
Companies in this article