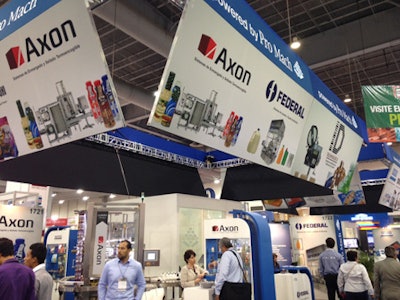 Pro Mach Inc., Loveland, Ohio, kicked off EXPO PACK Mexico by announcing the company is significantly expanding the support of its Latin American customers with the creation of Pro Mach Mexico Shared Services. Based in Monterrey, Mexico, the new sales, technical support, equipment, and parts stocking facility expands in-country sales presence and technical field services. The opening of the shared services facility in the Santa Catarina Industrial Park will occur this summer.
The Pro Mach Mexico Shared Services business will provide customers, distributors, and agents with aftermarket parts availability, custom stocking of consumables, training, equipment demonstrations, light assembly, and technical field support. Deploying parts and having regional services available, in country, means better overall productivity for customers. Pro Mach currently has four full-time Latin American technical support personnel, eight sales representatives, and a number of well-equipped channel partners supporting its customers in Latin America.
"The power of Pro Mach is that it ensures best industry practices from each of its brands in terms of research and development, engineering, manufacturing, back office services, and aftermarket support through the ProCustomer program," said Adrian Hermosillo, Director, Pro Mach Mexico Shared Services. "The Pro Mach Mexico Shared Services business will deliver a host of advantages to Pro Mach's Latin American customers in ways far greater than any single brand could do on its own."
Hermosillo, who has been in sales, marketing, and technical support for Axon for more than four years in the USA, is a Monterrey native. He holds a B.S. degree in engineering from Monterrey Tech (ITESM) and an MBA from UNC-Chapel Hill, Kenan-Flagler Business School. He will handle all aspects of the Pro Mach Mexico Shared Services business, including facility management, importation of aftermarket parts, management of training services, equipment demonstrations, trade shows, and Internet-based marketing.
"Adrian is a Pro Mach veteran with exceptional knowledge of packaging technology and customer expectations," said Mark Ruberg, Vice President, Pro Mach Business Process Group. "He brings superior engineering, sales, and support skills to his new position. Adrian establishes close personal relationships with customers, which is essential for success. He is an outstanding representative of Pro Mach, and we are proud that he will be leading our efforts for the new Pro Mach Mexico Shared Services business."
Pro Mach has 14 brands exhibiting at EXPO PACK Mexico 2015: Pace (Booth 1808), Zalkin (Booth 1810), Ossid (Booth 1816), Orion (Booth 1822), Axon (Booth 1908), Roberts PolyPro (Booth 1910), Federal (Booth 1912), Matrix (Booth 1916), ID Technology (Booth 1920), Brenton and Currie by Brenton (Booth 1922), and Wexxar/BEL and Dekka (Booth 1924).
Pro Mach Mexico Shared Services is located at Manzana 23, Parque Industrial Marfer, Santa Catarina, Nuevo León, Mexico. For more information call +52 1 (81) 1910 3216. Anyone interested in joining the Pro Mach Latin American Team should stop by the Pro Mach Booth at EXPO PACK Mexico.
Companies in this article
Videos from Matrix Packaging Machinery