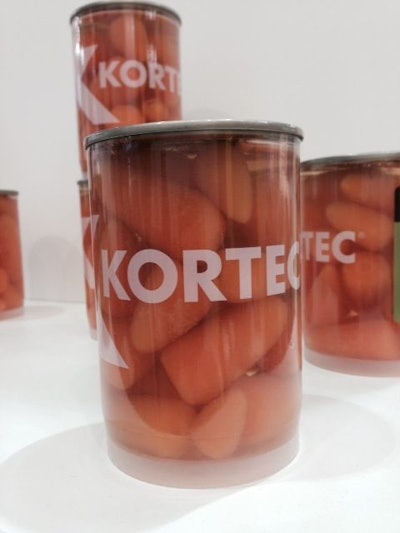 Like the sardines can, also causing quite a stir was the KlearCan from Kortec, an innovative machine builder and designer of tooling sold to commercial container makers. This three-layer co-injection molded can consists of PP/EVOH/PP and can withstand retorting at 131 degrees C. Supplied by Kuraray, the EVOH includes an oxygen scavenging additive. According to Kortec President and CEO Paul Swenson, Kuraray has had scavenger additives available for thermoformed PET for some time now, so it was a matter of modifying these for use in an injection-molding process. Swenson says the can, which takes a seamed-on steel end, is a drop-in substitute for steel cans. Providing 100% oxygen barrier, it is designed to provide a two-year shelf life. Installations of the machinery at Kortec customers are expected to occur in 2015.
Two other very cool innovations in plastic were for foods sold through refrigerated channels. One is a drinkable yogurt from COPAG, a large cooperative in Morocco. This 180-mL container in a full-body shrink-sleeve label represents the first commercial application of Roll n Blow. Introduced a few years ago by Agami, this method of blowing bottles from roll-fed PP is now the property of Serac. The raw material comes in rolls of plastic (PS, PP, PLA, PET are all said to be options). This material is cut into strips, and each strip is shaped into a tube around a blow pipe. Each strip is then welded lengthwise. The resulting plastic tube is then heated and blown into a mold to create a bottle ready for the filling line. Serac estimates that for X number of bottles, 27 trucks are needed to transport bottles to a filling facility, 5 trucks are needed for preforms, and a single truck can carry the rolls of plastic.
Meanwhile, on the salad side of things, Germany's Gartenfrisch Jung has just introduced a fresh salad kit in a package concept designed by Sealpac. The EasyLid® from Sealpack is a unique seal & lid in one solution. It's an alternative to heat-sealing flexible film lidding to a tray and then adding an overcap to protect the film lidding. Hermetic sealing and lidding of the injection-molded PP tray takes place in one single step. But when the consumer opens the pack, a re-closable lid is automatically created, which allows for consumer-friendly recloseability of the packaged product. The benefits of the EasyLid system are source reduction, reduced costs, and greater convenience for consumers. In the case of Gartenfrisch Jung, the appeal of EasyLid is that the salad's components, including the separately packed dressing, are marketed in a multi-compartment EasyLid® tray. By opening the pack, placing all the components inside, and then pouring the dressing over the salad, the EasyLid system allows the consumer to safely re-close the pack with the lid and shake the salad for a perfectly mixed and ready-to-eat meal.
Equipment breakthroughs are numerous at interpack, and one of the more intriguing of these is a cartoner from Cama Group that features the iTrack system, a linear servo motor from Rockwell Automation that was originally developed by Jacobs Automation. The cartoner shown by Cama requires no chains or fixed flights, relying instead on a pitchless approach that brings unheard of flexibility and a remarkably small footprint.
Finally, at a May 10 press conference held by Ipack-Ima, that organization's CEO Guido Corbella invited the world to participate in East Afripack, which takes place September 9-12, 2014, in Nairobi, Kenya, Africa. In his remarks, Corbella acknowledged how important it was that PMMI has entered into a joint venture agreement with Ipack-Ima in support of this show. He also included an announcement that Lucia Lamonarca, formerly Research and Development Director at Ipack-Ima, has been named Chief Operating Officer.
Companies in this article
Videos from Cama North America