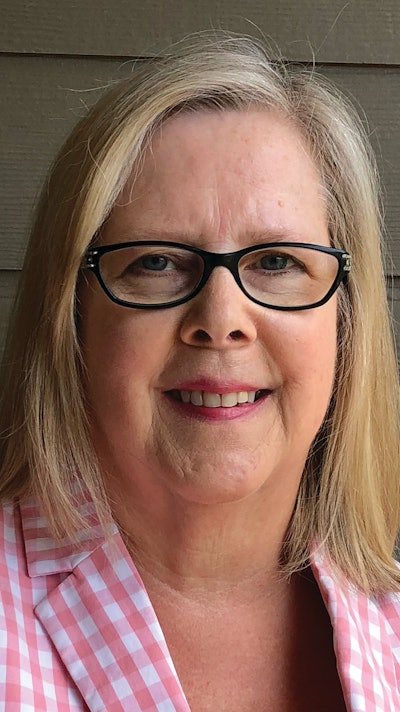 Like a certain pink bunny, Rebecca Lane "Becchi" Oesterle, CPPL, just keeps going and going as an educational leader for packaging professionals, even in her retirement. Oesterle led the charge at Energizer on several package development and project management innovations and translated those same skills at Just Born Quality Confections. Currently, she brings over 40 years of packaging and project management experience as Chair of the Board of Directors at the Institute of Packaging Professionals (IoPP).
Born in Vermont and raised a "Navy brat," Oesterle and her family followed her father as he was stationed all over the world, from Virginia and Rhode Island to Bermuda and Sicily. Despite the constant moving, she was mad when her father left the Navy after 21 years because, as the youngest child, she didn't get to live as many places as her older brothers.
As a Georgia Tech undergrad, Oesterle interned at the Eveready Battery Company division of Union Carbide before segueing into a job as an industrial engineer at Energizer upon graduation. In addition to her B.S. in Management Science, she earned an M.B.A in Operations and Marketing at the Sage Colleges and an M.S. in Packaging Sciences at the Rochester Institute of Technology. She later became an industry advisory board member at RIT.
In the early 2000s, Energizer began focusing more on packaging and packaging development, leading Oesterle to earn a promotion from supply chain manager to manager of global packaging development.
She helped develop several innovative package designs for household products, including more accessible hearing aid battery packaging, a rollout of new graphics to fit the company's global branding image, and a new child-proof plastic packaging for lithium coin batteries used to this day.
Not one to stop at just a few innovations, Oesterle also used her time in this role to expand Energizer's Package Design Center, a program created by her colleague Dan Stucky. Oesterle grew the program to include all the "toys" needed to develop working package prototypes within 24 to 48 hours.
"It was partially to show off what the capabilities were," Oesterle says, "especially when the Design Center first opened, so that [retailers] would know what we could do internally." The Package Design Center grew from a local department to a global operation at Energizer.
Oesterle found yet another way to stay ahead of the times at Energizer by leading the development of an electronic workflow system. Her team considered outside data management services and would have relished a service like Specright, "but they weren't around when we were first looking to do this," she says. "Energizer had a really capable IT department, I mean, they were very, very good, and we designed our own system."
The system added transparency to quickly spot and sort out bottlenecks, moving from manually carrying papers to an efficient way to keep work flowing across time zones.
Around Oesterle's 30th year at Energizer, the company shifted its focus and removed the global package development team she had led. Energizer offered her a role as the business manager for an IT project to roll out SAP software globally, and she decided to take that on as her next adventure.
It didn't take long for the packaging itch to return.
"Probably six months in, I said to my husband, 'I do not want to do this the rest of my career; I miss packaging,'" Oesterle says.
She oversaw the go-live for the SAP project but soon after found another "pink bunny" as packaging development manager for Just Born, the makers of Peeps, Mike and Ike, and other popular candies.
"The thing about working at Just Born that was different from Energizer and that I really liked is that my hands were in it all," Oesterle says. She dusted off her graphics and AutoCAD skills, drew up packaging, and worked with equipment suppliers in this new role, continuing with the ideation skills she sharpened at Energizer. She preaches this diversity of talents in her current role at IoPP, telling the next generation to focus on "learning everything you can."
"Don't just focus on exactly what your job is, but understand how your job impacts the job after you," she says. "That makes you a better person, a better worker."
Oesterle first learned about IoPP while at Energizer's global headquarters in St. Louis after watching a speaker with a "CPP" title, short for Certified Packaging Professional (for which she would eventually earn lifetime certification). Starting at IoPP's St. Louis chapter, Oesterle soon led that chapter as President and later joined IoPP's national ranks, becoming chair of its board of directors in 2020.
Oesterle has used her time at IoPP to pass on what she learned in her career. As the leader of IoPP's Sustainable Packaging Technical Committee, Oesterle updated and expanded on the organization's "Environmental Packaging Guidelines" textbook. She is also working on a project management course tailored explicitly to packaging professionals, aiming for a Fall 2022 release.
After years of experience climbing the corporate ladder in the packaging world, Oesterle has some sage advice to share with the next generation of packagers.
"You need to toot your own horn. You can't assume that your boss knows everything you're doing because depending on how your working structure is, they don't," Oesterle says. "You need to be your own best advocate."
Read profiles of the other three inductees into the Packaging and Processing Hall of Fame, Class of 2022 by clicking on their names below: