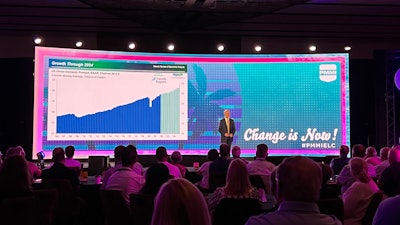 Alan Beaulieu, PhD, President of ITR Economics, cut right to the chase in his April 2022 economic landscape talk at PMMI's Executive Leadership Conference, so I'll extend the same courtesy in reporting on it.
"You don't need to be nervous about a recession," he said in his opening remarks. "We're not going there. When we look at the likelihood of a recession, it's very, very slim right now because of the positive things that I'm going to be showing you."
Well, that's a relief.
He's quite aware that Deutsche Bank and Goldman Sachs disagree with him. And he allowed himself some wiggle room around the chance of escalation in Ukraine. Still, he stood by his prediction of no near-term recession, bolstered by a sterling track record of 95% or better forecast accuracy on a host of the 2021 figures ITR predicted, from GDP to production to private sector employment. But that's not to say there's not a bear market or two out there in the medium-term. Here are some details that should affect the entire packaging supply chain, from OEMs to CPGs to us consumers.
Eight-year economic picture—Roaring 20s
With the short, steep COVID-19 recession mostly behind us, the economy is running hot now, due for a leveling off in 2023 that Beaulieu described as a "soft landing."
"Then the economy picks up speed in '24. You're going to like that, and you're going to be busier in '24, and then you're going to find the economy slows again in '25. The second half of '25, we begin to go down. In late '25, we begin a recession that's going to last to 2026, so there is a recession out there. Not like 2008-2009, nothing like that, and not like the COVID recession, which was short and steep. This is just going to be a normal recession. We've been through a lot of those, and we're going to get a chance to go through another one. … In '27, '28, and '29, we're on the way up again and life is good, so mostly this decade is good."
Beaulieu likened the 2020s to the "roaring 20s" of a century ago but was careful to note that that it's a misconception that that decade was all roses. It had its share of political and social strife, and even a few recessions, just as he expects us to see in rounding out this decade.
"The thing that made them the roaring twenties was that the national wealth just really went up and a lot of people got really wealthy in the1920s," he told the packaging equipment manufacturers in the room. "You're going to do well. You're the type of folks that are going to just enjoy this because of the industry that you're in"
Supply chain clears up, demand eases
Using the U.S. Paperboard Container Production Index as model representative of the larger manufacturing segment, Beaulieu forecasted an overall slowdown in production. Eleven out of 12 leading indicators—housing being the outlier—predict deceleration in 2022 and 2023. This trend coincides with an easing of demand headed into and through 2023 that's linked to supply chain recalibration.
"What we're going to be facing as we go forward is less demand. Not a decline in demand, but less of a rising trend of demand," Beaulieu said. "Even as the supply chain clears up—and it will, the supply chain a year from now is going to be back to normal, an awful nightmare of the past—you're going to find that the demand for your services, the demand for the machinery, the demand for what you do is not going to be as strong a year from now as it is today. The math tells us production's going to continue to go down in the near term, but everything else that I'm looking at says it's not going to go into a recession. We're going to find that you're still in demand, and that you're needed."
Another reason for the slowing of demand and production is that our recent, super-charged, stimulus-based economic ascent is finally dissipating.
"All the money coming out of Washington, that stopped," he said. "The rate of rise … is going to slow down when that economic environment is going to slow down. It's pretty straight forward."
A common way to illustrate the economic status of any industry is via four phases represented alphabetically as: A (expansion), B (peak), C (contraction), and D (trough). Currently, packaging-heavy industries like food and bev, food services, drinking, grocery stores, pharmacies, and drug stores, are between B and C, or peak and contraction, depending on the lens through which you view them. Using a wider viewed rate-of-change calculator (12/12, or one full year-over-year), those industries are still in B, "where everyone's feeling good." But narrowing the lens a bit (3/12, or 3-month average compared to the same 3 months the previous year), those industries fit better into C, or contraction. And beer, wine, and alcoholic beverages are in C, contraction, in both rate-of-change lenses.
"That strong demand and pull will be easing, which gives you a chance, by the way, to catch up on unfilled orders and as product comes in the door," Beaulieu said. "You'll be able to put it together and be able to get it out the door, and you're going to find yourself with your backlog slowing going down. And as new orders slowing ease in their rate of rise, your revenue is going to be fine and you're going to catch up on your backlog and you're going to find that they're going to make your '23 second half, especially, in very good shape."
Consumer spending resilience
As much as the Russia/Ukraine conflict, gas prices, and interest rates are in the news, an index of consumer spending from Johnson Redbook shows no impact on American economic attitudes since the Russian invasion. According to Beaulieu, that has to do with the relative amount of take-home pay it takes for Americans to make their household debt payments—only 9.3% nationally.
"That's, obviously, extremely low… That's in part why Deutsche Bank and Goldman Sachs, I think, have it wrong," he said. "Because the American consumer is saying [of the Ukraine conflict], 'Yeah, that's horrible. Let's keep spending.' We're just going to keep spending for as long as we can continue to keep spending. When you can't see inflation of the last month robbing us of purchasing either—this is a weekly year-over-year percent change—we're just continuing to spend. As we continue to spend, then life is good. Thank a consumer on your way out."
Gas prices, which are linked to the Ukraine conflict, haven't made American consumers flinch, either. One might assume high gas prices would take a big bite consumer spending, but ITR evidence shows otherwise (see chart below). And historically (to 2000), when oil prices have shot up quickly, retail sales just continue to go along their merry way or go higher. Only the great recession of '08 saw a bit of a consumer-spending dip.
"Now, people will complain about it," he said, "but the consumer can afford the higher gasoline prices. As a percentage of our median income, it's very affordable, and we can even go up higher. We think oil prices are going to go up higher if the war lasts, and they'll be going up slightly as we go through the year. But we can afford it."
This extends to interest rates, too. Beaulieu fully expects interest rates to go up, and that might have a greater impact on people with variable rates on mortgages, and the housing market in general. But since only 9.3% of take-home pay is required to meet household debts, that's low enough that the American consumer can absorb increases and keep right on spending.
"[That 9.3% figure] can go up a long way before we're in trouble," he said. "The consumer is in a sound financial position."
Machine builders can finally take a breath
Lead times for machinery have been an unavoidable but real sore spot at the intersection between CPGs using the equipment and the OEMs building it. But look for those lead times to come back to Earth, Beaulieu says, and OEMs may finally be able to take a breath. That's because the U.S. Industrial Machinery Production Index, which includes packaging machinery, tracks quite nicely with the big picture trends of continued but slowing growth in the near-term. Unfulfilled orders lag machinery production by three months or so, but the decelerating growth of the coming year will help with long lead times. The forecast demand for machinery looks to be peaking soon, or may be past its peak, giving OEMs a chance to catch up (see chart below).
"The fact that that blue line has reached the peak and starting to come down, and the fact that all the lead indicators, and I've been told that the recent peak is starting to coming down, it says that your unfilled orders are about ready to reach a peak, and that rate of change is going to start to come down," he said of the chart above (U.S. Industrial Machinery Production Index). "That means that the number of unfilled orders is going to slow in its rate of rise, eventually tip over, and then start coming down late this year into 2023. There is an end to this, and it's already getting to be visible in the rates of change."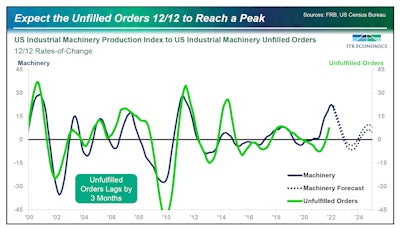 One specific area of interest for OEMs, and one that's highly fraught, is labor. It's a double-edged sword like no other since the equipment you make—automation—is essential for your CPG and co-packer customers to navigate the low-labor environment. But you need quality people on your own teams, they're harder to come by, and competition to keep them is fierce.
The 'great resignation' is expected to ease, per ITR, but the tight labor market is not. The April jobs report confirms what you know, it's drum tight at an unchanged 3.6%, with 430,000 new jobs added.
"Tight labor, it's going to be with us for a long time," Beaulieu said. "That works to your advantage, obviously, as introduce automation, efficiencies, and a better way of doing things, but it's also going to plague you as we go into the future because it's not going to go away this decade. We simply are not having enough immigration into this country, and though our population's growing, our economy is growing faster."
Inflation, high prices prolonged due to conflict
Like many in his economist cohort, Beaulieu had been betting on the inflationary pressures of an intentionally over-stimulated economy to soon abate, and for prices of raw materials to subside. But the situation in Ukraine has thrown a lifeline to high prices.
"That's the impact of the war on our economy is that prices are going to stay sticky on the high side," he said. "Normally, we would expect paperboard PPI to come down because the purchasing manager's index is coming down. The most normal economic move going would be for that blue line to come down, for paperboard prices to come down, and before the war, I would have said the second half of this year, you're going to see prices come down, but that's not going to happen anymore because of the war. Copper will signal the same thing. What we're going to find now is that prices, which are high, are going to stay hanging there.
"That rate of rise, that really sharp rate of rise we all experienced, that's over with, but none of this is going to come down. If you're waiting for 2019 again, that's not going to happen. It's probably not going to happen at all this decade."
To review, the economy will be taking a breather in coming months, giving the packaging supply chain time to adjust to the new normal. But it won't be long until we'll be back in overdrive. And when it does, expect a tight labor market and sticky-high prices. But thankfully, consumer spending should remain unperturbed by conflict, energy prices, or interest rates. Buckle up, according to Beaulieu and ITR, the "Roaring 20s" are back.
Companies in this article