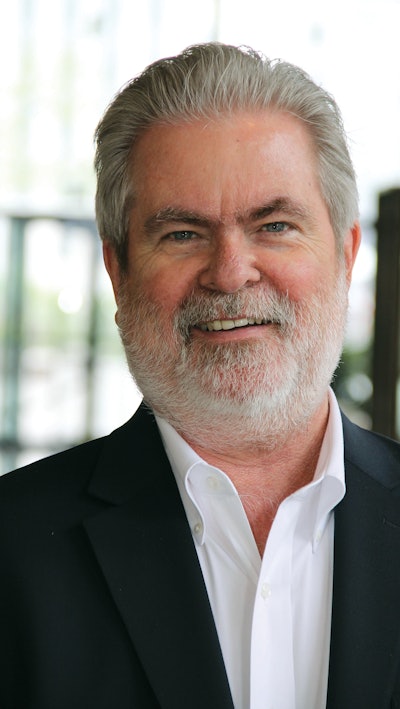 In 2018 I placed it in the capable hands of my successor Matt Reynolds, as plans for my phased-in retirement began to take shape. But with this issue of Packaging World, a magazine I'm proud to say I helped launch in 1994, my retirement becomes official (more on that in a moment). That being the case, we figured it was a good opportunity for me to reclaim this space for one last Lead Off column. If nothing else it gives me a chance to say thanks to the countless packaging professionals I've met over the years, without whose input I'd have had nothing to write about.
Also deserving buckets of thanks are the mentors I've had the pleasure of working with. A short list would include Lloyd Ferguson, Chuck Winnicky, Bob Heitzman, Sarah Lee Gerrish, Arnie Orloski, Joe Angel, Jim Chrzan, Dave Newcorn, Ben Miyares, Jim Butschli, and Anne Marie Mohan.
Who would ever have thought that packaging could be so endlessly fascinating? Watching the emergence and commercialization of things like servo technology and compostable packaging—not to mention things like predictive maintenance via Artificial Intelligence—has been like having a birds-eye view as the future becomes the now. Digital printing is another one that still just knocks me out. I'll never forget encountering Indigo for the first time somewhere in the bowels of McCormick Place long before Indigo was acquired by HP and thinking to myself, "Those nut jobs actually think they can print packaging in the complete absence of any kind of plate!"
Looking back, I'd like to think I worked hard at the business of packaging journalism. But don't imagine for a minute there wasn't a whole lot of fun involved. How about foreign travel? Trade shows like Emballage, interpack, Ipack-Ima, and Anuga FoodTec brought me to Paris, Dusseldorf, Milan, and Cologne a number of times. Just don't ask me about my trip to Moscow, where a misunderstanding about the duration of my visa could have put me in the slammer. And then there was that time in Florida when I found myself in the ER getting stitches in my head the night before delivering a presentation at one of Ron Schotland's conferences. Let's not revisit that one either.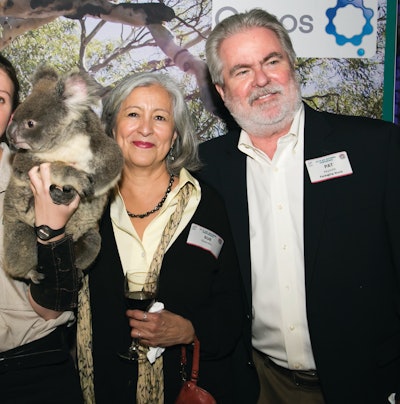 Various speaking engagements added China, Japan, and Australia to the list of unforgettable places I've been able to see. Shown in the photo on the right with a friend she made in Australia when we were invited there by the Australian Institute of Packaging is my wife Sue, without whom, just by the way, I couldn't have had a 38-year career in packaging journalism. In Japan it was a Tokyo Pack conference I addressed, thanks to an invitation from the Japan Packaging Institute. The show had plenty of new technology to suss out, but the highlight of the trip was a dinner cruise of Tokyo Bay during which I joined my Norwegian editorial counterpart Per Nordberg in a Karaoke version of "Born to Run." Let me just say we absolutely crushed it.
Also on that cruise with Per and me were a number of our fellow members of IPPO, the International Packaging Press Organisation. These talented journalists, representing some 80 different countries, were always a valuable sounding board at whatever show in whatever country we'd find ourselves together. My time as a packaging journalist would not have been the same without them. Again, my sincere thanks to all of you.
As for my retirement becoming official, I lied. Through the end of 2022 I'll function as Contributing Editor, though on very few projects. Which reminds me that I also want to thank the leadership group at PMMI for being as flexible as they've been the past few years where my phased-in retirement is concerned. I hope they are as pleased as I am at how smoothly the succession has gone.
Let me end this Lead Off farewell by offering my sincerest thanks to the vibrant packaging community that took me in nearly four decades ago and made me part of something truly special. All the best to all of you.