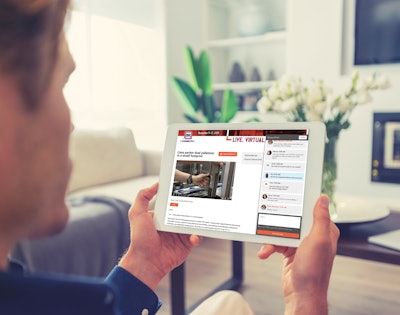 With all content available on the platform through March 31, 2021, the streamlined search functionality continues to enable quick and efficient identification of suppliers matching needs.
Entire project teams can conveniently access 15-minute on-demand equipment demos that showcase relevant products, equipment, and technologies in action, which they can easily share with colleagues. Offering hundreds of vetted suppliers, packexpoconnects.com provides an unmatched range and depth of solution providers on-demand, ready to address common pain points and critical challenges such as remote access, sustainability, automation, e-commerce, robotics, artificial intelligence, safety, and more. For a snapshot of what PMMI Media Group's team of editors learned by attending PACK EXPO Connects, check out the exhaustive PACK EXPO Connects Innovations Report, starting on page 152.
With so many activities and demos available at PACK EXPO Connects, the Attendee Resource Center offers helpful tools such as video tutorials on how to search and add demos, how to link with exhibitors, and more. Below are some helpful tips on how to explore the world of PACK EXPO Connects:
1. Create a FREE login
Click the "Register Now" option at packexpoconnects.com for complimentary registration. Once registered, attendees can search a multitude of ways, including keyword, product category, new products, and educational hours. Any item or event of interest can easily be added to a MyConnects Planner by clicking the plus sign (+) next to it.
2. Organize innovations and education
After creating a login, attendees can quickly add educational sessions or live demos to their MyConnects Planner, providing one central place to compare solutions or offer a potential blueprint for success to fellow team members. Categories offering demos of solutions include:
• Bagging, pouching and wrapping
• Cartoning and multipacking
• Coding, marking, labeling and printing
• Containers, materials and transport packaging
• Controls, software and machine components
• End-of-line equipment
• Feeding, conveying, accumulating and product handling
• Filling, capping, and sealing rigid containers or trays
• Food processing equipment
• Life sciences
• Plant facilities and infrastructure
• X-ray, vision, inspection, testing, and weighing
3. 24/7 Access
PMMI Media Group understands that packaging and processing professionals are busy, and bandwidth is at its limit. PACK EXPO Connects never closes at the end of the day. Content is available online when it is convenient for attendees or when attendees can find time. It can also provide opportunities for team members to look at demos that some project members find applicable and rendezvous later to discuss.
4. Reach out
Exhibitors are waiting to hear from potential customers and continue to monitor their virtual showrooms. Attendees can simply click the envelope icon under the exhibitor's contact information to send a message.
"Research shows that engaging with product engineers and technical folks is a top priority among equipment and material buyers. We're excited about the ability for registered attendees to make direct connections with technical experts. It couldn't be easier," comments Dave Newcorn, Senior VP, Digital and Data, PMMI Media Group.
For more information and free registration, visit packexpoconnects.com.

Companies in this article