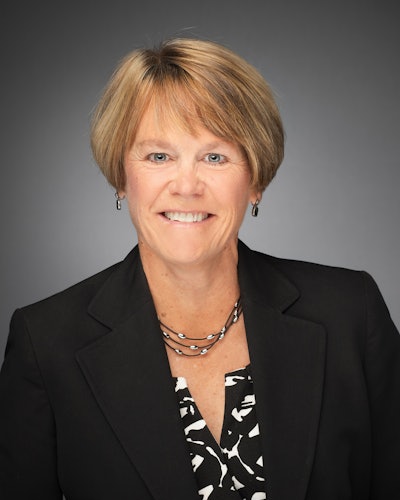 As Executive Director of the Institute of Packaging Professionals (IoPP), Jane Chase, CPP, Fellow, taps into a swath of experience, education, achievement, and skill that fits the multidisciplinary field of packaging. Her start in engineering has branched into safety, operations, packaging R&D, processing, brand design, and a recent emphasis on education and networking. This collection of attributes rounds her into a complete, for lack of a better term, package.
A Midwesterner through and through, she left her North Dakota home to study mechanical engineering at Milwaukee's Marquette University. Then, with bachelor's degree in hand and a master's degree from the Milwaukee School of Engineering in the making, she balanced grad school with real world experience while working at Johnson Controls. That quality engineering background opened doors at nearby SC Johnson Wax, and an early introduction to packaging came when they asked her to develop a supplier certification for packaging components.
"As I thought of it then, I was only three years out of school, and I got to do what I considered play," Chase says. "I couldn't help improve a quality system if I didn't understand the supplier's process. So, I had to learn blow molding, injection molding, thermoforming, paperboard, corrugated, aerosol cans, you name it. It gave me a strong, early background in packaging."
This led to an aerosol packaging manager's role for a few years, and a packaging R&D role for six years after, a decade she thinks of as her growing-up period. It was around then that the die was cast for a lifetime as a packaging pro.
"In quality, the packaging was either good or bad, and you had to figure out what to do with it," she says. "I thought I could go into operations, never make any bad product, and save the world. I discovered quickly that if you didn't have good R&D up front, you were pretty much doomed from the get-go."
---
PACK EXPO Connects–November 9-13. Now more than ever, packaging and processing professionals need solutions for a rapidly changing world, and the power of the PACK EXPO brand delivers the decision makers you need to reach. Attendee registration is open now.
---
Over the years with SC Johnson, Chase had the opportunity to work on iconic brands and launch pack formats that, though revolutionary for the time, now seem mainstream. Consider the Shout brand of textile stain release gels. Remember the splash made by the gel-dispensing molded bottle with integral brush closure? That was Chase. How about the Schwan's Food Co. pizza in a thermoformed tray and a peelable lid instead of on a shrink-wrapped corrugated disc? Also Chase.
"It's just when you look back on the series of different products that you've been able to bring to the market, you look at them all as a whole," Chase says. "Once you've done it for so long, the product innovations start to blend together, and as a leader, your recollection becomes about the contributions of your teams. There's an overarching sense of accomplishment that you've been able to influence a business, an industry, and the consumer."
Such innovations garnered awards—she has a handful of Ameristar Awards—new projects, new positions, and new brands. After SC Johnson, Chase has served in roles of increasing importance in packaging development and innovation at places like General Mills, Ecolab, U.S. Food Service, ConAgra Food, and Schwans, where her specialties included structural design, packaging line efficiency improvement, and strategic business development. She also holds three U.S. patents for packaging inventions and has been published and spoken on packaging innovation and sustainability on many occasions.
At least one constant through her varied and successful career has been membership in, and volunteer leadership of, IoPP. Chase first became a member only six years into her career and has been a fixture ever since. In a lot of ways, her ascendency to the helm of IoPP mimics her "day-job" career, with responsibilities and scope incrementally growing over time. She had served for more than 25 years and twice as chairman of the all-volunteer board before being hired as Executive Director, where she now serves.
"IoPP provided me with so much support as I was building my career," Chase says. "I benefited greatly from the networks that I have been able to establish, the leadership opportunities that were afforded to me, and the skillsets I was able to build. In my mind volunteering in the organization was my way of giving back for what they had afforded me."
Over her three years as executive director, Chase has been able to build a bridge to a bigger, broader base of the packaging industry through a partnership established with PMMI. She led the charge to convert IoPP classes—specifically the Fundamentals of Packaging Technology program—from a classroom course to an online, digital learning format, and did so well before the specter of a pandemic. She also oversaw the launch of PackChat, the online packaging ideas exchange, which has an active online community following. These most recent activities have been tactics as part of a larger strategy to get kids energized about the packaging industry.
"The industry continues to struggle to fill positions. We need to be making those matches and developing the next generation to take up the new challenges," Chase says. "The thing that I am the proudest of, and what's going to drive me for the rest of my career, is developing the next generation of packaging engineers. There's nothing that gets me as energized as when someone who I've connected with in my career over the years picks up the phone and wants to stay in touch and bounce ideas off me. It's about developing and encouraging that next generation."
Read profiles of the other three inductees into the Packaging and Processing Hall of Fame, Class of 2020 by clicking on their names below: