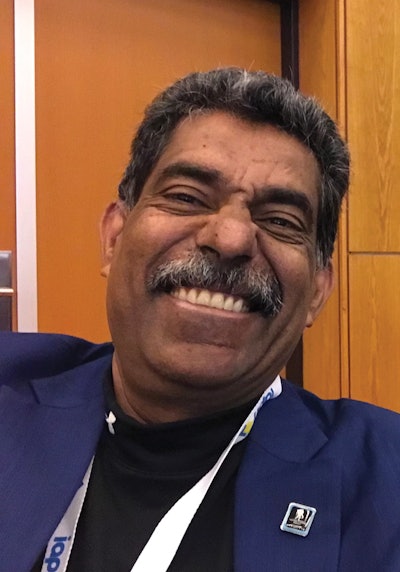 At the relatively young age of 59, Singh has achieved a lifetime of accomplishments. He became a Lifetime Certified Packaging Professional at the age of 47. Two years later, he was inducted into the Military Packaging Hall of Fame. And this year, in addition to being welcomed into PMMI's Packaging and Processing Hall of Fame, he has received a Lifetime Achievement Award from the International Association of Packaging Research Institutes (IAPRI).
Through 26 years as a faculty member at Michigan State University's School of Packaging, the Consortium for Distribution Packaging Research, and his current work in consulting and legal testimony, the lynchpin of his career has been education. Born in India, Singh was raised in a family that put a high level of importance on education. His grandfather travelled to England to get a Ph.D.; his father went to Australia for his Ph.D.; and Paul Singh went to the U.S. He got both his master's and his doctorate at MSU, where he is now Professor Emeritus.
"Knowledge belongs to humanity. Anybody who is an educator should be sharing this always through every media," he says, emphasizing the importance of publications like Packaging World as well as PACK EXPO—the first trade show he attended as an MSU student back in 1982 and where he first learned about the packaging wonder that is the common banana.
Singh continues on his road to learning. "If you want to learn, I'm ready to put my hand in as a student, know the subject matter, and then become the expert in that field," he says. He draws on former students for some of that knowledge. "I go and see what my students are doing. I find the right people, the right students from before, and I become a student."
---
PACK EXPO Connects–November 9-13. Now more than ever, packaging and processing professionals need solutions for a rapidly changing world, and the power of the PACK EXPO brand delivers the decision makers you need to reach. Attendee registration is open now.
---
With a background in mechanical engineering and fundamentals in dynamics and robotics, Singh sees packaging as universal, regardless of what's inside. "Every time I do a project, I look at the four functions of a package: to contain, to protect, utility, communication," he says. Working with the U.S. Department of Defense during the Gulf War deployment, he learned that it was just as important to get the beans and Band-Aids there as the bullets—and it all comes down to packaging.
Along with Gary Burgess, Singh created the Consortium for Distribution Packaging Research at MSU in 1990 and served as its director until 2010. The consortium brought together federal agencies, associations, and leading companies like Clorox, Exxon, and General Motors. "Over the 20 years of that research center we did everything," Singh says. "You name a fruit, and we followed it from orchards all the way to the store. And then we did the same thing for high-tech."
Ultimately, Singh moved into sustainability and how to reduce packaging. He emphasizes, however, that reduced packaging is not sustainable if it causes more damage. "A damaged bottle is more expensive than over-packaging," he says, noting that one leaking bottle will cause an entire 24-pack to be tossed in the trash. "Something that costs more is not sustainable. You have to make sure sustainability is sustainable on an economic front."
Singh has worked closely with professional organizations like ISTA and ASTM over the years to develop packaging standards. "Industry standards are the best way to prosper—not only for the United States but the whole world because they look to us for our standards," he says.
Packaging is not the field Singh had in mind when he set his sights on studying in the U.S. As a top student in mathematics, he wanted to be a nuclear scientist. But he has no regrets, and recommends packaging for students today the same way a teacher did for him in 1983: "A packaging major knows more engineering than a business major and knows more business than an engineering major," he repeats, adding, "We are the bridge between engineers and business. And we make things successful. I want people who are in packaging to be proud of that."
Read profiles of the other three inductees into the Packaging and Processing Hall of Fame, Class of 2020 by clicking on their names below: