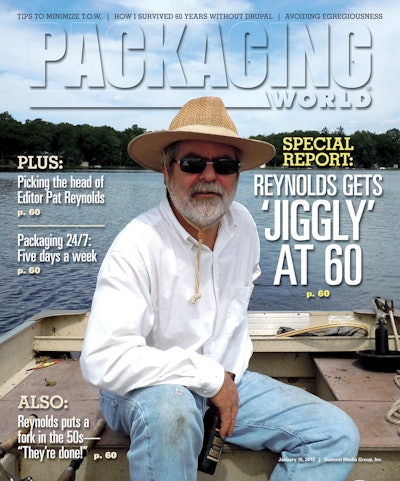 Currently VP/Editor Emeritus at Packaging World, a publication of PMMI Media Group, Pat Reynolds has spent 37 years in the packaging trade press. Looking back on his career, he says he's most grateful for the people he's worked with and the opportunities he's had to travel across the globe—from places as near as Gilman, Ill., to locations as far-flung as Hong Kong and Australia, to name a few.
Reynolds' path to packaging journalism after studying English literature at the University of Illinois Urbana-Champaign and Anglo-Irish literature at University College Dublin was pure serendipity. After deciding a career in academia wasn't for him, Reynolds sought a job in a field requiring similar skills. "One day I saw an ad in the paper for an opening at a trade press magazine," he recalls. "And it turned out to be Packaging Digest. That was in 1983."
A decade later, Reynolds joined—without hesitation—a new challenger in the packaging space, Summit Publishing and Packaging World magazine. Reynolds says he was confident in the success of the new venture, given the knowledge and experience of the people he was joining. Among them were two future Hall of Famers, Lloyd Ferguson and the late Arnie Orloski, along with Chuck Winnicky, Joe Angel, and Jim Chrzan. Angel and Chrzan are still with the company, occupying the positions of President of PMMI Media Group/Publisher of Packaging World and Contract Packaging, and VP, Content, respectively.
From the beginning, what attracted Reynolds to packaging, he says, is that it's a horizontal market with an endless range of topics to cover. "One day it's soup, and another day it's nuts, and everything in-between," he says.
That variety plus being in constant contact with the talented people who drive innovation in the packaging market have continued to fuel his enthusiasm for all things packaging. "They're problem solvers, and they're really, really clever. And it's not just the marketer, or the engineer, or R&D, or the procurement person—it's all of these titles that you interface with on a daily basis. It's constantly varied, it's constantly interesting. I've always enjoyed the problem-solving aspect of packaging."
---
PACK EXPO Connects – November 9-13. Now more than ever, packaging and processing professionals need solutions for a rapidly changing world, and the power of the PACK EXPO brand delivers the decision makers you need to reach. Attendee registration is open now.
---
Reynolds believes his role as a packaging editor is to bring together suppliers and buyers and inform them of each other's needs and capabilities. "It's really an extension of what PMMI does," he adds.
Despite the many changes in the packaging market Reynolds has covered in his nearly four-decade career, he says that some of the most transformative ones he's witnessed are also some of the most recent, specifically digital printing, e-commerce, and SKU proliferation. Another sea change occurring of late, he notes, is the amount of collaboration taking place among brands and suppliers, especially in the sustainable packaging space. Along those lines, he shares that one of the most fascinating articles he's worked on was one he just produced in July 2020 on a 10-year project by Numi Organic Tea to develop a compostable film overwrap for its tea bags that involved a number of packaging suppliers (see pwgo.to/5753).
Continuing to catalog the highlights of a richly rewarding career, Reynolds shares how much he has enjoyed the globe-trotting that has come with reporting on the packaging market, including the opportunity to visit Düsseldorf, Germany, a number of times to cover international shows such as interpack and drupa. "Along the way, a lot of my travels also had to do with being a member of IPPO [the International Packaging Press Organisation]," Reynolds explains. "IPPO was another real highlight of my career. I've made lifelong friends in that organization with people from around the world, and that means a great deal to me."
Reynolds emphasizes the important role played by his wife of 44 years. "Without Sue's support and understanding, there simply is no packaging journalism career," he notes. Another friend Reynolds would like to acknowledge is the late John Kowal, Director of Business Development at B&R Industrial Automation, who passed away July 8, 2020. "When I was assigned to cover controls and automation, I had a steep, steep learning curve," Reynolds recalls. "John was extremely accommodating in helping me understand as much as I needed to in order to get by."
He is also grateful to his first packaging trade press colleagues at Packaging Digest who helped bring him along, including Bob Heitzman and the late Sarah Lee Gerrish—both hall of famers. "It was Bob who brought me into packaging journalism in the first place," he adds.
In 2014, PMMI – The Association for Packaging and Processing Technologies purchased Summit Media Group. Four years later, Reynolds turned the editorial reins of Packaging World over to Matt Reynolds, transitioning from his 16-year role as Editor to his current position as VP/Editor Emeritus. The change was a smooth and seamless one, a fact that Reynolds is thankful for. "Transitions are important in any business, and on a personal and professional note, I'm pleased with the way it's gone," he says. "New blood was definitely called for, with all the new digital and social media technologies, so the timing was perfect. I believe I've left the editorial ship in good hands, and I'm very proud of that."
---
Read profiles of the other three inductees into the Packaging and Processing Hall of Fame, Class of 2020 by clicking on their names below: