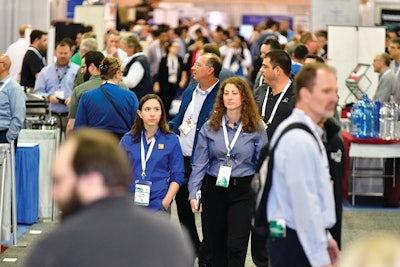 The Northeastern U.S. is home to nearly one-third of the nation's top consumer packaged goods companies (CPGs), and manufacturing companies are one of the top five employer groups in the region, according to Statistical Atlas.
The three-day event brings the innovation and education synonymous with the PACK EXPO portfolio of trade shows to an easily accessible regional show. Philadelphia's targeted location allows companies to send teams of attendees via car or train to address the trends and challenges driving the food and beverage, pharmaceutical and medical device, cosmetics and personal care, industrial and household chemical, and other packaged goods industries.
In addition to the 400 exhibitors and 7,000 industry professionals convening over 100,000 net sq ft of exhibit space, the show offers education via the Innovation Stage, The Forum, and PMMI U training sessions.
Located centrally on the show floor, the free, 30-min Innovation Stage presentations will address hot industry topics and provide a wealth of insights on real-world applications and new technologies. The Forum returns after its PACK EXPO East 2018 debut with 45-minute interactive sessions on the latest industry trends by the OpX Leadership Network, Institute of Packaging Professionals, Contract Packagers Association, and PMMI Business Intelligence, including small group discussions and Q&A sessions. PMMI U is offering a series of two-day training programs during the show on March 3-4. Registration is now open for the Certified Trainer Workshop, a leading train-the-trainer program for the packaging and processing industry, and the new Fundamentals of Field Service Workshop, which provides interactive training for field service technicians at PMMI Member companies.
Entering its fourth year in 2020, the Packaging & Processing Women's Leadership Network will host a breakfast on Wednesday, March 4. As in year's past, it will include presentations and discussions allowing peers to exchange ideas and experiences. Additional networking opportunities include a Welcome Reception on Tuesday, March 3, and a Young Professionals Networking Reception on Wednesday, March 4, from 3-5 p.m., both onsite at the Pennsylvania Convention Center.
With an eye towards the future of the industry, opportunities abound for students at PACK EXPO East. CareerLink Live @ PACK EXPO brings together PMMI members and CPG companies to meet with students and veterans pursuing careers in packaging and processing during one-on-one informational interviews. Interviews will take place at the show on Wednesday, March 4, from 1– 3 p.m. The Future Innovators Robotics Showcase highlights local high school robotics teams and their design, engineering and troubleshooting skills.
For more information and to register for PACK EXPO East 2020, go to packexpoeast.com.

Companies in this article