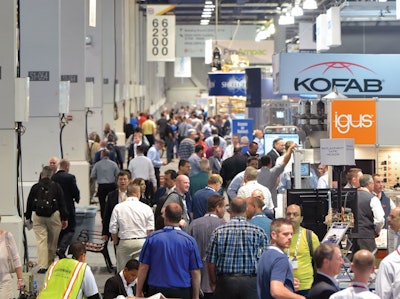 MACHINERY
Gerhard Schubert GmbH is known for its modular, intelligent TLM packaging lines, which consist of seven different standard top-loading systems for secondary packaging functions. Last year at the FachPack fair in Nuremberg, the company introduced its TLM – Flowmodul, the first primary packaging component to be fully integrated with TLM secondary packaging technology without an electrical cabinet. According to Flowmodul Product Manager Johannes Schubert, the flow-wrapping module, showcased on the PACK EXPO Las Vegas show floor (1), is designed for small batch sizes, short product life cycles, and high-level product diversity.
"This is what makes the application so attractive in many sectors," Schubert said. "Our flow-wrap technology is currently being used to package a wide range of products such as chocolates, biscuits, cakes, yogurt cups, and even ice cream, which demonstrates the Flowmodul is already showing great success in many different industries. As planned, the Schubert Flowmodul has evolved into an important growth factor for our corporate group."
In Las Vegas, Schubert demonstrated a picking line with five F4 four-axis pick-and-place robots, which placed biscuits in the Flowmodul's product feeding system and packed them in flow wraps. The Flowmodul's product feed consists of a flexible, fully automatic adjustable chain; products are carried on toothed belts. The chain speed is regulated by the robots and continuously adapts to the product flow. The Flowmodul and the feed consist of eight NC drives and four positioning drives. For conversion to another product, the Flowmodul and the chain are automatically adjusted. The format change is handled simply and quickly, according to Schubert. And after the conversion, no adjustments are required. The change from one film roll to the next also takes place automatically.
The Flowmodul is fully integrated into the packaging line without an electrical cabinet and is controlled via Schubert's VMS packaging machine control system. Since the same control components are used for the robots, control of the entire system is managed through a single terminal.
Speaking on the latest model variants, Schubert noted that the company has been even more closely oriented to the modular TLM concept. "With the focus on our users, we have significantly improved accessibility for maintenance and cleaning," he said. "We have also made suspension of the film rolls more ergonomic. This all makes the Flowmodul even easier and more efficient for technicians and machine operators."
Since it was introduced in 2016, the Flowmodul has been sold to 32 existing and new customers in eight countries. The company's objective for 2018 is to sell 30 more, and sales in 2021 are expected to increase to 100 Flowmoduls. "The feedback we are receiving clearly reflects the satisfaction with the compact combination of primary and secondary packaging processes," said Schubert. "Uniform control, ease of use, highly flexible robot loading, and the fact that customers are given a solution from a single vendor are also important arguments."
At the show, Schubert also tipped the company's hand on "an unprecedented sealing technology" expected to be released late next year. The new technology, shared Schubert, will enable the use of hot-seal film even for sensitive products. "Nowadays, sensitive products such as chocolate bars are wrapped in cold-seal film to avoid melting the chocolate," he said. "Cold-seal film, however, in addition to its higher cost, has the disadvantage that it cannot be stored for an extensive period of time. The adhesive strip loses its strength over the storage period. Moreover, when the package is opened, the adhesive could contaminate the product, which of course is a significant consumer-related risk. I am pleased to be able to tell you that today we are anticipating great success with the new sealing technology and that we will be entering into series production in autumn 2018."
Patent-pending technologies were on display at the PACK EXPO Las Vegas booth of R.A Jones, a Coesia company, in the form of the Autoprod CF-400 cup filling system. Capable of denesting, volumetrically filling, and applying foil lids to cups at speeds to 400/min, the machine emphasizes hygienic design and ease of maintenance, which makes it operator friendly and means it's 3-A dairy certified to standard 23-06. A precision, endless pocket drive belt replaces the more traditional chain-driven solution, and a patent-pending servo rotary drive mechanism means less grease, fewer bearings, and a fundamentally more sanitary machine. Also adding to its sanitation bona fides is what R.A Jones calls a "revolutionary" fully-enclosed and asymmetric frame, cantilevered stations, and sloped canopy. Customers have a choice of applying pre-cut lids from magazines or cutting lids from rollstock.
But what really sets this machine apart is that the food and dairy manufacturers who purchase it can opt for pulsed-light cup and lid sterilization in place of UV sterilization. This technology is from Claranor out of France. While this isn't the first appearance of this pulsed-light sterilization technology in North America, most previous applications have been more or less retrofits onto existing systems. So this move by R.A Jones is a notable one. As a replacement for UV sterilization, pulsed light is said to be quicker, requires less dwell time, and minimizes machine footprint. Perhaps most important, it fits in neatly with the ongoing consumer clamor for a "clean" label. Upfront cost is higher than more conventional sterilization technologies, but long-term benefits cancel out this cost upcharge, said Claranor and R.A Jones. (See video at pwgo.to/3261)
It seems as though the market has been waiting a long time to see commercialization of Amcor's LiquiForm® Group technology—a process that combines bottle forming and filling into one step, which was first announced in 2014. But in R&D terms, a lot of work has been accomplished during that time to address both technical and market hurdles. That's according to Ashish Saxena, Vice President and General Manager of LiquiForm Group LLC, who spoke to Packaging World following PACK EXPO Las Vegas.
The technology, highlighted at the show, is the intellectual property of LiquiForm Group, a wholly-owned subsidiary of Amcor Limited. Currently, LiquiForm Group is licensing the technology to five licensees to move it forward more rapidly. These include Amcor, Sidel, KHS Corpoplast, Krones, and Japanese converter Yoshino Kogyosho Co. With these market-leading partners on board, Saxena says the first LiquiForm bottles should be on shelf in the coming months.
The core of LiquiForm is the removal of the "blowing" step from bottle blow molding. Instead, bottles are formed while being filled with liquid product. This results in a number of advantages versus forming bottles with air and then filling them in a separate step—the most obvious being the elimination of an entire step of the process and therefore the blow-molding machine itself. The process also significantly reduces equipment space and the energy required for the forming process, as traditional blow molding uses compressed air, while the LiquiForm technology uses incompressible liquid.
"Since we're using liquid and not air, a high-pressure air compressor is not required, so energy consumption is reduced a good 50 to 70 percent," explained Saxena.
The use of incompressible liquid also results in more consistent distribution of material across the container, as well as much sharper resolution than achieved with air, according to Saxena. This means brand owners can incorporate features such as embossing or even braille. The machine can use standard as well as custom preforms made from both PET and rPET, high-density polyethylene, and polypropylene.
One unanticipated—and game-changing—benefit of the technology, Saxena shared, is one that customers brought to LiquiForm Group's attention. "As end users have realized the flexibility benefits around materials and have seen how small and simple this entire packaging system is, it has triggered a lot of discussion around how LiquiForm technology can lead them to redesign their supply chains to move production closer to demand," he said. "Companies are now thinking that instead of producing product and filling it at one central location, and then shipping it across the country, which is terribly expensive and results in a large carbon footprint, they could produce closer to demand, let's say at a warehouse. This becomes a lot more feasible if you have a system that requires far less infrastructure and far less power, and is much simpler than today's blow-molding and filling systems. This is potentially an important consideration in other global regions and emerging markets."
The market demand challenges, Saxena explained, follow the classic adoption curve for any new technology. "There are early adopters who recognize the value of new technology and are not risk-averse, who go first. Then there is a vast majority that waits for someone else to go first," he said.
The LiquiForm Group has 100-plus patents around the technology, several of which were acquired from Nestlé back in 2014, and the group's partners are hard at work incorporating those innovations into their own form/fill equipment. At drinktec 2017 in September, KHS introduced its FormFill machinery concept, "powered by LiquiForm," handling still water in PET. The system is also able to fill liquid soap and detergents and handle hot-fill applications.
Federal, powered by ProMach, introduced the XACT-FIL™ weight filler at the Vegas show. The new platform design reduces filler footprints by approximately 30% depending on the configuration of the filler. XACT-FIL uses 25% fewer parts, which simplifies operation and reduces maintenance.
Machines in this new line feature advanced controls that deliver high-speed and weight-based accuracy. Open source software enables customization and simplifies technical support. The control system features off-the-shelf components, according to Bob Adamson, Federal's Director of Global Sales and Marketing.
A three-axis servomotor drive train that includes Federal's Accu-Cycloidal gearing system provides low vibration and reduced maintenance requirements. Specialized drive-axis clutches prevent machine damage in case of a fault and enhance overall machine safety.
The new weight-based fillers are hygienic and easy to clean. They feature wash-down rated individual load-cell enclosures, frameless upper guarding with easy-to-clean hinges, and a tabletop with only five bore shafts. The overall design minimizes harborage points where liquid or debris might accumulate. One available option, said Adamson, is "capable of steam sterilization with no chemicals needed for cleaning."
Applications include food, beverages such as soy and organic milk, paint, agricultural chemicals, automotive lubricants, and personal care.
Over at the Nercon booth, a spiral conveyor with Intralox belting having full washdown capability was in operation. But it was Nercon's retractable conveyor that was really eye-catching. It's designed to be opened or closed, by means of a hand crank, while the conveyor is still running. Unlike more conventional drawbridge arrangements, which worry operators because of the possibilities of pinched fingers or damage to the conveyor due to slamming, this approach is considered safer and simpler.
Nercon representatives at the booth indicated it was attracting a lot of attention because sometimes personnel or machines need to get from one side of a conveyor to another without having to walk a long distance to get around. (See video at pwgo.to/3262)
Somic America, Inc. featured its new 424 T2 (D) multipurpose, retail-ready case packer (3). It forms and loads soft or flexible products into a tight, condensed package, triggering a cost savings of 27 cents/case for the company buying the corrugated.
"Manufacturers are turning to more sophisticated systems to eliminate excessive and redundant costs inside their operations. The advances in end-of-line packaging machinery, combined with improved corrugated printing technologies, makes Somic retail-ready equipment an attractive and viable solution," said Peter Fox, VP of Sales. "We give customers the ability to produce retail-ready packages with perfect repeatability. Our systems address the retailer's concern to reduce labor costs for restocking and maintaining shelf stock. The 424 T2 (D) assembles these packages by tightly collating, grouping, and packaging products in open display trays, or in trays with covers and wraparound cases."
Fox said Somic's high-performance systems also are fast. Using decentralized servo drives, the machine can collate 600 products/min depending on the size of the items. It can be fitted with individual format tools for a wide range of product dimensions, and Fox indicated there are other benefits.
"Space-saving features for our manufacturing customers result in a positive, bottom-line impact," he said. "With the compact footprint of Somic modular systems, the handling of the product and space requirements are significantly smaller. The forming cassette reduces the amount of space for separate case or tray erecting prior to product loading, compared to a pick-and-place system. By linking the functional groups throughout the packaging process, it delivers better line efficiencies and greater uptime."
Samples of coffee, cereal, flour, jam, noodles, and other products from the likes of The Hershey Company, General Mills, and Brookside were on display at the booth.
Versatility and quick changeover was a common theme at PACK EXPO Las Vegas booths occupied by packaging machinery OEMs, including PMI Cartoning, Inc. PMI featured its Model HS1-12 horizontal cartoner (4), which is just as happy running side-load paperboard cartons as it is running paperboard sleeves. A variety of sizes and product types can be handled. (See video within this article.)
Speeds range up to 160 sleeves or cartons/min. Controls are handled by Rockwell ControlLogix and Panelview Plus HMI. Digital position indicators from SIKO help with the quick changeover, as do tool-free snap-in/snap-out change parts.
Among the many technologies at the Pro Mach cluster of booths was a Matrix Morpheus XL vertical form/fill/seal machine (5) for wider bags than could previously be produced on the Morpheus line. Matrix says the machine is great for, among other things, frozen, fresh-cut, and IQF packaging. With extra-wide jaws, this machine can do the work of two older and less capable f/f/s machines. Morpheus is Matrix's next-generation solution for high-speed f/f/s. The new Morpheus XL produces pillow bags from two inches wide all the way up to 15 inches wide. That's three inches wider than the original model.
The Morpheus XL can run at speeds exceeding 120 bags/min and is designed to run in intermittent as well as continuous mode. For the first time, a Morpheus f/f/s machine can also produce gusseted bags, too. Also debuting at PACK EXPO Las Vegas was a redesigned stainless-steel drip pan, which makes it faster and easier to change forming tubes. The new drip pan also keeps the interior of the machine cleaner.
Bosch Packaging Technology debuted the next-generation Osgood RFS-Series (6) rotary at PACK EXPO Las Vegas. The machine hygienically fills, seals, and caps dairy and food products into premade cups.
"This machine is a perfect example of how the North American market can benefit from Osgood and Bosch collaboration on product development," said Rich Mueller, Sales Director of Osgood Industries. "The best solutions from teams across the globe are brought together, making the products better and more efficient. It's a complete product line solution from one service provider."
The Osgood RFS-Series servo rotary machine offers abundant features while keeping its footprint to a minimum. The four-lane RFS-4001 fills cups at speeds to 160 cups/min and is a good alternative for producers with limited production space. Available in both clean and ultra-clean execution, the machine can fill a wide range of dairy and other food products into trays or cups, for example, and heat seal to them either pre-cut foils or rollstock film plus overcap.
The RFS-4001 filler is shown here with a harmonized pump design, which provides high filling accuracy and easier interchangeability between different machines. Just four basic dosing parts cover nearly all dosing principles and applications, making product changeovers faster and easier. Upgraded servo motors allow for quick and easy adjustments to the set-up, enabling changeovers in as little as 15 min. The RFS-Series filler can utilize one of three different machine controls (Bosch Rexroth, Rockwell, or Siemens), allowing customers an easy integration of the machine into their existing production lines.
The Osgood RFS can be equipped with the latest HMI 4.0, which automatically leads operators through each of the production steps for easy operation and report functions. With the new HMI 4.0 as gateway to connected industries, it's the first step to an intelligent, completely coordinated production line.
Also featured by Bosch Packaging Technology at PACK EXPO was the Biscuit on Pile packaging system, which consists of a vibratory infeed, a new, innovative magazine feeder, a new horizontal flow wrapper, and a new integrated top-load cartoner.
By significantly reducing the pusher's speed at the point of extraction and continuously guiding the product, this new solution enables higher production speeds. Handling biscuits on conventional magazine feeders limits the number of products per stack to the number of extraction magazines, or a multiple of it. The new Smart Pile Loading (SPL) feeder enables manufacturers to select the desired stack count via the HMI independently from the number of incoming lanes (lane flexibility) and allows for easy changes to package configurations.
"The SPL feeder brings a lot of smart pile-loading features to the market, but its flexibility is really the key," said Kelly Meer, Product Manager. "Normally, on a four-magazine feeder, you would be limited to producing stacks of four products, eight products, or some multiple thereof. In this case, it's a very smart feeder. With a four-lane approach—and we can produce machines having two to six lanes—an end user can produce packs of one- to seven-high stacks. And you can do so with very few changeparts, which is disruptive to the industry."
This ability to change the size, shape, or number of biscuits in the pack, often on the fly, is an important factor for manufacturers. The Bosch SPL feeder stacks two to seven products and groups one to four stacks to create multiple package configurations ranging from one to 28 biscuits per package.
Additionally, due to its ability to automatically and dynamically extract a variable number of cookies from each magazine, the SPL feeder compensates when the product supply from the oven to the packaging system varies. By extracting missing cookies from one of the other lanes to build a complete stack, this feature also supports automatic lane balancing. As a result, manufacturers can now equip their production with fewer lanes and automatically balance those lanes for increased uptime. In order to accommodate for inconsistencies in product thickness resulting from the baking process, the stacking mechanism can be adjusted via the HMI. This can be accomplished during production without stopping the system, resulting in higher Overall Equipment Effectiveness (OEE).
In the next step, the collated stacks are transferred to the Pack 403 horizontal flow wrapper, the next generation of the Pack 401, which has been upgraded to redefine the user experience. To simplify daily operation, all film rollers are numbered sequentially to make film threading more intuitive. Clear instructions for preparing splices are shown on the splicing table to increase success. The Pack 403 is also available with an innovative feature to precisely measure and control film tension, resulting in fewer jams and consistent package appearance during production speed changes and during machine starts and stops. For clearing jams and cleaning the crimpers, the Pack 403 features a manual hand wheel to rotate the cutting head, allowing easier service and maintenance while avoiding contact with the hot sealing surfaces. Other usability features include a new film former that is significantly smaller and lighter while being completely tool-less, greatly reducing changeover time and improving the ergonomics.
Eastey Enterprises, a manufacturer of case tapers, L-sealers, sleeve wrappers, shrink tunnels, and bundling equipment, introduced the SB-2 EX side belt case taper during PACK EXPO. The SB-2 EX is an affordable solution for uniform sealing of a wide range of standard cases including light- or heavy-weight, narrow, or small cases.
Dual drive motors, aggressive industrial strength drive belts, and roller tables make the SB-2 EX a rugged performer. Each case taping machine is made from 12-ga steel that will withstand even the most rugged applications, according to the company. A powder-coated exterior protects the machine from abusive conditions and guarantees years of use. Plus, the SB-2EX is CE certified, so users can be confident it will consistently provide reliable, high-quality case sealing.
The SB-2EX offers fast and easy case changes with adjustable side rails and flexibility for cases 5 in. long and greater. Adjustments can be made on the fly with easy hand-tighten knobs and cranks that can be attached to either side of the machine. SB-2EX utilizes easy-to-load top-and-bottom tape cartridges and will seal cases as narrow as 4.5 in. wide and as low as 4.5 in. tall.
Shelf-stable foods have come a long way in the past few years. Allpax, powered by ProMach, has joined forces with the School of Nutrition and Food Sciences, Louisiana State University (LSU) Agricultural Center to help North American shelf-stable food companies succeed.
Greg Jacob, General Manager of Allpax, says the company is taking a different approach to the retort equipment market. "The modular design of Allpax's retort equipment allows customers to easily upgrade or expand. The Allpax 2402 multi-mode retort is capable of exceeding all commercially available retort and agitation modes," he explained.
According to Dr. Louise Wicker, Professor and Director of the School of Nutrition and Food Sciences, LSU Agricultural Center, "Taste is a fundamental driver of food sales. By combining food formulation with messaging that connects with a target audience, shelf-stable foods can fit the lifestyles of the most discerning consumer."
The partnership between the School of Nutrition and Food Sciences, LSU Agricultural Center, and Allpax offers capabilities that include sensory science and packaging laboratories, experienced faculty who have relationships with global food developers and marketing leaders, and R&D retorts from Allpax (8). The Allpax Shaka® retort dramatically reduces the cook and cooling timer required for in-container sterilization of low-acid foods. "We have the ability to prepare and package foods into metal cans or into injection-molded oxygen barrier packaging," Wicker said. "We can evaluate foods after retort processing for quality, acceptance, and stability and allow informed decisions about commercial viability."
An Allpax 2402 multi-mode retort on display at PACK EXPO Las Vegas 2017 is similar to the one used at LSU. Each 2402 multimode R&D retort is customized to the specifications of the lab. One unit can offer as many modes as the customer chooses. These multi-mode retorts can run saturated steam, steam air overpressure, water immersion, water spray, and water cascade processes in combination with seven changeable modular agitation modes—still, end-over-end, swinging, Gentle Motion shaking (low-speed), The Shaka (high-speed), hydrostatic simulation, and axial rotation. These units accommodate cans, bottles, pouches, cups, trays, metals, glass, plastics, and double-seam film and foil closures and are capable of testing flavors and films.
Italian machine builder ACMA, part of the Coesia Group, focused on confectionery markets at PACK EXPO Las Vegas. One of the latest machines developed for this arena is the CW 600 F, an alternate motion, multi-style wrapping machine for flat-bottom chocolates (9). The CW 600 F is designed to meet the specific needs of confectionery brands that require medium speeds of up to 600 strokes/min, lots of flexibility for changeovers, high wrapping quality, and ease of use.
Wrapping styles available include bunch, double twist, Boero, wallet, fancy, and more. All the typical wrapping materials can be accommodated. The machine also can independently unwind two separate wrapping materials, so it will accommodate inner and outer wraps of different sizes. The compact, space-saving layout allows it to integrate within diverse production environments where square footage is valuable. Plus, a cantilevered structure and use of brushless motors facilitate operation, maintenance, and cleaning.
ACMA also showed the next generation of its low barrier-to-entry 880 model, known for its ease of use and reliability. This latest edition, the new CW 800 R, is an intermittent-motion machine dedicated to oval and spherical chocolates, which are among the most requested shapes. The CW 800 R is characterized by a sturdy and compact frame and by greater wrapping quality. It is able to manage two wrapping styles—double twist and rolled—with a fast changeover.
A number of OEMs used PACK EXPO to introduce innovations in metal detection technology. Among them was Loma Systems, whose booth featured the IQ4 series of metal detectors (10). Loma's engineering teams have employed the company's "Designed to Survive" philosophy to deliver high metal detection sensitivity in a package that the company says is easy to install, easy to use, easy to clean and maintain, can withstand the arduous food production environment, and ultimately brings a strong cost of ownership profile. It also features optimized detector mechanics, true variable frequency technology, and progressive electronics.
"There are metal detectors on the market that are using multi-spectrum-style designs that use multiple frequencies at a time, but that adds cost and it adds complexity," said Loma's David Arseneault, North American Sales Manager. "For us, we use variable frequency, but we're having the metal detector work off of multiple algorithms in the background, so it simplifies things for the operator. So we get the performance, but at a lower barrier to entry for the operator."
Also, a better, faster Auto-Learn brings considerable performance gains over previous-generation IQ3 search heads. Even in challenging applications, such as a heavy-metallized film product, great sensitivity can be set up with Auto-Learn and inspected without the need for further optimization.
An improved lip and screen, a new sealing arrangement, proven ultra-harsh mechanics, and an IP69K(+) rating make the IQ4 search heads hygienic, easy to clean, and tough enough to survive harsh food production environments, whether they are hot, freezing cold, dry, dusty, or wet—or a combination of them all.
A new 7-in. color touchscreen as standard on every model, a crisp and freshened-up interface, and enhanced functionality help deliver a much-improved user experience, helping to minimize user errors and make light work of inspection.
Elsewhere on the show floor, the new CM33 CombiChecker product inspection system was highlighted at Mettler Toledo. During operation of the compact system, products pass through a metal detector, then are weighed on a checkweigher. Products detected to be contaminated with metal, or that are beyond weight parameters, are immediately rejected from the production line into separate reject bins for each defect, eliminating the possibility they will enter the marketplace.
According to the company, the CM33 allows companies to customize the system by selecting from a variety of options to match the needs of the specific operation where it will be used. These include selecting the most suitable checkweigher and metal detector from Mettler Toledo's range of options. In addition, a selection of available conveyors, guide rails, transfer plates, dual-locking reject bins, and rejector types are available to accommodate a range of package types.
These mechanical features are then complemented with choices from a library of line integration, functional and operational, production monitoring and control, and communication options. This enables end users to customize the CM33's security, performance, and data capabilities to meet the requirements of the relevant industry, customer, and application.
The checkweigher and metal detector setup and configuration are done at the checkweigher control panel. Product changeovers result in each inspection device automatically adapting to stored parameters for the new package.
A highlight at the Thermo Fisher Scientific booth was the Sentinel Multiscan metal detector, which uses an innovative new technology to overcome the limitation of fixed single- or dual-frequency metal detectors that can miss metal contaminants hidden in product signals. Multiscan technology scans a combination of up to five user-selectable frequencies from 50 to 100 kHz. This enables users to identify contaminants that are considerably smaller in volume than previous technologies.
Shrink-sleeve and label solutions provider American Film and Machinery introduced the WSN-Gen S steam heat tunnel at PACK EXPO Las Vegas. The WSN-Gen S is an all-in-one tunnel that includes its own steam generator. The tunnel is designed to augment shrink-labeling lines in manufacturing plants of CPG companies.
The WSN-GEN S is designed for simple setup where in-plant steam generation isn't readily available. Equipped with two adjustable tier manifolds, the GEN S directs the steam heat where needed to produce a precise, high-quality finished appearance of PVC, PETG, OPS, or PLA labels and neck bands. The GEN S provides better contour than radiant heat, says American Film and Machinery, and ensures a quality finish regardless of container size or shape.
The GEN S tunnel uses a 9"-tall and 4"-wide opening to accommodate a number of shrink sleeve products. The tunnel has a maximum temperature of 212°F and features high-quality steam heating elements and an adjustable manifold for uniform heat distribution. Changing containers or labels isn't an issue—adjustments and controls are done from the operator side of the tunnel, making adjustments safe, quick, and easy.
E-commerce taking off
PAC Machinery showcased its Rollbag R3200 fulfillment bagger at PACK EXPO. Designed for e-commerce order fulfillment, this automatic bagger is now available with an integrated label printer/applicator that can handle a label printed on both sides. The two-sided label may have shipping information on one side and a packing slip on the other side. This approach eliminates the cost of separate packing slips, plastic pouches, and the labor involved in preparing the packing slip and applying it to the bag–plus, up to 60% of label liner waste is eliminated.
"This system is the first on the market to use pre-opened bags on a roll as well as poly tubing to form the bag," said Greg Berguig, Vice President Sales and Marketing. "The benefit of the poly tubing is that it automatically right-sizes the bag to the product. Most consumers who have bought clothes or other products online have had the experience of receiving a huge bag with a small product inside, but this machine eliminates that. And an end user just has to inventory one single size of poly tubing—the machine makes the length for them."
Elsewhere on the e-commerce front, Soft Robotics demonstrated its robot gripper technology (2) capable of picking products of dissimilar sizes and shapes for order fulfillment. A booth demonstration depicted a single delta robot with a lone tool picking a soft, sponge-like bathroom loofa, alongside a comparatively dense, heavy pack of bar soap. Consider that while these products are dissimilar and tricky to handle with a single end-of-arm tool, they easily could be kitted together in a personal care type of order. Soft Robotics' pliable, pneumatic-driven tool can handle both rigid and soft items of varying weights and shapes.
"Plus, with more classic robotic applications, in order to pick up different products with different shapes, densities, volumes, and so on, you'd need a complex vision system, plus complex programming to be able to tell what's what, and even may have to have multiple end effectors or tools," said Sub Datta, Chief Business Officer. "Here, the only purpose of vision is to locate. And in cases where the different products are in fixed places, the robot may not even need any vision system."
Pro Mach's Edson Packaging and Texwrap divisions also see potential in e-commerce. Edson demonstrated its new SR 3600 flexible e-commerce case packer, an advanced robotic mixed-product case packing solution that delivers the speed and flexibility required for e-commerce fulfillment and food packing, according to the company.
"The product flexibility of this case packer, to be able to accommodate all types of shapes and sizes, will allow e-commerce businesses and food companies to easily configure multi-product orders," said Mike Paskaruk, Vice President of Engineering. "Edson continually works with customers in advancing market spaces to provide innovative turnkey case-packaging solutions that enhance end-of-line operations."
In particular, a toolless changeover between end-of-arm tools on the robot provides for increased flexibility and uptime. Edson partnered with Balluff to use an IO-Link wireless coupler to change between two end-of-arm tools at the show.
Texwrap Packaging Systems, meanwhile, had its model 2410 e-commerce wrapper, capable of running as wide as 2 in." and as high as 10 in.
"When you run a product through the wrapper, the machine will automatically adjust for the different lengths and sizes," said Al Kiggans, Central U.S. Sales Manager. "The first thing we do is scan the barcode, then sense the height and trailing edge of the product. As the packages enter the film folder where they are wrapped, perhaps with a mailing film or something e-commerce ready, they continue through a side band sealer that puts a wide seal onto the package."
A label, generated from the barcode scan, is printed and applied prior to the final cross seal. The end result is the typical e-commerce-style film package, ready for mailing.
Cold Pressure Council and HPP
A standing room-only crowd squeezed into the Innovation Stage area at PACK EXPO Las Vegas to learn about "What's new in high pressure processing." A panel discussion, moderated by ProFood World's Editor in Chief Joyce Fassl (7), featured expert insights from Jeff Williams, Vice President, General Manager—HPP of Avure, a division of JBT; Justin Segel, CEO of American Pasteurization; and Mike Durbin, Manager of Engineering and Plant Maintenance for juice producer Evolution Fresh.
"High pressure processing equipment has allowed our company to provide clean labels to consumers," said Durbin. "The equipment has also been easy to use and maintain."
Food and beverage companies can apply high pressure processing by installing their own equipment or using a tolling house for the process, said Segel. "In some cases, the tolling house can also serve as a distribution center or warehouse for food and beverage manufacturers," he added.
Williams spoke about the Cold Pressure Council and discussed how eligible Cold Pressure Council members can use the High Pressure Certified logo on packages to help identify the benefits of high pressure processing. The logo will be available only to Cold Pressure Council members and only if there's been verification of the proper use of HPP.
The council is establishing guidelines for use of the logo based on members' application categories. Once a member's process, HACCP plan, and validation studies are in good standing and verified by a third party, members can license the use of the High Pressure Certified logo. In fact, CPC expects major brands to start using the logo in spring 2018.
CPC has already completed its juice guidelines and plans to complete other product guidelines before the end of the year. Certification will ensure the processes already in place are effective and being used properly by companies that want to place the logo on their products.
Consumer education and acceptance is key to the success of the council. Their goal is to educate consumers to recognize the certification logo and to understand the value it brings to food and beverage products. The benefits include increased food safety, longer shelf life, cleaner labels, and stable nutrition and sensory qualities for food and beverage products.
Founding members of the council include American Pasteurization, Campbell Soup, Evolution Fresh, Good Foods, Hiperbaric, JBT, Avure, SUJA, Universal Pure, and West Liberty Foods.
Not far from the PACK EXPO Innovation Stage, Avure Technologies used PACK EXPO to introduce its new, scalable HPP machine. New model AV-M, like its popular predecessor the AV-X, scales for fast-growing food companies. Avure's Williams and Lisa Pitzer, Marketing Director, described the technology and demonstrated use cases.
With a slightly smaller footprint than the AV-X, the AV-M enables food producers to buy the machine size that fits their current production needs, and as the company grows, the machine expands to keep up with increased production, all without the expense or added floor space of a second machine. The AV-M easily upgrades from 20 million lb/yr to 30 million to 40 million with the highest possible throughput.
"High Pressure Pasteurization (HPP) is growing fast, and there are two key factors sparking that growth," Williams said. "First, there is the consumer's desire for clean label, natural, fresh foods and beverages, which is a natural fit with HPP. Second, there are food manufacturers who want HPP's food safety benefits and HPP's advantages of better taste, texture, and nutrition. No other food technology provides the same range of HPP's benefits relative to nutrition, safety and shelf-life extension."
According to Williams, if a company is launching a new HPP food or beverage product, the AV-M can be an ideal solution, letting them start in the most cost-effective way possible and expand quickly as demand for their product grows. Williams adds, "Beyond developing innovative HPP machines, Avure, with over 60 years of high-pressure experience, has also helped food companies with HPP product development, HPP recipe R&D, packaging and navigating ever-changing food regulations."
Robots continue to grow in packaging
Robots in packaging are increasingly common these days, and PACK EXPO Las Vegas had plenty of robotics to dazzle attendees. Here are just three examples.
A very cool end effector operating at the end of a Fanuc robot was the star of the show at the Simplimatic booth. It's designed to mechanically grip and lift either heavy cases (think laundry detergent) or light cases (think paper goods) without causing damage to the contents inside the light cases. Crucial is the use of two Fanuc servo motors that open and close the gripping devices. These motors rely on force-sensing technology to look for feedback to know how much pressure they can exert so as not to crush the contents inside the case.
Meanwhile, at Graphic Packaging International, Inc. on display was a custom-designed robotic neck-tag applicator at PACK EXPO Las Vegas that utilizes the newly released Yaskawa Motoman GP8 robot on the YRC controller, the fastest robot in its class. The robot was applying cone-shaped paperboard neck tags over juice bottles in single file. Brand owners see these four-sided, cone-shaped neck tags as uniquely suitable for bottles because they provide a unique billboard to capture the consumer's attention in
• Kicking off a promotion
• Launching a new product
• Enhancing brand identity
• Telling a unique story
• Providing product information or benefits
• Offering a coupon
• Featuring an award
• Providing instructions or recipes
The demo at PACK EXPO showed a small scale of similar applications that can apply multiple neck tags onto multiple bottles at one time, resulting in an effective rate of speed of 150 bottles/min. The Yaskawa Motoman GP8 robot was selected for this application, said Graphic Packaging, because it delivers optimal speed, accuracy, and range of movement in a sturdy, compact design. GP Series six-axis robots are designed for fast-paced assembly, packaging, and general handling processes. Worth noting, too, is that Graphic Packaging is also positioned to be the single-source supplier not only of the robotic application system, but also of the hang tags themselves. (See video at pwgo.to/3268)
Epson America, Inc. introduced a new line of SCARA robots that Gregg Brunnick, Epson Director, System Device & Robotics Product Management, said allows the company to get into a new market. Among the unique features of the T-Series All-in-One is a built-in controller housed in the robot's base—a new feature that Brunnick said reduces space requirements and simplifies setup. Exhibited at PACK EXPO Las Vegas, the first product in the T-Series, the compact, lightweight T3 robot, has been engineered for simple applications such as pick and place, assembly, parts handling, and dispensing. Ethernet/IP, EtherCAT, DeviceNet, PROFIBUS, PROFINET, and CC-Link fieldbus interfaces are all supported, as well as GUI Builder and other integrated options to help reduce total development time.
"Our T3 is a powerful, low-cost automation solution designed for easy integration, which helps lower the total cost of ownership versus current products for manufacturers and system integrators," said Brunnick. "It is ideal for customers looking to automate their factories without wasting time or money on complex slide-based solutions. Since it includes the same intuitive software and powerful features we incorporate in our high-end robots, we are giving users both the power and simplicity required for their applications."
The T-Series has been designed as a lower-end industrial SCARA robot line that can handle payloads from 3 to 20 kg. One of the packaging examples Brunnick shared was its use by a board game company to take playing cards from pockets and load them into a carton.
According to Brunnick, the T3 fits seamlessly into an automation workflow; can be installed in minutes, unlike complex linear slide-based systems; is designed specifically for robot guidance, making it easy to automate simple applications when vision is required; takes up less space than linear-slide solutions, while providing a large work envelope; and does not require a battery for the encoder, which minimizes downtime and reduces the overall cost of ownership. Watch video at pwgo.to/3255.
JLS Automation's machine offerings at PACK EXPO demonstrated a next-generation platform with a strong focus on food safety and advanced controls (11). The company's Talon robotic pick-and-place system and Osprey robotic case packers were designed with the highest level of sanitation for food packaging, and they feature four levels of sanitary construction, according to the company. Additional sanitary features include pick belts with a motorized roller, conveyor stand-offs that help prevent product build-up, a toolless belt-lifting mechanism, and non-existent welds for easy washdown. The all stainless-steel construction includes sloped surfaces and control box for run-off, while the standard open frame design allows for easy cleaning, access, inspection, and maintenance.
The Osprey case packer offers a Codian robot with a high payload capacity ranging up to 66 lb. The Talon pick and place system features an IP69K rated stainless steel Codian delta robot with a unique, food grade soft gripper end-of-arm tool from Soft Robotics. Both systems offer precise product placement and orientation for fast, efficient packaging.
JLS also integrated a forward-thinking industrial computing platform into the Talon and Osprey systems to improve motion control and provide end users a path to Industry 4.0 concepts of greater flexibility and IOT connectivity. This stable and versatile control system features a small electrical footprint, allows for simple system expandability, is easy to use, and offers simplified remote diagnostics. Video and animation directly through the HMI for operator training and troubleshooting are also available.
"Hygienic design and flexibility is the backbone of JLS packaging systems," said Craig A. Souser, President/CEO. "Our next-generation systems take those principles to another level. Customers want systems that not only get the job done, but are sanitary, flexible, and truly operator-friendly. Throw in remote monitoring, Industry 4.0, and advanced connectivity, and our new innovations certainly answer the call.
MARKING/PRINTING/CODING
Day two of PACK EXPO Las Vegas brought a joint announcement from Videojet and Applied DNA Sciences that could make synthetic DNA a far more commonly applied solution to the scourge of counterfeiting. The two firms have entered into a strategic partnership whereby DNA markers will be contained in the inks that occupy Videojet's continuous ink-jet print cartridges.
It's not like Applied DNA Sciences (ADNAS) had no footprint in the packaging space before the announcement. Its unique markers have found their way into coatings on labels and cartons for some time now. But Videojet's installed base of some 325,000 printers, which code and mark more than 10 billion items each day, introduces a significant opportunity to increase the universe of DNA-tagged items. It brings what Janice Meraglia, Vice President at ADNAS, called a "high-volume plug-and-play" element to the picture. Put another way, it takes technology found in packaging applications that are slightly outside what might be called routine and plants that technology firmly in the everyday here and now.
The DNA mark, said Meraglia, which is something that exists at the nanoparticulate level, will go into a liquid carrier that in turn will go into an ink-jet cartridge. So when a Videojet 1860 CIJ printer delivers a date code, the DNA mark will be delivered as well. The cartridge has a chip on it so that an electronic handshake with the Videojet 1860 printer must take place before the printer will operate.
To understand just how all of this would work, let's assume it's bottles of shampoo that get the DNA mark. Anywhere along the supply chain that a stakeholder wants to verify a bottle's authenticity, he or she can do so with the aid of a SigNify™ IF, which is a portable in-field DNA reader system that provides definitive, real-time authentication of molecular DNA tags. With reference to Photo 12, here's how it's done:
• Moisten a cotton swab with reagent.
• Take a swab of the date code.
• Cut a small piece of the cotton swab and put it into a test vessel.
• Put up to 16 test vessels into the SigNify IF reader system (Photo E), close it, and turn it on.
• In 45 minutes a confirmatory analysis is complete and can be viewed via a direct connection to a PC. If the presence of the unique molecular marker is confirmed, the bottle is authentic.
The stakeholders wielding the SigNify IF reader system could include any of the following:
• A brand owner can use the system to make sure its shampoo bottles are not being diverted into unauthorized distribution channels by unscrupulous distributors. After all, if a shipment of shampoo was made and sold under a pricing arrangement based on the product being sold in South America, why are these bottles showing up in New York?
• A brand owner who receives a complaint from a consumer can use the system to confirm that the bottle the consumer bought is or is not a counterfeit.
• A retailer can use the system as part of incoming product inspection to certify that it is receiving and selling authentic product, thus safeguarding itself against liability to the public.
When asked to put cost into some perspective, Meraglia said the only way to talk about the cost of such technology is to view it in terms of a value proposition. "It's not simply a matter of asking how much does it cost to inoculate a molecular DNA tag into a cartridge of ink," she said. "It's more program or platform than just a cartridge of ink." The name of that platform, she adds, is CertainT, which consists of six planks: SigNature® molecular ink, a secure SmartCartridge containing the ink, a Videojet 1860 CIJ printer, the application of the DNA tag onto the package, testing by way of the SigNify IF reader system, and tracking to collect chain of custody data for traceability.
"We are very excited to team with Videojet to bring this combined solution to market and offer a broad range of companies a definitive method to support their brand protection strategies," said James Hayward, President and CEO of Applied DNA.
On display at Engineered Printing Solutions was the Roto-JET industrial ink-jet printer (13), which is described as the latest advancement in cylindrical object printing. The Roto-JET is a multicolor, UV-LED, high-resolution printer offering state-of-the-art digital printing technology. It's designed specifically for cylindrical objects, including those that are flat-walled or tapered. So it's suitable for craft breweries and wineries, for example, especially if short runs are desirable. With average speeds of 800 parts/hr, the Roto-Jet features a synchronized printing and curing operation that prints full CMYKWW, with optional primer and varnish print heads available. Either manual or automatic operation can be accommodated. The Roto-Jet uses Xaar 1003 printheads with Xaar's unique ink recirculation technology, so it operates reliably even in the harshest industrial environments. For a video describing this technology, go to www.epsvt.com
Demonstrated on the show floor, a new single-pass corrugated digital ink-jet press (14) from Hanglory USA Inc. prints at speeds to 490 ft/min and, emphasized General Manager Alex Xu, is available now. In fact, the Hanglory Glory1604 has already been installed at plants in Europe, Japan, and China. This is in contrast to competitive corrugated printing technologies, which have yet to be made commercial, said Xu.
Hanglory is part of Hanglory Group, a fully integrated industrial digital ink-jet manufacturer based in ShenZhen city, China. With a core strength in digital printing technology, the company introduced the Glory1604 two years ago. The four-color press uses single-pass, drop-on-demand, piezo ink-jet technology, industrial Kyocera print heads, and an infrared drying system. Among the proprietary technologies used for the press are Hanglory's Han FullColor™ aqueous ink, which Xu said provides superior rub resistance and surface durability; HanDiesen™ technology, which ensures safe and smooth printing by automatic detection and emergency stop when warpage occurs; and a self-developed transmission system and HanBlaze™ printing system that ensure a stable run and easy maintenance.
Said Xu, the corrugated market is huge, but the traditional analog printing process is complex. The Glory1604 eliminates the need for plates, makeready, and ink mixing. The press can print on a range of substrates, both coated and uncoated, in sizes up to 5 x 9 ft at 600 dpi. Noted Xu, the digital press allows converters and brand owners to respond quickly to the market, meeting requirements for personalized, short-run, regional, and seasonal products. (See video at pwgo.to/3256)
Digital Design, a leading manufacturer of marking and coding products, announces the latest innovation in their Evolution™ thermal inkjet product line, the Evolution IV™, providing the ability to print up to 1-in. alpha/numeric characters, as well as barcodes and graphics, with a single printhead (15). Manufacturers printing on secondary packaging that require a 1-in. print can now do so without adding additional printheads, benefiting from crisper codes, easier system setup that runs with little-to-no maintenance, and lower total cost of ownership.
The Evolution IV, like its predecessors in the Evolution product line, uses thermal ink-jet (TIJ) technology to deliver a high-resolution print with a clean, self-contained system that is easy to install in just minutes. The Evolution IV is the first system of its kind to pair a one-inch print head with an integrated ink supply in a 128-mL cartridge. The proprietary cartridge design, conceived and developed by Digital Design, decreases the time required for cartridge changes, reduces downtime on the packaging line, and eliminates the maintenance and repair schedules required of other types of inkjet technologies.
The Evolution IV was specifically designed for case coding or case marking applications that require taller print, crisper barcodes, and larger graphics. As with the complete Evolution product line, the Evolution IV can incorporate multiple print heads controlled from a single controller, extending the solution to address the needs of most case coding scenarios.
White Castle®, the maker of The Original Slider® hamburgers, has been using the Evolution IV to mark cases of their famous patties destined for the freezer cabinets of grocery and convenience stores across the country. Johnathan Hopkins, Lead Maintenance Technician at the White Castle plant in Vandalia, OH, was happy to find a 1-in. alternative to the half-inch prints they had been using before, and was pleased with the ease of setup and operation.
On display in the South Hall at the JetAir Technologies booth was the SureCode drying and printing system (16), which was developed jointly by JetAir and Domino Printing Sciences. Containers flow through an integrated drying/blow-off chamber to remove any water or debris prior to printing for clear, legible, and reliable codes. Using JetAir's high-speed, high-efficiency blower and Domino's Ax-Series continuous ink-jet technology, this system has built-in quality assurance. It's designed to handle the widest range of containers at line speeds to 2,100 containers/min. It integrates into existing packaging lines and all plant control networks. The SureCode is PackML-compliant and has Rockwell variable frequency drives standard.
Also highlighted by Domino at PACK EXPO over in the Central Hall was the F720i, Domino's latest addition to its range of high-performance, high-speed, fiber laser coders. Designed to deliver clear, legible, and durable codes on aluminum cans, and with an IP65 rating, the F720i is especially well suited to withstand the harsh production environments and high-speed coding demands of the beverage canning sector. The F720i can mark more than 60 characters per can at a line speed of 42,000 cans/hr. With standard message sizes of between 10 and 26 characters in length, the line speed can increase to more than 90,000 cans/hr. The ability to generate longer, more complex codes opens up more marketing and promotional code opportunities for beverage canners. Moreover, laser requires no consumable fluids, so waste is not an issue and, consequently, green credentials are improved.
A final observation on innovation being pushed by Domino has to do with what they refer to as "simplified coding automation." It comes in response to the simple fact that too often, coding technologies on a packaging line are not integrated into the production automation systems that underpin a manufacturer's operations. Historically, this has required a manual intervention of some sort, increasing the potential for errors. Domino's efforts in coding automation, spearheaded by Director of Coding Automation Adem Kulauzovic, address this issue.
"We worked with a major beverage company and were able to offer them an automation solution that communicated the correct information to their primary, secondary, and tertiary coders,"said Kulauzovic. "The result is no human intervention, and efficiency is practically 100%." (See video at pwgo.to/3278)
Squid Ink's CoPilot 500 printing system (17) is designed to print high-quality, high-resolution characters on porous surfaces. With up to 2.8-in. print height per printhead and the ability to run up to two printheads from one controller, the CoPilot 500 offers a versatile yet cost-effective solution for coding and marking.
Squid Ink's CoPilot 500 features the new 502 series print engine from Xaar, a developer of piezoelectric technology for the industrial ink-jet market. The inclusion of the 502 series engine allows more print flexibility (including binary and greyscale printing), faster print speeds at lower levels of resolution, and user-defined print droplet size output ranging from 15 to 75 picoliters. In addition, the new larger 2.8-in. printhead makes an ideal solution for users looking to replace the high cost of labels for their case coding needs.
CoPilot 500's 4.3-in. full color touchscreen provides access to the system's internal messages and print functions. Messages are created and edited on Squid Ink's easy-to-use Orion™ PC Software and transferred via Ethernet or USB device. For larger applications, a virtually unlimited number of CoPilot 500 printing systems can be connected wirelessly or via Ethernet with Orion software, with mobile programming within the facility in mind.
According to the company, the system is capable of running oil-based inks to print up to 5.6 in. (2.8 in. from a single head) of high-resolution characters, razor-sharp text, scannable barcodes, and sharp logos at 200 dpi. Solvent-based systems to print on non-porous surfaces will be available in the near future. For manufacturers looking for more printer mounting flexibility, the CoPilot 500 printhead can be positioned in multiple positions including horizontal, down shooting, and side shooting. For current CoPilot 382 users running 2.1 in. printheads, a controller software upgrade will allow them to run the larger 2.8 in. CoPilot 500 series printheads.
"The new CoPilot 500 is an immediate upgrade to a manufacturer's coding and marking line," said David R. Mylrea, President and CEO of Squid Ink parent company Engage Technologies Corp. "The larger print size and increased user-flexibility will allow customers to print what they need, when they need it, and save money doing so."
MATERIALS
ProAmpac had a number of flexible packaging innovations on display in Las Vegas, showcasing new finishing options, opening features, and lidding films, among other introductions (see pwgo.to/3257). One newcomer to its lineup is the Pro-Pouch Squeeze (18), a hybrid package with a rigid base and a flexible body. Developed with sister company Technimark, which specializes in injection-molding technology, the package was designed with an eye toward full product evacuation.
"Squeezability is key," said Sal Pellingra, Vice President of Application and Innovation Development for ProAmpac. "The new package provides an improved consumer experience and minimizes product waste by getting more of the product out of the package."
The Pro-Pouch Squeeze is an inverted package that rests on the closure, produced by Technimark, which can be made from polypropylene or high-density polyethylene, "depending on the properties required and the type of dispensing method," e.g., a flip-top cap, toggle, etc., said Pellingra. The base is thermally sealed to the flexible body, or tube, while an optional collar provides improved aesthetics and additional burst protection.
The ProAmpac-supplied flexible film tube can be made from a range of materials, Pellingra said, depending on the barrier and aesthetics required. "Some products require only moisture barrier, others require moisture and chemical resistance," he said. "Other considerations are whether clear, opaque, or metal/foil are wanted or needed, the size of the package, etc." Novel side gussets originating from the fitment provide vertical rigidity; increasing the thickness of the film can also help with rigidity for larger sizes.
The Pro Pouch Squeeze can range in size from travel-size lotions or shampoos to a larger, retail package, both of which, when in traditional rigid tube formats, can leave a lot of product behind. "The Pro Pouch Squeeze allows for almost 100-percent evacuation," Pellingra said. "Also, for those consumers with limited dexterity or squeeze strength, the format is soft and easy to squeeze for dispensing."
In considering the sustainability aspects of the package, not only does it reduce product waste, but it also uses less packaging material, improving the product-to-package ratio. Pellingra also added that it seals much easier than more rigid tubes, which increases filling speed efficiencies. "A huge benefit is that the size of the package can be changed with very little cost, except for a change in artwork, unlike a rigid format," he said.
Aesthetically, the Pro Pouch Squeeze allows for 360-deg graphics, versus just front and back, as with rigid tubes. The film can be printed via flexo, gravure, or even digital, in up to 10 colors and can be produced with clear, shiny metal, opaque, matte, and even textured finishes.
Pellingra shared that brand owners in a wide range of product and market segments are interested in the format, including its use with health and beauty products such as lotions, shampoos, and conditioners; industrial products such as glues, paints, and other squeezable products; and liquid foods, including mayonnaise, ketchup, jellies, and more—"just about anywhere liquids are contemplated." He added that ProAmpac has even had interest from producers of dry products looking to replace rigid containers.
At the time of the show, the Pro Pouch Squeeze was just waiting for an end user. Said Pellingra, "ProAmpac and Technimark are looking for a launch partner willing to differentiate themselves and invest in this game-changing technology."
Biopolymers continue to create incremental changes in sustainability in the flexible packaging market as alternatives to various film layers. With its EarthFirst® UL biopolymer, Jonathan Stiffler, Marketing Manager for Plastic Suppliers, Inc., said the company has introduced an "outstanding sealant web with proven machinability and performance." EarthFirst UL is an ultra-thin linear low-density polyethylene replacement film; in fact, Stiffler shared, it is the thinnest on the market currently.
PSi's EarthFirst compostable biopolymer film is nothing new. As Stiffler explained, PSi began the design and development of the blown polylactic acid film—made from renewable feedstocks, including tapioca roots, sugar beets, sugarcane, and corn—back in 1999. Among the products in the EarthFirst line are a clear label film, a shrink label film, window film, a film for floral wrapping applications, and others. Explained Stiffler, most of the resin used by PSi comes from NatureWorks, however the company does source some non-GMO PLA from Corbion Purac for specific clients who want non-GMO designation.
With EarthFirst UL, Stiffler said, PSi now offers a sealant web that provides improved efficiencies, lower energy usage, reductions in product-to-package ratios, and lower cost per MSI (thousand square inches) versus traditional LLDPE films.
"Our EarthFirst UL is unique in many ways," said Stiffler. "First, it is the thinnest LLDPE replacement film on the market today. Also, it's been certified biodegradable in the U.S. and Europe by ASTM 6400 and EN 13432, respectively. In addition, it has a clarity that other PLA films cannot touch and it's more rigid than other sealant films, allowing for a stronger packaging structure with less total thickness."
Another advantage of the film is that its yield is significantly higher than the rolls of LLDPE sealant film currently on the market, driving improved efficiencies through the supply chain, Stiffler added. "Also, the thickness of EarthFirst UL required to create a strong seal is much lower than LLDPE," he said. "Because of these properties, you save money with lower film transportation costs, less changeovers, and less downtime."
EarthFirst UL is said to provide better-than-average grease, aroma, and flavor barriers and is recommended for packaging vegetables or other fresh foods due to the breathability of the film.
Stiffler said while PSi is bound by NDA agreements with companies testing EarthFirst UL's viability for various applications, he could confirm that the first commercial uses of EarthFirst UL should launch by the end of 2017.
A Wednesday presentation at the PACK EXPO Innovation Stage focused on a new coating technology for corrugated shippers that replaces wax. Called Greencoat, it was developed jointly by Interstate Container out of Cambridge, MD, and its customer Mountaire Farms of Millsboro, DE, the seventh-largest poultry producer in the U.S. Interstate Container, it's worth noting, was just acquired by UK-based DS Smith.
Greencoat shippers are aimed at applications in wet environments like poultry and produce. Interstate and Mountaire have been working on this development since 2004, largely to address mounting pressure from both the retail and restaurant industries. These end users have grown tired of bearing the monetary and environmental costs of disposing of wax-coated shippers, which, because they are wax-coated, are ill-suited for recycling and typically need to be landfilled. Mountaire has been the most prominent user of Greencoat shippers thus far, though some other poultry producers have joined as well. The segment that holds tremendous potential, say the developers of the proprietary wax substitute, is produce.
On display at the Emerson booth was a first-ever line of shelf-stable "mix-to-drink" probiotic beverages from Pittsford, NY-based Karma Culture LLC (19). The PET bottles feature a patented cap that protects dry probiotic cultures to maintain the highest efficacy without the need for refrigeration. This gives Karma an edge in developing and marketing new nutritional and wellness beverages. Probiotic cultures are living microorganisms that are known to support immune and digestive health. Typically premixed with water before bottling, the probiotic ingredients are prone to deteriorate due to moisture, UV rays, oxygen, or heat, and therefore require refrigeration or special handling.
The KarmaCap overcomes that by using a screw-on base with a sealed upper capsule that contains the probiotics until the consumer chooses to mix them into the water with the push of a button. Spin-welding technology from Emerson's Branson (www.emerson.com) division joins circular thermoplastic parts by applying pressure and a spinning motion that generates heat to melt and fuse the parts together without affecting the probiotics inside.
Mitsubishi Gas Chemical America presented an oxygen absorption technology at PACK EXPO Las Vegas that promises to more than double the shelf life of some food products. The technology is particularly relevant for organic and natural food brands looking for shelf-life extension solutions, including in the baking and snack space. This technology comes in the form of a resin that can be layered into any barrier film to provide oxygen absorption. It reduces oxygen levels within a sealed container down to 0.1 percent or less, without the need for gas flushing or sachets. Up to now, Mitsubishi has only offered this technology as a fully formed film, so making it part of a multilayer structure could only be done by way of lamination. But now it's available as a resin, which means that packaging converters can incorporate the resin into innovative new formats by way of coextrusion if they choose to.
Mitsubishi Marketing and Sales Manager Sean Hael points out that this technology is especially beneficial for retort applications. The retort process can be very harsh on foods because the intense heat in combination with the oxygen in the product and in the headspace dramatically alter a food's taste, color, and texture, as well as its nutritional value. By absorbing oxygen during retort, food is protected from this degradation and shelf life is improved considerably.
This technology is well-suited to the organics market because it meets the specific demands of consumers, brand managers, and retailers. Consumers of organics want fresh-tasting, wholesome food with as few added ingredients as possible. In addition to meeting these customer needs, brand managers and retailers want shelf stability to save on costs and minimize waste. By putting oxygen absorbing technology within the package, you can satisfy all of these multiple demands: a clean label, great-tasting food, and extended shelf life and reduced waste.
Having unveiled the first commercial-scale in-line metallizer top coater for barrier films at its Toronto, Canada, plant on Sept. 13, 2017, Celplast Metallized Products was eager to share news of the new capabilities, which have been in development for nine years (20). Before embarking on commercial-scale capabilities, Celplast proved out the technology with a pilot line and now has the ability to produce six kilotons of its high-barrier Duramet® films, metallized and top-coated in one pass using Metacoat® technology.
As Celplast Product Development Engineer Ameer Hamza explained, the traditional process for adding a barrier coating to metallized films requires two passes: first through the metallizer and later through a coating unit. Metacoat involves three steps—metallizing, top coating, and electron beam curing—all of which take place within a vacuum chamber, at production speeds. "Metacoat doesn't even have to rely on a barrier coating and achieves exceptional results with a protective coating only," Hamza noted.
He added that flexo printing was chosen as the top-coating method, as Celplast determined it was the best way to apply a high-viscosity liquid in a thin, even layer across the web. "A key feature of this technology is that all three processes occur one right after the other, with the metal surface never touching a roller until after the top coat is cured," he said.
Interestingly, while Metacoat was originally designed as a cost-saving measure, early findings showed that because the top coat is applied immediately after metallizing, the inherent barrier of the aluminum layer is retained and protected, resulting in significantly higher barrier properties.
Hamza says that on the pilot line, Celplast was generating Barrier Improvement Factors (BIF) for both oxygen and water vapor of six- to eight-times greater than that for a typical metallized substrate. "With the commercial line, we have found that flat-sheet barrier properties are improved even further," he added. "The BIF on oxygen barrier in particular is more than 10-times greater than that for metallized films."
These improvements mean layers can be removed from some multilayer film structures. It also provides opportunities for other applications, including retort. Historically, Hamza explained, metallized films could not survive the retort process due to lamination and oxidation issues, which rendered the metallized film clear, as all the metal would disappear. Testing Duramet with the retort process, Celplast found that the film was still intact, even after it was subjected to the intense heat and pressure of sterilization. However, Hamza noted that post-retort bond strengths and barrier values need further work to be improved upon, which he said is underway.
"This opens up the way for top-coated metallized film to be used in hot-fill and aseptic structures as well as with other flexible packaging structures where converters use multilayer structures that can now be reduced by a layer each," Hamza added.
The metallizer top-coater system, supplied by Applied Materials, can process any base substrate that can be metallized, including PET, polyethylene, polylactic acid, biaxially oriented polypropylene, and others.
At the show, Hamza indicated that Celplast's booth was much busier than usual—"a very welcome sign," he added. Following the expo, he shared that the company brought back "some considerable leads" and is finalizing trials of its Duramet film with end users.
Zip-Pak, a provider of zipper technology for flexible packaging, debuted its new Tab-Lok™ child-resistant, resealable closure at PACK EXPO Las Vegas. According to the company, the Tab-Lok can be easily integrated into a customer's current manufacturing operations, without significant changes to equipment or capital investment. Tab-Lok offers a press-to-close solution that streamlines the opening process, unlike the multi-step slider options currently on the market. The key differentiator is the tab mechanism used to open and access the package contents. The zipper profile features a small tab that the consumer utilizes to open the zipper during first and subsequent uses of the package. Although the tabbed profile provides deterrence for younger children, Zip-Pak says it's proven to provide easy accessibility for older consumers who are often challenged by child-resistant packaging.
James Cooley, National Sales Manager for Zip-Lok and project manager for the Tab-Lok initiative, said the child-resistant closure will enable many products traditionally available only in rigid containers to now consider flexible packaging as a viable and compliant alternative.
"Pharmaceuticals and nutraceuticals are good examples," he said. "Whether a consumer requires 10, 20, or 50 capsules, often the same sized rigid package is used to accommodate all quantities. A flexible child-resistant option opens the door to packaging that can be customized to a specific quantity." Cooley added that detergent pacs and other potentially dangerous home and garden products are also great candidates for Tab-Lok.
The closure recently obtained Conformity of Packaging according to both US 16 CFR 1700.20 and ISO 8317 standards from IVM Childsafe. This designates it an accredited child-resistant, resealable solution throughout the U.S. and Europe.
Berry Global recognizes that consumers associate freshness and wholesomeness with the ability to see the food through the packaging, or packaging clarity. "To address this, we introduced a whole line of clear containers (21), the latest of which is a new product that we're doing with Kraft Heinz Co. under the Oprah brand of soups," said Amy Waterman, Global Marketing Communications Manager.
It's a stock co-injection-molded polypropylene container with two layers of PP and a layer of EVOH for barrier purposes. Also applied is an in-mold label that includes EVOH to further extend shelf life. At a co-manufacturer's plant, the product is hot-filled at temperatures from 165 to 200 deg F and then quickly chilled. During distribution and merchandising the containers are under refrigeration. Berry also injection molds the PP lid; like the container, it's also decorated with barrier IML. Before friction-fit lids are applied, a film lidding is heat sealed in place "for shelf life and tamper evidence," says Waterman.
Introduced in August of 2017, the 1-lb servings sell for about $4.99.
CONTROLS & IoT
While manufacturers talk about the convergence of automation technology and information technology, Beckhoff Automation is delivering a comprehensive system architecture for packaging machines that automate hardware via advanced PC-based control technology.
The approach delivers all of the benefits of integrated PLC, motion control, and HMI, while adding in other functionality for robotics, safety, high-end measurement, condition monitoring, cloud connectivity, and the Industrial Internet of Things (IIoT).
Beckhoff demonstrated its "smart factory" solutions showing motors and drives using its One Cable Technology (OCT) via EtherCAT P, which integrates previously separate power and signal lines into a single, standard four-wire Ethernet cable.
Another highlight at PACK EXPO included a new HMI software platform that can dynamically scale graphics to accommodate the screen formats from industrial displays to a small mobile device with a Web browser. Based on HTML 5 and JavaScript, Beckhoff's TwinCAT HMI allows users to develop responsive platform-independent user interfaces that automatically adapt to the screen resolution, size, and orientation of the device. With the graphical WYSIWYG (what you see is what you get) editor, controls can be arranged via drag-and-drop tools and linked with real-time variables.
And, with Industrie 4.0 in mind, Beckhoff is delivering technologies that help machine builders with condition monitoring of machines.
With TwinCAT IoT and TwinCAT Analytics, engineering efficiency is greatly increased because the software packages share the same universal platform as all other packaging machine programming tools from Beckhoff, including PLC, motion control, safety, HMI, and robotics/kinematics.
Finally, the new C6015 Industrial PC (IPC) opens up application areas for PC-based control technology, especially those with pronounced cost or space restraints. Fully suited to industrial applications, this IPC measures just 82 x 82 x 40 mm, demonstrating the extensive scalability of PC-based control technology from Beckhoff. The Microsoft Azure Certified C6015 is suitable for machine control and IIoT applications by using powerful Intel Atom processors, including those with multi-core technology up to 4 Cores. A price savings of approximately 25 percent also places the device well below the previously least expensive x86 IPCs from Beckhoff. These features facilitate highly cost-effective implementation of automation, visualization, and system-wide communication in small- and mid-size applications with a minimal device footprint.
Increasing overall efficiency of individual machines or the entire plant is the goal of sophisticated food and beverage processors. To do that, you have to eliminate unscheduled downtime. Preventive maintenance is all about getting ahead of an equipment problem, says Mike Wagner, Director of the Packaging Segment for Rockwell Automation's global OEM team.
The watchword now for equipment is simplify, according to Wagner: "The vast array of SKUs that have to run on every machine means that line changeover needs to be extremely flexible. Things like automated changeovers, user prompts, videos, and help screens simplify the process." How fast you can change from one product to the next is essential. One advantage is having machines that don't require a mechanical change between products. "If I want to go from a 300-mL box to a 450, it [can do] it programmatically," Wagner said. With the proliferation of servos, changeovers that used to be done with a wheel and by hand are now automatic. These new technologies help food and beverage manufacturers improve quality, OEE and downtime, while getting rid of delays that previously stalled production.
Rockwell Automation provides a platform that allows OEMs to create custom tools and systems that contain all types of preventive maintenance ideas. These systems or tools can include maintenance schedules, programs that keep track of time and service, and notifications to alert operators of an impending task.
Wagner said control platforms have greatly improved over the years, and recently Rockwell released a compact controller for the packaging market. Today's controllers have the advantage of being smaller in size and will fit into the tight footprints found in most food and beverage manufacturing plants.
Another advantage of the controls is there is no need to rewrite programs, code or learn new software. "We're talking about hardware performances," said Wagner. "It's like going from your iPhone 7 to an iPhone 8," but it's up to the OEM to customize it for its end users.
According to Wagner, Rockwell Automation can provide an auto function that runs every 100 microseconds and looks for the stability of that axis. "If it sees vibration or instability, it retunes automatically," he said. "If you have wear around the bearings or if you see wear on the machine, the servo will automatically adapt and then stabilize, keeping you up and running."
The "run it until it breaks" maintenance department of the past is long gone. "The difference now is converting collected data into either an action to fix before it's a problem or fixing it automatically. That's the key," said Wagner.
Pineberry Manufacturing Inc. makes friction feeders that insert coupons, paperboard inserts, envelopes, cards, etc. The firm claims to have the only open-source feeders in the marketplace, which means proprietary electrical components have been eliminated. Pineberry's HSF and SF Series friction feeders, said Pineberry, are characterized by an unmatched level of operational simplicity, reliability, robustness, and cost efficiency. Also, they can be easily integrated into manual or automated lines.
"Our friction feeders are open-source, servo-controlled power platforms with a Schneider Electric PLC touchscreen controller, reducing the overall number of components to the machine," said Pineberry President David McCharles. "Users can get information from the terminal remotely through an app on a smart phone. Open-source technology is the way the future is being built." (22)
The PLC controller itself has replaced proprietary control boards. All the parameters that were only accessible through a PC or laptop are now also displayed on a simple PLC photographic terminal. It's a smarter machine but overall it's a simple machine to use. The feeders with their Schneider Electric touchscreen controls provide the operator with ease-of-use and full availability of real-time machine performance data. (See video at pwgo.to/3267)
Automation completely free of control cabinets is what AMK Automation Corp. was touting at Vegas. Its AMKASMART iSA motion controller measures about 10x4x2 in. Yet it functions as a motion controller PLC, a power supply for decentralized motor modules, and a 24-V power supply. As AMK General Manager and Technology Evangelist Tom Jensen puts it, "You can build a packaging machine with that little box being all the controls cabinet you need.
"It represents a departure from the way packaging machines have been built for the past 25 years. It's not a matter of buying a Hoffman or Rittal cabinet, putting some DIN rails in, mounting breakers and servo drives, and boom, you can actuate an assortment of servo motors. What we're saying is bolt this little 10-amp box to your machine, plug in your first servo motor, and then daisy chain the rest of the motors you need. At SPS Drives this year in Nuremburg we'll have a demo with one of these boxes controlling 30 servo motors."
Germany-based AMK is a relative newcomer to the North American market, which is why Jensen, who has more than 20 years of experience in North America in the controls and automation space, was brought on board. One of the first adopters of the iSA device is a retrofit of sorts, said Jensen.
"It's a packaging machine builder that has a machine already designed and built for a customer but now the customer wants automatic adjustment of four axes that currently have to be adjusted by way of a hand crank," said Jensen. "We're bolting the iSA box onto the machine and adding four AMK servo motors. One big advantage here is they don't have to somehow redo the existing Rockwell controls, or cabinet, or code. Communication from the Rockwell side to the AMK side will be through Ethernet/IP, a known protocol."
Another innovation at the AMK booth was the SPINDASYN SEZ linear drive motor system, in which the rotor is pressed directly onto the ball screw. Featuring high and constant force, precise position accuracy, and high energy efficiency, the closed-loop positioning and force control of the SEZ make it an attractive alternative to other linear technologies such as pneumatic or hydraulic cylinders, rack and belt drives, or linear motors.
Designed with a stroke performance and size factor to replace air cylinders, the newly available SEZ nicely complements the AMKASMART iSA, said Jensen. "With the iSA," he observed, "we're able to say to a machine builder, 'You don't need a controls cabinet.' But they quickly point out that they still have pneumatics in place and thus they do in fact still need a cabinet. Now with SEZ they don't. And you can do some pretty cool things with it. You can't position an air cylinder, for example, but you can position the SEZ because it's full servo."
Lenze Americas' c250-S safety controller enables engineers to program all of the machine's safety needs using just one engineering tool based on the PLCopen standard. Integrating the c250-S into an automation system will make engineering easier, improve diagnostics, and reduce the number of interfaces and components, said Lenze.
"This expansion of the Lenze portfolio creates many advantages for the builders of machines and systems. Everything from the drive-based safety technology to the focus on the entire automation system is about making things easy for the OEM," said Daniel Repp, Automation Industry Manager, Lenze Americas. "This emphasis on easiness is also reflected in a significantly reduced need for wiring, thanks to the direct networking of the Lenze controllers with ready-made software solutions from the Lenze FAST Application Toolbox."
To date, Lenze has concentrated on drive-related safety functions. Now, safety has been completely integrated into the system, enabling projects to be implemented faster because there are no longer differences in the software tools for drive technology and safety. This is particularly beneficial in the implementation of projects where machine operators need to take action within a machine's danger zone. Interface problems and the time-consuming need to become familiar with tools from different manufacturers have become a thing of the past. This uniformity also makes it possible, via EtherCAT, to display diagnostic messages in more detail, such as "supply voltage too low" instead of simply "error."
Aventic's interactive demonstration on IoT solutions illustrated practical industry examples of how to use IoT to achieve predictive performance-based maintenance to provide a pneumatic system with 100% uptime. The demonstration detected and solved common errors such as decrease in throughput, mishandling of an object, low system pressure, and extensive shock wear. By using the Aventics Smart Pneumatics Monitor, data from sensors can be analyzed and turned into information. It can then be viewed locally via web server, uploaded to the cloud, or sent to any part of the enterprise network. Attendees were able to visit the Aventics booth during PACK EXPO Las Vegas and experience the interactive display on their mobile devices.
PACK EXPO Las Vegas visitors had the opportunity to watch a demonstration of the fundamental differences between powering a belt conveyor with Van der Graaf's drum motor (23) versus a conventional drive system.
"Comparison of the external motor and gearbox to that of the drum motor measures the efficiencies, and the electrical savings as a result of the comparison," explained Rick Zander, Business Development Manager at Van der Graaf. At the Vegas demo, the external motor was mated to a 90-degree gearbox, which was then powered to the conveyor.
According to Alex Kanaris, President of Van der Graaf for the U.S. and Canada, the advantage of Van der Graaf's design is the way the electric motor is coupled to the gearbox. "As you can see, they're inline," said Kanaris, "so the rotor is inline with the gearbox." The gearbox has losses, but because it's inline, the losses are only 2% per stage. "Since this particular gearbox is only a two-stage gear reduction unit, we have a loss of 4%. And that makes our drive 96% mechanically efficient," Kanaris added.
Zander demonstrated a comparison between the external conventional motor and Van der Graaf's drum motor in a real-life application on a conveyor belt. To make it a fair comparison, he loaded both drives equally to see how many watts they consume and how much load they experience. As a result, the test unit/system was able to measure the amount of dollars saved by operating a drum motor versus a conventional arrangement.
The drum motor consumed 576 to 577 watts of power, versus 721 watts on the conventional drive. "This translates into load," said Zander. "The conventional motor is seeing a 22-23% amount of load. The drum motor is only 12%. This is for the same comparable amount of torque the motor is producing." In the example, the drum motor costs $612 per year to run versus $755 for the conventional motor and gearbox.
During the demo, Kanaris increased the torque to 125 foot-pounds at 47% load on the conventional motor and gearbox. When he used the same specs on the drum motor, it was using 658-660 versus more than 800 watts of power on the conventional systems. "When we translate that into amount of load, we can see the drum motor is only being loaded at 43%, where the conventional motor is overloaded 100%," he said. The dollar savings increased from roughly $152 to $162 per year.
Energy savings, longer life, space saving and the safety benefits of less moving parts are associated with Van der Graaf drum motors, concluded Zander.
Red Lion Controls rolled out two new entry-level HMIs that "right size" the company's high-end HMI while keeping some of the advanced capabilities. The CR1000 and CR3000 HMIs (24) are available from 4.3 in. to 15 in. in size and feature multiple connectivity options to address the real-world challenges of today's multi-vendor manufacturing environments.
Red Lion's Crimson 3.1 configuration software with a built-in library of more than 300 industrial protocols provides the HMIs with the ability to quickly interconnect devices from a variety of suppliers. "There are no more stranded assets," said Paul Bunnell, Director of Product Management, Automation at Red Lion Controls. "Everything gets pulled together with Crimson 3.1."
Crimson 3.1 also incorporates new features and shortcuts that make the development process simpler than ever. "Integrators now have even more features that speed up the creation of databases," Bunnell said. "From rearranging the order of primitives within libraries to making the most commonly used items easier to find to giving users the ability to create a custom favorites list, we continue to look for ways to make the user experience intuitive and effortless."
With a built-in web server, the CR3000 allows users to securely monitor and control their application via PCs, tablets, or smartphones. SMS text messaging and e-mail alerts provide early warning of process issues, which helps avoid costly downtime. Additionally, the CR3000 provides data logging, critical for both troubleshooting and meeting regulatory requirements.
The new HMIs are housed in a rugged polycarbonate enclosure and address the challenges of the manufacturing environment with wide operating temperatures of -10ºC to +50ºC, high shock and vibration tolerance, and an IP66 rating.
Emerson Automation Solutions demonstrated several technologies that can help packaging lines gain flexibility by accommodating numerous package sizes and complexities, all while reducing waste and improving product quality. Consumers are demanding more product variety and packaging convenience. In response to such demands, Emerson demonstrated several products that can help, ranging from connectivity to safety control.
Emerson's ASCO G3 Fieldbus Electronics is a distributable electronic platform that offers easy access to connections for enhanced control of pneumatic actuators across all bottling and packaging processes. It is a modular system that plugs together via mechanical clips for easy assembly and field changes without dismantling the entire manifold. Couple the G3 fieldbus electronics with the Emerson ASCO Numatics 503 Series Zoned Safety Manifold, and it simplifies the design of a redundant pneumatic safety circuit with a manifold system that can be configured to shut down air and power only to the group of valves that controls the machine's motion in the operator's vicinity, while the rest of the machine remains in operation. This reduces operator risk and protects packaging line assets.
Emerson's SolaHD Power Quality product removes limitations in the power architecture by allowing machine designers and operators to safely put power where they need it. These power supplies can be mounted directly on a machine, freeing packing lines from design constraints and eliminating the complexity and cost of unnecessary enclosures and excess wiring. The SolaHD SDU AC- A Series DIM Rail UPS System is an uninterruptible power supply that helps packaging lines maintain maximum output levels by delivering protection from damaging impulses and power interruptions to microprocessor-based devices. The technology provides immediate back-up AC for up to four minutes so that processes can safely continue or be intelligently shut-down for faster recovery and minimal losses.
And, for connectivity, Emerson's Micro Motion Smart Meter Verification (SMV) provides real-time insight into machine and process performance via diagnostic software that verifies Coriolis meter performance and integrity without having to stop operations. Elsewhere in the broad Emerson product portfolio, the Rosemount Wireless THUM adapter and gateway receiver provide Ethernet/IP access to flow, line temperature, density, and even gas void fraction information.
Emerson also showed off technologies that minimize waste and contamination by effectively sealing and detecting leakage in containers. But one of the most interesting demonstrations was the use of Emerson's Branson spin-welding technology used to create a breakthrough cap design for the Karma Wellness Water bottle.
Boosting productivity and efficiency was a key theme for Bosch Rexroth at PACK EXPO Las Vegas. And what better way to do that than through the IOT Gateway, described as the newest addition to Bosch Rexroth's extensive Industry 4.0 portfolio?
IoT Gateway is a means of networking new and existing machines cost efficiently and optimizing product processes. A combination of control hardware and software for implementing IT applications, it first collects sensor and process data. It then transmits it to MES, cloud applications, or local machine state monitoring systems. Finally, it enables process data analysis.
"IoT Gateway, which gathers data, is part of a system," said Jim Hulman, Business Development Manager at Bosch Rexroth. "The other two parts are DAS, or Data Analytics Server, and Web Composer. DAS is what stores the information and applies analytics like traditional algorithms or self-learning technologies, while Web Composer provides a visualization tool and a means of taking a look at data with visual analytics. Think of it as, essentially, gather, store, analyze and view."
Making packaging machinery data more transparent is what the IoT Gateway does best. Real-time monitoring of process data such as temperature, pressure, vibration, power consumption, or other parameters ensures that production is consistently of high quality. Analysis of specific information simplifies predictive and plannable maintenance of plants and significantly increases machine availability. And, said Hulman, this is a tool that is just as suitable for machines already out there in the field as it is for brand new equipment.
"The IoT Gateway is an information-gathering tool that is above and beyond your normal control architecture," said Hulman. "So you can design and program your machine control architecture and just run that. But then in parallel you can mount an IoT Gateway into your machine and bring in data from mounted sensors. You can bring in fieldbus IO sensors or OPC-UA-based information. You can tie directly into a local machine level controller. Also interesting and unique is that we can tie directly into third-party controllers such as PLCs from Rockwell or Siemens, for example, and we can extract the global variables out of their controller and read their parameters. That makes IoT Gateway ideal for an existing machine interface. You leave your complete machine the way it is with your Siemens or Rockwell or Rexroth controller and then, without any change needed in your program, we can reach in and read the variables from those control systems."
Also worth noting, said Hulman, is this unique value inherent in IoT Gateway compared to data gathering and storage on the IT side. "Typically on the IT side of the business, the problem is connecting to the device level on the plant floor," he poined out. "It requires extra hardware, extra programming, and extra ports. But with the IoT Gateway, connecting becomes a task that anyone can do. There is no high-level programming that is necessary. It's all configured on a Web page housed directly on the device. The Gateway does all the heavy lifting. You simply have to plug in both sides."
Delta Products introduced three new technology platforms and nine new products, all of which support machine builders looking to integrate the Industrial Internet of Things (IIoT) as part of a more efficient system (25).
Delta's DIACloud platform is a cloud-based system for remote monitoring, maintenance, data collection, and storage, enabling devices to securely communicate as if they are on the same network. Each user can connect and see device status online or through Delta's DIACloud phone app. Routers and gateways connect legacy and non-Delta devices to the platform, while monitoring is simplified with SMS and email alerts. Delta has patents on technology for authentication, authorization, and data encryption that ensure the device is secure end-to-end.
Delta has also expanded its connectivity options to include Ethernet/IP at the platform level. Recent additions of E/IP have been made to the company's AS300 series compact modular mid-range PLC, the DVP-ES2-E series PLC, the AH500 advanced CPU, and the new AH10EMC integrated EtherCAT motion and PLC CPU for the AH500 series mid-range rack PLC. This supports system configuration when combined with other Delta industrial automation technology and increases connectivity with other automation devices.
Delta's new EtherCAT platform, a controls solution for machine automation, provides complete control over the EtherCAT network. Delta is launching its AH10EMC integrated motion and PLC control module for the AH500 rack based mid-range PLC platform. Now, it is possible to control machines with remote I/O, induction motors, spindle motors, and up to 32 axis of synchronized servo motors on one network—and from one supplier. The EtherCAT platform also allows for control of third-party EtherCAT devices, expanding design options for OEM builders.
In addition to its platform technologies, Delta has expanded its portfolio with nine new products, including the AH500 series hot-swappable midrange PLC, the MH300 series high performance compact variable frequency drive with EtherCAT, the ECMA series 100-750W servo motors with IP67 connectors, the R1-EC series EtherCAT remote I/O modules, the DVP series Load Cell module for high speed weighing, and a DPM-C520W wireless digital power meter.
Representatives from RM2 discussed how IoT-enabled assets can impact your business. It's estimated that by 2020 there will be 50 billion connected devices communicating with each other to make life easier for manufacturers. With the serialization deadline looming, everyone's focused on tracking and tracing the product on the pallet, but what about the pallet itself? RM2's BLOCKPal (26) is a solution that gives manufacturers peace of mind regarding the whereabouts of their product. The smart pallet is focused on sustainability with four key levers: it is lightweight, reusable, repairable, and durable.
The pallets employ cellular networks along their routes to send and receive data, and they come with batteries that last 10 years. They're designed to increase supply chain security and contain temperature monitoring and vibration/shock detection. BLOCKPal also offers a version that is customized to meet specific requirements, and their pallets can be purchased or rented.
Interroll's new generation of motors with fully modular synchronous and asynchronous designs are engineered for high performance and longevity, and to meet stringent hygiene requirements.
This modular platform strategy will be used initially with all asynchronous and synchronous motor types with a 3.21-in. diameter, and it will be expanded to the entire product range in the future. Thanks to its modular flexibility, the new drive generation makes it significantly easier to plan and implement highly efficient and user-specific material-handling solutions.
"All drum motors in the new generation are fitted with the highest degree of IP69k protection, which makes cleaning the facility much faster and easier and also reduces the risk of product contamination in the food processing area. The PTFE-sealing allows high-pressure cleaning with chemicals according to ECOLAB specifications," said Steven Olszanowski, Product Engineer, Drum Motors. "If you look at the motor, you won't see any external crevices or areas for product to build up on the outside, so we think it's probably the most hygienic belt drive on the market."
An extended number of gear stages broadens the range of speeds so that one drive solution is sufficient for all current and future uses. Options like encoders, brakes, or backstops are available for all motors. The extended range of variants for the motors from 0.034 HP to 0.570 HP covers all conceivable uses in the food industry, material handling, and manufacturing. All motor components are standardized and thoroughly tested, equating to shorter delivery times.
Meanwhile, simplified construction means easier service at lower costs. Since all motors have the same shafts, the variety of parts is reduced to a minimum, resulting in a fundamentally easier conveyor construction—no matter if a synchronous motor or an asynchronous motor is needed. Replacement parts are available worldwide through Interroll and service partners provide fast and professional repairs.
Parker Hannifin was front and center at PACK EXPO, and according to Linda Caron, Global Product Manager, Factory Automation, as more companies increase their focus on machinery safety, design engineers need a firm understanding of the Machinery Directive and how to comply with the required safety levels.
"The goal of the Machinery Directive 2006/42/EC is to protect people and the environment from accidents caused by all types of machinery. The EN 954-1 standard, previously used to support meeting the directive, has now been superseded by EN ISO 13849-1 & -2 and EN 62061 standards. A significant revision with these standards is the approach that is taken to the assessment of safety-related controls systems, especially with regard to modern electronic control circuits," she said. For more on the Machinery Directive, and how end users and machine builders can achieve required safety levels, see Parker's whitepaper at pwgo.to/3263.
According to the company, a pneumatic safety exhaust valve can be an easy & cost-effective way to accomplish the Machinery Directive's goals. Parker Hannifin used PACK EXPO to demonstrate a new safety exhaust valve—the P33 valve. This new valve is designed for external monitoring, incorporates series-parallel technology for high flows and fast exhausting response with minimal residual pressure in the fault condition, and has a long life with a B10d of 20,000,000 cycles. The valve provides easy wiring options for use with most brands of controls whether used with a safety relay, programmable safety relay, or high-end safety PLC. LEDs for fault indication or diagnostics are also provided. The P33 valve is modular with Parker air entry filtration and pressure regulation components. A soft-start function is available as an option that does not increase the width of the product.
"The faster the machine can stop, the closer an OEM or end user can install the guards, light curtains, or other presence-sensing devices. Stickiness of valves is one of the biggest variable factors in stopping time, as related to the valve's exhaust flow capability. Parker utilizes a patented series-parallel flow design that incorporates the best of both series and parallel arrangements to maximize safety," Caron said. "Essentially, the two valve elements are arranged in such a way that air from inlet to outlet must go through both valves in series, but the flow path from outlet to exhaust is in parallel. The cross-flow technology ensures that both valve elements [redundant design] must shift to supply air downstream and if either valve element is out of position with the other, the downstream air will be dumped to exhaust in parallel. This arrangement allows higher exhaust flow capability and ensures very low residual pressure during a fault, thus eliminating the danger of residual energy making its way into the machine."
PHARMACEUTICAL
While augmented reality (AR) products have industrial manufacturing applications, the technology is not as widespread on the pharmaceutical side. But Adents is throwing its hat into the ring, debuting the new Microsoft HoloLens (27) at PACK EXPO.
HoloLens is the first set of AR smart glasses for the pharma industry that, when used with Adents Prodigi, "puts comprehensive cloud serialization and traceability right in front of its user's eyes. Literally."
Users can scan datamatrixes with the glasses for immediate access to Prodigi's cloud-based search tool and results, eliminating the need for a computer/on-screen dashboard. The smart glasses aim to streamline operations—for example, a warehouse operator can control products, bundles, or pallets in an easy, user-friendly fashion.
By integrating with Adents Prodigi, the glasses add another level of functionality to the cloud-based traceability system that manages regulatory requirements and allows pharma companies, CMOs, and wholesalers to add business value to the compliance issue.
Roughly half of patients with chronic diseases in developed countries fail to take medication as prescribed. There are reports that 10% of deaths in the U.S. are due to lack of patient adherence, and 13% of total healthcare expenditures in the UK are linked to solving issues related to non-adherence. This can be attributed in part to soaring healthcare costs that place the task of administering drugs on the patient rather than on a doctor.
Alan Davies, Global Design Manager at Essentra, gave a presentation at the Healthcare Packaging EXPO Innovation Stage that addressed this issue and explained how creatively designed, engaging packaging solutions can help patients comply with the provider's suggested practices.
There are several layers between receiving a prescription and actually getting it filled, and each represents an opportunity for compliance to fail. Of 100 prescriptions written, consider the following:
• 50-70 are actually filled
• 48-66 are picked up from the pharmacy
• 25-30 are taken properly
• 5-20 are refilled as prescribed
There are a variety of reasons people fail to comply with prescriptions. There could be a lack of education or cultural misconceptions that get in the way. Healthcare systems could fail to properly address the patient's needs, or the cost of a drug could be a deterrent. There's no panacea for adherence, but there are things that can be done on the packaging side to improve the situation.
Tamper evidence and reclosable cartons can ensure the drugs get to the patient as intended. Some of Essentra's packaging contains a "crumple zone" that creates space around fragile products such as glass vials for added protection. A quick-start guide inside the packaging (28) provides easy step-by-step instructions for the patient to reference, while a temperature indicator ensures the active ingredients remain effective. Additional literature can be included in the form of a booklet within the packaging, and a removable patient alert card provides a portable identifier to inform healthcare personnel of the patient's needs in case of an emergency. Not all features are relevant to each medication, but manufacturers can pick and choose options to ease the burden of drug administration to improve compliance on the patient's end.
For the global pharmaceutical industry, the lack of a standard in track-and-trace-related communication has posed constraints on implementing workable serialization solutions. As various serialization deadlines approach—including those in the U.S. (November 2017, with delayed enforcement) and EU (February 2019)—establishing baseline language compatibility has become increasingly urgent.
The Open Serialization Communication Standard (OPEN-SCS), a collection of healthcare sector companies dedicated to standardizing packaging line serialization and aggregation data exchanges, presented its initial Packaging Serialization Standard (PSS 1.0) during PACK EXPO Las Vegas.
Following two years of intense collaboration among committee members, Antares Vision's Adriano Fusco, Marketing Director of the OPEN-SCS Group, shared excerpted documentation exemplifying the standard, along with a matrix of the tests currently being conducted among vendors.
The Open-SCS Group's initial set of recommendations for serialization standardization cover four use cases involving typical communication between Levels 3 and 4 of the serialization infrastructure—between onsite servers and corporate repositories. PSS 1.0 comprises a best-practices approach to Serial Number Provisioning, Serialization Report Transmission, Batch & Master Data Repository, and Unused Serial Number Return.
Work to create these first specifications was done in direct collaboration with ISPE and GS1 global technical experts, and is the foundation for the forthcoming PSS 2.0, which will address nine exchange use cases between Level 3 (site serialization manager) and Level 2 (line serialization controllers and smart devices). PSS 2.0 is targeted for release in Q2 of 2018.
Fusco also discussed how in-depth tests of the standardized interfaces have been ongoing over the last 12 months at various vendor facilities, helping to ensure the development of a standard in line with the functional needs of the market.
The first standard-compliant products will be introduced in the near future, noted Fusco, and will be produced by several Open-SCS Group member vendors whose research and development teams have been involved in the standard definition. (pwgo.to/3264)
While child-resistance is of the utmost importance for certain pharmaceutical and device packages, there are many products that require an easy-open mechanism for seniors, surgical nurses, and other users.
Rollprint Packaging Products Inc. debuted AUTOBAHN, a fast-sealing, easier opening version of aluminum foil flow-wrap structures (29). The company uses a proprietary process that harmonizes barrier and sealant layers for a composite that has robust sealability, yet requires minimum effort to tear open.
The technology was designed for a variety of applications, including blow/fill/seal vials, diagnostic devices, IV overwrap, and surgical devices. The product line manager at a pharmaceutical company that packages blow/fill/seal liquid vials noted, "You turn the flow wrapper on and this AUTOBAHN material just works." They chose the material because they have "multiple product changes per day. Starts and stops are part of our business model," the end user said. "A must-have for us in the selection process was a material that allows incredible forgiveness without sacrificing the flow wrappers' maximum speed capability."
Although line speeds are greatly improved, hermeticity isn't sacrificed. Another key feature is that AUTOBAHN tears open easily without the added costs that normally accompany traditional laser or mechanical scoring. AUTOBAHN is available with aluminum foil and ClearFoil® barrier options.
An unfortunate side effect of many advanced packaging and shipping systems is the toll they take on the environment. Many disposable products are constructed from plastic, and while they offer benefits in terms of patient safety and convenience, they end up in landfills after use, waiting out hundreds of years in biodegradation time.
Vericool is a California-based company seeking to change that with their "recyclapostable" coolers (30). Debuting at PACK EXPO/Healthcare Packaging EXPO, Vericooler III is composed of 100% recyclable molded plant fiber, with compostable insulation. The patent-pending coolers are customizable and capable of handling dry ice and moisture without effects on structural integrity.
Vericoolers offer an alternative to EPS for pharma and life science products, maintaining temperature for medicines, vaccines, and biological products for up to 96 hr.
With the increase in food delivery services, they are also used for transportation of food kits and meal subscriptions, keeping meals within safe temperature ranges. A recent Rutgers study demonstrated that nearly 47% of 684 meal/food kit items ordered by researchers arrived with surface temperatures above 40 degrees F, outside of the safe consumable range.
Edge loss in the coolers has been reduced by eliminating panels. This allows for a substantially reduced coolant payload, which can lead to reduction in total cost despite slightly higher per-unit costs.
Omega Design Corp. and MACTEC Packaging Technologies partnered to offer blister machines (31) for small-format production of pharmaceutical and health and beauty aid products, including R&D and clinical trial applications. During the show, MACTEC's Nano60 Thermoformer was showcased at Omega Design Corporation's booth. Individually, both companies have made it a focus to develop leading technologies designed in versatile machines with a small footprint.
"Omega is home to continuous innovation," said Glenn Siegele, President of Omega Design Corp. "This new arrangement aligns with Omega's vision of leveraging our expertise and experience with those of our proven partners throughout the industry, to bring the most forward-thinking and advanced solutions to our customers."
The thermoformer has various features that can be modified and added depending on user requirements. It takes forming material through a pre-heater, a forming station, a sealing station, a perforation station, a servo index station, and a knife cut-off station. The system is also suitable for cold forming.
Companies in this article
Videos from VDG (Van der Graaf)