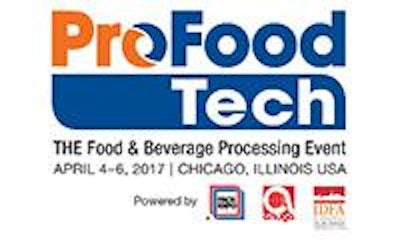 ProFood Tech, a new trade show and conference that will focus on processing technologies and innovations serving the food and beverage industry, will make its debut April 4-6, 2017, at Chicago's McCormick Place. Powered by three of the world's trade show leaders—PACK EXPO, Anuga, and the International Dairy Foods Association (IDFA)—this biennial show is unprecedented in its ability to bring the industry together and address the key issues facing food and beverage processing operators in North America.
More than 400 companies are registered to exhibit, and the show will occupy 150,000 net square feet of exhibit floor space. On display will be technologies and solutions for the processing and production of food and beverages to a trade public from the U.S., Canada, and Mexico. Delkor Systems, GEA, Krones, Polypack, Serac, Tetra Pak, Trepko, Webber/Smith Associates, Webber Scientific, Veolia Water Solutions & Technologies North America, and other companies of relevance for the market have confirmed their participation as exhibitors.
In addition to individual exhibitors, numerous group stands are expected, at which companies of a country will present themselves jointly. Planned are pavilions from, among others, China, Denmark, France, Italy, the Netherlands, and Turkey. The ProFood Tech concept of offering a central technology platform for the food and beverage industry in the NAFTA region, and the stable growth of the world's largest food market, the U.S., is convincing many national and international companies to participate in this exciting new event.
Among the exhibitors is Harpak-ULMA, whose CEO Charlie Harlfinger has this to say about the new show: "There has been a crying need for a truly wide-ranging Food Processing Show for many years now, and I am confident the three organizers of ProFood Tech will turn this into a show the industry sorely needs."
Experts agree that opportunities in the U.S. market are especially good for manufacturers from the European region. EU exports of process technology for the food industry in the U.S. increased in value between 2011 and 2015 by nearly 45%. European companies are poised to use ProFood Tech to present new products. Jan-Udo Kreyenborg, Managing Partner of Kreyenborg Plant Technology GmbH & Co. KG, puts it this way: "The ProFood Tech in Chicago is for us the ideal platform to introduce to the U.S. market our solution for germ reduction of food with harmless, natural infrared light."
Robust educational programming
Among the highlights of ProFood Tech is some truly remarkable educational programming. The ProFood Tech Learning Hub features free Innovation Stage and Regulatory Matters sessions. In addition, IDFA is leading a strong conference program and pre-conference workshops.
At the Innovation Stage, each 30-minute session will focus on breakthrough technologies, innovative applications, and proven techniques. Attendees have the opportunity to learn from industry experts on topics such as hygienic operations, improving sustainability, advanced spray technologies, and using robotic automation to fill labor shortage.
Additionally, as part of the ProFood Tech Learning Hub, ProFood Tech will feature Regulatory Matters, where expert speakers will present on key issues such as the Food Safety Modernization Act (FSMA), recall avoidance, cGMPs, conducting internal audits, traceability, documentation, food safety management, sanitary plant/equipment design, and much more. These complimentary 30-minute sessions will present an opportunity to discuss these key regulatory challenges with experts and peers following each session.
The ProFood Tech Conference Program offers a wide range of educational experiences to engage, inform, and inspire. Each day starts with a big-picture keynote address by an influential leader, followed by a wide selection of concurrent sessions. Several sessions feature groundbreaking research about consumers, the impact of developing innovative products, and how consumers influence product development. The Master Series features provocative discussions about current product trends, and Tech Talk sessions present new ways to improve efficiency and operations.
This dynamic conference program led by IDFA will offer more than 30 program sessions including research and keynote discussions by Nielsen, an internationally renowned data and measurement company, and McKinsey & Company, an advisor to many of the world's leading private, public, and social sector institutions. Their groundbreaking research will highlight product reformulation, breakthrough innovations, and the underlying reasons surrounding fierce consumer dedication.
Eighteen specific consumer packaged goods are transforming the marketplace, according to the 2016 "Nielsen Breakthrough Innovation Report." Investigators from Nielsen, including the co-author of the report, and award-winning brand managers will reveal insights from the study, look at the ways innovative new products are transforming the marketplace, and discuss what it takes to excel in a highly competitive marketplace. This session will be held April 4.
The Nielsen team will also reveal its research on what it calls the "superconsumers phenomenon," a passionate and highly engaged consumers movement, and share what motivates enthusiastic buyers. Armed with extensive research, case studies, and testimonials from senior executives from Anheuser-Busch, Keurig, Sony, and Netflix, Nielsen investigators will shine a light on obsessive consumers, revealing what makes them tick and how these superconsumers can convert other consumers to the benefit of businesses of all kinds. Attendees will also learn how to transform ordinary consumers into more profitable superconsumers, maximize big data, and drive cross-functional alignment. This session will be held April 4.
"IDFA's blockbuster ProFood Tech conference program has taken shape with more than 30 sessions featuring research from renowned experts, recognized leaders in the food and beverage industry, the latest in consumer trends and best practices in food processing and engineering—all in a three-day program," says Neil Moran, IDFA Senior Vice President of Finance, Administration and Trade Show. " For details, visit www.profoodtech.com/conference.
IDFA is also presenting Pre-Conference Workshops that vary from one to three days in length. These workshops include "Better Process Cheese School" from April 2-3, "FSPCA Preventive Controls for Human Food Course" from April 2-4, and "Recall Ready? Managing Recals and Protecting Your Brand Workshop" on April 3.
Attendees interested in hands-on training to improve equipment and plant safety through the risk assessment process should plan to attend the PMMI U risk assessment workshop just prior to ProFood Tech (April 2-3). This workshop addresses topics from legal implications to global standards. Visit www.pmmi.org/education for more information.
Serving an underserved market
As the most comprehensive food and beverage show in North America, ProFood Tech transcends market sectors and showcases cutting-edge technologies and innovative solutions focused on all food and beverage sectors, including baking and snack, beverage, frozen/prepared foods, dairy, and meat/poultry/seafood. Developed with the input of a Who's Who of international food and beverage experts, the show will bring innovations and crossover technologies to meet the needs of not just large multinationals with interests in multiple segments but also the needs of smaller niche companies with their own unique requirements.
"The North American market has been underserved when it comes to food and beverage processing events," says Chuck Yuska, CEO and President of PACK EXPO producer PMMI, The Association for Packaging and Processing Technologies. "ProFood Tech brings the collective resources of three of the world's top show producers—PACK EXPO, Anuga, and the International Dairy Foods Association—to ensure that this will no longer be the case."
Registration for ProFood Tech is $30 for a limited time. The prices will increase to an on-site fee of $100. To register online or for more information about the show and its unparalleled educational offerings, visit www.profoodtech.com.
Peyton Manning to keynote
When it's fourth and goal to go with the game on the line, the seasoned team leader knows which plays will move the team to victory. Legendary quarterback Peyton Manning, the National Football League's only five-time Most Valuable Player and a fourteen-time Pro Bowl selection, is such a leader. With this in mind, PACK EXPO, Anuga and the International Dairy Foods Association could think of no better leader to kick off the inaugural ProFood Tech 2017, choosing the two-time Super Bowl winner as the event's keynote speaker.
Manning is a gifted leader who understands how to build a successful team and lead them to victory, sometimes through difficult circumstances. Like any good business leader, Manning is an inspiration to those he leads. He knows his business and understands how to motivate a team to work together toward a common goal.
Winning Strategies with Peyton Manning will be held April 4, 2017 from 8:00 to 9:15 a.m. in the Arie Crown Theater at McCormick Place in Chicago.