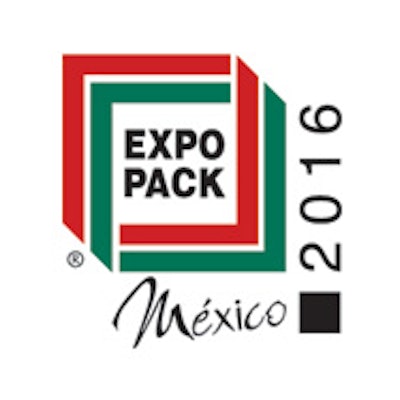 EXPO PACK Mexico 2016 is shaping up to be one of those events that offers a compelling combination of the new and the proven.
First let's take a look at the proven side of this unique event. This will be the 31st edition of this show, and it comes on the heels of a 2015 version that was the largest and most international in flavor in the show's history. More than 25,000 visitors attended the sold-out 2015 show at Mexico City's Centro Banamex. There they visited more than 1,000 exhibitor companies occupying more than 19,000 net square meters (204,500 net square feet) of exhibit space. And what did these buyers in food and beverage, pharmaceutical, personal care, chemical, electronics, textiles, and automotive sectors do over the show's four days? They discovered solutions to their processing and packaging challenges.
"EXPO PACK Mexico's success speaks to the benefits found by attendees from Mexican and Latin American companies when they attend," says Charles D. Yuska, president and CEO of PMMI, the Association for Packaging and Processing Technologies and the owner and producer of EXPO PACK Mexico. "It offers an opportunity to update and improve their production processes and to ensure the positioning of their products worldwide."
Several of the leading food companies will continue increasing their investments in Mexico, as Figure 1 shows. And look at Figure 2 for an idea of which market segments are responsible for importing packaging machinery into Mexico.
Mexican visitors to the 2015 show included buyers from Puebla, Queretaro, Guanajuato, Moreles, and the State of Mexico. International buyers included attendees from Brazil, Colombia, Costa Rica, El Salvador, Guatamala, Honduras, Peru, and Venezuela, among others.
And now for the new part referred to earlier. Despite breaking records annually, EXPO PACK Mexico never stops seeking ways to offer exhibitors and attendees a better event experience. To improve accessibility and accommodate the show's growing needs, PMMI has moved the show to a new venue: Expo Bancomer Santa Fe.
This modern, first-class venue on the western side of Mexico City offers exhibitors an open floor plan, high ceilings, and more than 32,400 square meters (348,750 net square feet) of exhibit space. Visitors will find the convention center easy to access with a modern transportation infrastructure connecting Santa Fe to the entire Mexico City area. For travelers coming from further distances, Toluca International Airport joins Mexico City International Airport as a convenient port of entry close to the new locale.
"EXPO PACK Mexico annually offers the most diverse networking forum in Mexico, providing direct access to leading international and domestic suppliers and strengthening the relationships with buyers in the processing and packaging industries," says Gerardo Barajas, director, EXPO PACK Mexico. "With our experience, we know that attendees each year look for solutions to reduce time and costs, to shorten their production cycle, increase production volume, and find original and innovative value-adding packaging designs."
EXPO PACK Mexico—something proven and something brand new, all rolled up into one great event.
Companies in this article