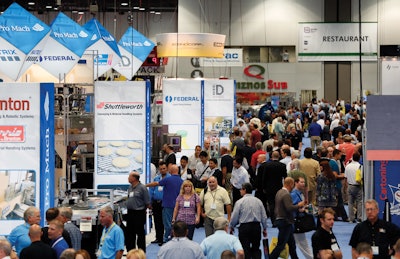 Bigger and better than ever—that's how PACK EXPO Las Vegas 2015 is shaping up. Following, as it does, a 2014 show that was also a record setter, you have to wonder just how big this show can get.
PMMI, The Association for Packaging and Processing Technologies, expects this year's September 28-30 event at the Las Vegas Convention Center to attract more than 2,000 exhibitors who will be showing their processing and packaging innovations to 30,000 attendees in more than 800,000 net square feet of exhibit space. The show will help manufacturers from more than 40 market segments capitalize on current growth by providing access to the latest solutions for enhancing the efficiency, flexibility, automation, sustainability, and productivity of their supply chains.
"By connecting manufacturing professionals and suppliers representing so many different market segments, PACK EXPO events play a critical role in driving manufacturing forward," says Chuck Yuska, President and CEO of PMMI.
One thing making this year's Vegas event considerably more compelling than the 2014 version is the Las Vegas debut of Pharma EXPO—co-located in partnership with the International Society for Pharmaceutical Engineering (ISPE).
Show organizers at PMMI and ISPE are really excited by what Pharma EXPO brings to the table. And they have every right to be, featuring as it will the latest manufacturing advances for the pharmaceutical, biopharmaceutical, nutraceutical, and medical device industries. Pharma EXPO itself will feature more than 200 solutions providers addressing the entire healthcare supply chain. Also part of the mix are educational opportunities to help attendees stay ahead of ever-changing market trends and regulations. The Innovation Stage at Pharma EXPO (Booth #N-559) will offer free half-hour educational sessions from industry experts, highlighting new technologies and ideas for pharmaceutical and medical device manufacturing.
In addition to the Innovation Stage, the show will also feature ISPE's world-class conference program, with tracks concentrating on manufacturing operations (Monday, Sept. 28), compliance trends (Tuesday, Sept. 29), and pharmaceutical packaging (Wednesday, Sept. 30). Schedules for the Pharma EXPO Conference Program and the Innovation Stages at Pharma EXPO and PACK EXPO can be found on page 74 or online at Pharmaexpo.com. Session tickets are available individually and in one-and three-day packages. Tickets can be purchased before Sept. 14 to save up to 35%.
"Co-locating these two shows offers a powerful opportunity to share ideas across industries," says Chuck Yuska, President and CEO of PMMI. "We're delivering the best of both worlds to attendees who need solutions now and in the future. PACK EXPO and Pharma EXPO offer a unique opportunity to find inspiration and 'cross-pollinate' ideas across applications and industries."
'A new level'
Veteran PACK EXPO attendee Paul Davis, a project engineer with HearthsideSolutions who attended PACK EXPO International 2014 in Chicago, says the co-location takes PACK EXPO to a new level. "I've attended at least a dozen PACK EXPO shows," says Davis. "The addition of Pharma EXPO is definitely a highlight. So many technologies in pharma are applicable to food and vice versa. That synergy is great."
To help attendees make the most of their time at the co-located events, PACK EXPO Las Vegas and Pharma EXPO 2015 will include a variety of customer-centric features designed to direct them to the technologies they need. Pavilions include The Processing Zone, a hub for processing innovations, and The Brand Zone, a showcase for materials and containers to shape brands. Attendees from the baking and snack, beverage, and confectionery sectors can network with peers and suppliers at their respective industry-specific lounges—The Baking-Snack Break, The Beverage Cooler lounge, sponsored by Tetra Pak, and The Candy Bar. They can also gain strategic insights on material and equipment trends, regulatory challenges, and best practices to advance operations with free on-floor educational programming at the Innovation Stage and at exhibitor booths.
Also returning is the Center for Trends & Technology (CTT): Improving Production Through Innovation (Booth #C-4829). Sponsored by Rockwell Automation® and its PartnerNetwork™, this PACK EXPO-exclusive educational feature uses a series of displays and seminars to address critical issues including productivity, sustainability, agility, and other key drivers of manufacturing success. Rockwell Automation PartnerNetwork participants including Cisco Systems, Grantek Systems Integration, Microsoft, and Stone Technologies will bring their expertise to this year's edition of CTT.
"The speed at which automation technologies change makes staying abreast of developments in hardware, software, and industry drivers absolutely critical," says Cheryl Lange, Commercial Program Manager at Rockwell Automation. "But it's challenging. Our goal for CTT is to have every attendee who visits leave with a new understanding of what's available and how their choices affect their operations."
"CTT is about ideas, innovation, and insight," says PMMI's Yuska. "It focuses on the latest advances to improve production, the forces driving change, and what it all means to manufacturers. This is critical knowledge for anyone hoping to improve productivity and efficiency."
PACK gives BACK
What would PACK EXPO be without a solid dose of big-time entertainment? PACK gives BACK returns to the Las Vegas show with legendary and horn-intensive rock band Chicago. Scheduled for Monday, Sept. 28 at 4 p.m., this event has become a tradition for PMMI. It's open to industry professionals with a portion of this year's ticket sales going to Fisher House Foundation, which is best known for a network of comfort homes where military and veterans' families can stay at no cost while a loved one is receiving treatment.
"When we added post-show networking and entertainment in 2011, we soon realized that these annual PACK EXPO events would be a great opportunity for our industry to give back to those in need," says Yuska. "This year we have chosen Fisher House for the selfless work they do providing comfort to the families of wounded veterans." Title sponsors of PACK gives BACK are Pro Mach, Inc. and DuPont.
Chicago will be sure to draw a big audience. Now in their 48th year, Chicago is the first American rock band to chart top 40 albums in six decades, producing hit after hit like "Saturday in the Park," "Baby What a Big Surprise," and "Does Anybody Really Know What Time It Is?" The band's debut album "Chicago Transit Authority" is in the Grammy Hall of Fame, and Billboard Magazine lists Chicago at 13 on its list of Top 100 artists of all time, the highest charting American band.
"I'm excited to have a band with their string of hits attached to PACK EXPO and the PACK gives BACK event," says Jim Pittas, Senior Vice President, PMMI. "We are looking forward to raising some serious money for Fisher House."
Also back in the PACK EXPO lineup is the Food Safety Summit Resource Center, organized and brought to you by BNP and co-sponsored by G.E. (Upper Hall, Booth S-7632). This resource center will offer free 30-minute presentations and one-on-one consultations from leading Subject Matter Experts that address key issues and solutions on food safety. Stop by to discuss specific food safety challenges, learn about the latest breakthroughs, and gain insight into potential solutions. Presentations will cover such critical food safety issues as regulatory trends, the Food Safety Modernization Act, active packaging, pest control, traceability, food fraud, allergens, sanitation, and training.
Amazing Packaging Race
PMMI has always recognized the importance of packaging education, which is one reason the Amazing Packaging Race is returning to PACK EXPO Las Vegas. For the fifth consecutive year, ASCO Numatics will sponsor the event.
"We're grateful to ASCO Numatics for the important role it plays in supporting packaging education, and for its consistent sponsorship of the Amazing Packaging Race," says PMMI's Maria Ferrante, Vice President Education and Workforce Development. "ASCO's enthusiasm motivates packaging students to engage in this field, and that benefits the industry as a whole. That's one important lesson. What's just as critical to their ultimate success is how quickly they're forced to work together," she adds, noting that PMMI intentionally assigns students from a mix of schools to each team. "The race becomes a series of teachable moments. Teamwork, hands-on packaging skills, and networking—these are decisive factors in how the students will perform in their careers."
The race will take place on Sept. 30, the last day of the show. Racers will wind their way through the exhibit halls, completing tasks for points at participating booths. The race concludes at 1:00 p.m. at the ASCO Numatics booth.
"ASCO Numatics is proud to sponsor the Amazing Packaging Race again, as it allows us to give our up-and-coming workforce a comprehensive view of how exciting and dynamic a career in packaging can be," says ASCO Numatics' Robert W. Kemple, Jr., Executive Vice President Sales and Marketing-Americas.
Also on the education front, the annual PACK Solutions Challengestudent contest, sponsored by B&R,pits colleges and universities against one another in creating a packaging solution to a complex problem. A panel of industry professionals will judge the popular contest.
Two additional PACK EXPO Las Vegas learning centers that attendees should be aware of are the one focused on reusables and the one featuring contract packaging. Whether your organization is just starting to explore the concept of reusables or has extensive experience with reusable transport packaging solutions, you'll gain valuable insights in the Reusables Learning Center. Sponsored by the Resusable Packaging Association, this center offers free education sessions on how to integrate reusables into your supply chain and leverage their many benefits. The lineup of sessions will include topics on the fundamentals of implementing reusables, end-user accounts by veteran users and by the winner of the 2015 Excellence in Reusable Packaging Award, and research/updates from suppliers.
Contract packaging solutions
Finally, the Contract Packaging Association will host the Contract Packaging Sourcing Center (Booth #C-1257), which will be part of the Partner Pavilion and will showcase the core competencies of 16 contract packers. PMMI's Yuska describes the display, exclusive to the PACK EXPO portfolio of trade shows, as a connection point.
"The Contract Packaging Sourcing Center is one example of how PACK EXPO and Pharma EXPO connect brands with top-tier solutions providers for their manufacturing operations," Yuska says. "It's a clear starting point for attendees investigating contract packaging as an option, whether they are launching a new product, planning a seasonal packaging campaign, or looking for new efficiencies."
Representatives at the Contract Packaging Sourcing Center will offer insight on how to find and utilize a contract packager, says John Mazelin, executive director, CPA. "CPA members know that at PACK EXPO they will connect with brands hungry to innovate and technology providers who can help them bring their contract packaging business to the next level," adds Mazelin. "That's why we launched the Contract Packaging Sourcing Center last year and why we're bringing it back for PACK EXPO Las Vegas and Pharma EXPO 2015."
CPA will provide additional guidance in its Innovation Stage session (Tuesday, Sept. 29 3:00 to 3:30 p.m.). In "What you don't know can HELP you—the benefits of contract packaging," a CPA representative will explain the variety of capabilities contract packagers and contract manufacturers can bring to a partnership with a brand owner.
To learn more or to register for PACK EXPO Las Vegas and Pharma EXPO 2015, visit packexpolasvegas.com.
Professional development opportunities
Get more out of your trip to Las Vegas by adding a training workshop to the beginning or end of your stay:
• The Risk Assessment Workshop, Sept. 26-27—During this two-day workshop, students take a hands-on approach to understanding and learning how to conduct risk assessment in their plants. For details, contact Fred Hayes at fhayes@pmmi.org.
• Certified Trainer Workshop, Sept. 29-30 (during the show)—Gain the strategies and tactics to train service technicians, service and training managers, maintenance technicians, internal trainers, line supervisors, and any employee tasked with training fellow employees or customers. For more information, contact Dawn Smith at dawn@pmmi.org.
• PMMI Education & Workforce Development Pavilion—Here you can learn about the following:
- eLearning—Convenient online courses cover the basics of plant operations and are available for employees to complete any time, day or night.
- Certified Trainer—PMMI's "train-the-trainer" program is an empowering and valuable investment in someone on your staff.
- Mechatronics Certificate Tests—Recognized by the U.S. Department of Labor, this series of assessments helps you advance your skills or those of your team.
- PACK Pro Jobs—PMMI's resource for packaging and processing careers is a great place to find or post job openings.
Companies in this article