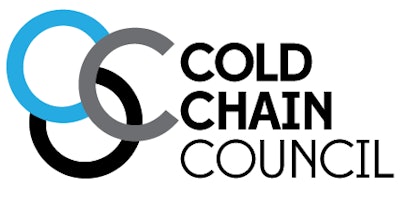 Speaking to the Cold Chain Council in Chicago in early October, Ulrich talked global serialization, how to secure a global supply chain, and how to add value beyond compliance. He said that while a pharmaceutical manufacturer may think they are "done" with a product after it is produced, counterfeits and diversion exist, so companies must consider how to safely get the product from manufacturing facility to the patient.
"How do you know you're making and distributing a good product?" asks Ulrich. He goes on to say that the biggest consideration right now is the Drug Supply Chain Security Act (DSCSA), and in the EU, the Falsified Medicines Directive (FMD), and they are both part of government's Good Distribution Practices (GDP) program. These directives include temperature management, info compliance and serialization, among other good business practices.
"GDP's are the core competencies of temperature management," said Ulrich, "Ship it right, deliver it right, maintain it right." Other GDP's include serialization, importation control, supplier control, and controlling internet sales where counterfeit, stolen or diverted product may be sold. EU Safety Features (and all government regulations are heading this way, according to Ulrich) include a 2D matrix barcode which make the sale of a unit unique. By 2023, said Ulrich, the consumer should be able to track the lot, expiration date serialization number, etc. of the drug they purchase, and the serialization number should not be able to be used again, which should tighten up the supply chain. "It's the right saleable unit that's not been adulterated."
According to Ulrich, the wholesaler or consumer needs to know: "What did you buy? Is it the right thing, the right quality?" And the manufacturer needs to know: "Can you put it away, can you find it, ship it and move it where it needs to be?"
Ulrich said that at Abbvie, "Because we ship product that can't get too hot or too cold, temperature control has to be innate to the process. Import/export compliance, track and trace, serialization, supply chain risk and security, device management and value-added services are all part of the Abbvie process." Production, qualification and validation, computerized systems and packaging and labeling are all part of the larger process categories.
APEC and the FDA have created a "Supply Chain Security Toolkit for Medical Products" to help with GDP, that includes:
Good manufacturing practices
Good distribution practices
Good import/export practices
Clinical and retail pharmacy practices
Product security
Detection technology
Internet Sales
Track and trace system
Surveillance and Monitoring
Single Point of Contact
Ulrich said the government is expecting pharma to put tools in place to protect their own products. The wave of the future is patients and insurance companies not reimbursing pharma if products don't benefit the patient - health economic outcomes. Some products already go out without reimbursement for 3 months, to see if there is an economic benefit to the patient.
"How do I make my digital supply chain better?" asks Ulrich, and "What is the value beyond being compliant (with Serialization)?" Some of the answers, he says, are the following:
Reduce medication errors in hospitals (bedside scanning) – last year 136,000 people in the US died from mis-dosed product, so barcodes from the manufacturer should have all of the necessary information on it.
Optimized inventory management
Better controls over the return process (e.g. in case of recall)
Patient adherence (e.g. mobile apps for correct dosing)
Electronic patient information such as eLeaflets
More efficient supply chain (scan pallet/case label)
Future trends and events of importance that are "coming our way" include:
The FDA is reorganizing to provide a higher level of education and digital knowledge.
Smartwatch devices - Apple, Fitbit and Samsung want to get into the clinical supply chain by tracking patient dosage information. How will that be regulated? "Use of wearable devices is increasing in clinical trials with more than half of the clinical trials employing these devices by 2020."
"A skills gap in infrastructure and operations will cause 75% of organizations to experience business disruptions by next year." (Gartner) "We're already behind the ball here," says Urlich, "young people grew up knowing technology and big data is easier for them."
Clinical Nurse Educator Programs – to teach patients how to use complex products and monitor their use.
Real-time benefit check and ePrior Authorization Summit – Digitization is a dominant theme of supply chain, and Blockchain is the wave of the future. E-invoicing and digital transformation are now core strategic elements in virtually every large organization.
Medication delivery by drone – patients will be able to track delivery stats of product online or via app.
Amazon's "Haven" joint health-care venture with J.P. Morgan and Berkshire Hathaway is focused initially on making healthcare more efficient for the 1.2 million people employed by the three companies but could potentially expand its breadth to supply pharmaceuticals via the purchase of smaller manufacturers.
To learn more about the Cold Chain Council click here.