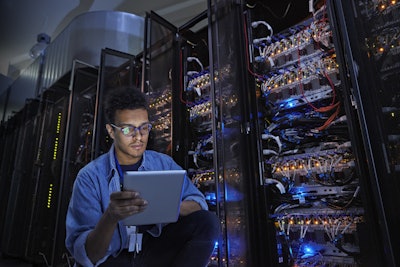 In November and December of 2017, ground handlers in Germany went on strike in Bremen, Cologne, Frankfurt and Munich. A shipment of IBM mainframe computers was stranded at the Frankfurt airport, and IBM logistics figured it was stored in one of the airport warehouses. Little did they know the million-dollar shipment of hardware was sitting on the tarmac for 25 days in blizzard conditions!
Even with plastic wrapping to prevent moisture from getting in the product, the protective packaging layer was not adequate. The crates were delivered with 4 inches of standing water in the bottom. Needless to say, the shipment was a total loss and resulted in a very unhappy customer. IBM management was even more upset than the client.
Shifting weather patterns have played havoc with IBM shipments. One rack system was moved inside directly from sub-zero temperatures, and condensation formed inside the hardware for another total loss. At times, crates would fall over but not appear damaged from the outside. Hidden damage causes a lot of finger pointing, and no one in the supply chain is willing to admit fault. Visible damage to the outer package of electronics or software, even if the contents are unharmed, causes worry for the customer as well. Insurance claims for expensive damage have been denied because IBM could not prove provenance at the time of damage.
Now the logistics and packaging team use the Internet of Things to track the hardware shipments.
There are 10 billion devices connected to the internet today, according to IBM's Senior Technical Staff Member for Packaging Technology, William Green. And that number is expected to grow to 70 billion in the next decade, says Green.
"It's one thing to track a shipment from point A to point B to point C", says Green. "It's another to monitor conditions like temperature, shock, vibration, and moisture." Not only has connectivity and speed increased in the past five years, the cost of MEMS sensors (microelectromechanical) has decreased 80 percent.
The infrastructure now exists for mass data transfer in all but the most remote areas. Lost or misrouted shipments can be located in minutes versus days. One mainframe ended up in India instead of Topeka, KS. and took weeks to find. IBM can track at all three levels--the package, container and vehicle. With IoT, IBM can combine feeds from difference devices and sources into one dashboard for real time visibility into the shipment. Health of the delivery can be monitored for cold chain adherence, shock, vibration, exposure to light, and tampering. GPS can pinpoint where a shipment is at any given time. Even in the air when sensors can measure but not transmit, airlines provide transponder data to continue monitoring location in real time.
Near instantaneous alerts for a shipment in distress allow IBM to mitigate and recover the damaged shipment and communicate with the customer proactively before they get upset. This is tremendously important for IBM customer relations and building trust with these multi-million-dollar orders.
Green is excited about the future when they can start taking the data that is being captured and use artificial intelligence to make predictions about the most secure route. Analytics could include product data, weather, mode of transport, carriers, historical data, etc.
Battery life differs from device to device and can be problematic, says Green, varying from two weeks to four months depending on the battery, sampling rate and sensors. This can affect resolution of information—are we pinging a signal every 15 minutes, three hours or daily?
In the future, Green hopes that shock can be monitored in a more meaningful way for IBM. With current sensor technology, it's hard to determine exactly what happens or measure how much. Shock sensors issue the greatest number of false alerts for IBM. Alarm fatigue can cause operators to ignore repeated alarms.
There are impediments to faster growth of IoT technology solutions. Many projects have cost overruns, quality and governance issues. Legal and compliance issues on data privacy and other regulations vary from country to country. For instance, Mexico requires a separate customs declaration for a GPS device.
Operationally, it is difficult to administer a logistics program with so many stakeholders involved in the ecosystem. Governance is a challenge.
However, the technology--sensors and batteries--is getting better and better and 5G promises to open up new possibilities in IoT logistics.
William Green's presentation opened day one of ISTA (International Safe Transit Association) TransPack and TempPack in Denver, CO May 13-15.
ISTA's Omni-Channel Packaging Strategies Conference will take place in Chicago, Oct. 2-3.
Companies in this article