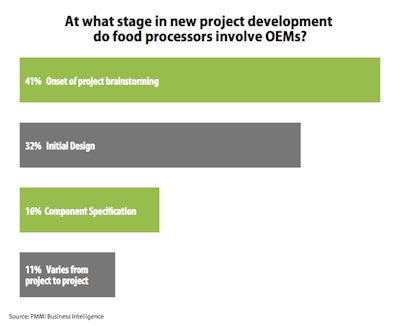 One director of process improvement said, "OEMs need to understand our business better by putting more time and effort into learning our business."

"We are moving to more strategic OEM partnerships after decreasing our engineering staff by three-fourths," said a director of manufacturing for a beverage company. "We now need to leverage the industry's expertise."

One director of engineering for a snack food company noted, "We involve the OEM at the component specification stage and look to the OEM to make machines more efficient."

A vice president of global engineering for a cereal company said, "We release a request for proposal before the project is even initiated and selected OEMs get involved once the RFP is awarded."
Source: PMMI Business Intelligence: Trends in Food Processing Operations, 2017.
For more on equipment purchase plans, market segment forecasts, etc., download the entire study here.