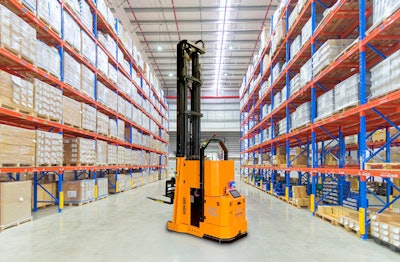 It is the industry's first fully autonomous mobile robot designed to automate racking and picking operations at high bay warehouses.
The MAX-N High Bay works with existing warehouse infrastructure so there's no need to invest in new racking systems or pallets and installation can be complete in weeks. The MAX-N High Bay exceeds ANSI safety standards and travels along a network of approved, predictable paths to decrease workplace risk for employees in shared workspaces.
Using SurePath Enterprise software, MAX-N High Bays receive data from existing order management and warehouse management systems (WMS) and can be quickly deployed to complete a wide array of high bay operations. SurePath Enterprise defines the most efficient route for each job.
Other key features of the MAX-N High Bay include:
• High-tech LiDAR scanners and SLAM technologies that map the facility in real time for no-tape-required navigation and obstacle detection—even in low-light conditions.
• Smart pallet and rack detection sensors for precision picking, providing the ability to identify empty pallets and track down a specific LPN among a full stack of pallets.
• Non-contact collision avoidance technology to protect employees and built-in sensors to detect overhung obstacles for safer autonomous lifting in narrow aisles.
• A flexible on-board touchscreen so floor workers can quickly switch to manual mode.
• Counterbalance mechanics built into the base AMR so it can drive right up to the rack for faster picking and placing on tall storage racks.
"As part of the new AutoGuide Mobile ASRS, our autonomous MAX-N High Bay can safely and efficiently transport materials from the receiving dock directly to the storage racks without the need for conveyor systems or other inflexible material handling infrastructure," Sullivan said Rob Sullivan, president and CEO, AutoGuide."When connected to detailed, facility-wide inventory awareness, the MAX-N High Bay can get material exactly where it belongs."

Companies in this article