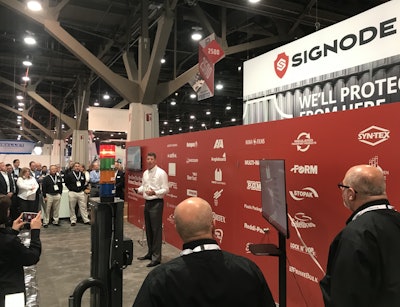 At a breakfast announcement held shortly before the PACK EXPO Las Vegas doors opened, Signode unveiled a new brand position, along with a new shield-inspired logo and corporate message, "We'll Protect it From Here," to reaffirm its identity as a global partner in transit packaging solutions. A new web presence available at www.signode.com accompanies the new branding and updated messaging. The website reinforces the one-Signode theme and will showcase all the products, services, and solutions that Signode has to offer.
"We couldn't be more pleased to introduce Signode's refined direction with our customers, supply-chain partners, and packaging industry leaders here at Pack Expo," said Signode's President Bob Bourque. "Our new brand underscores and amplifies the expertise and solutions that make us the world's premier transit-packaging provider: the products, services, capabilities, and personnel that deliver the safety, quality, and responsiveness our customers rely on. The new brand identity and the message 'We'll Protect it From Here.' communicates that our core competency is to provide customers safe and effective transit packaging solutions. Signode enables our customers to focus on their core competencies: making great products and building their brands."
With more than 80 manufacturing facilities and over 7,000 employees worldwide, Signode is a leading manufacturer of a broad spectrum of packaging consumables, tools, software, and equipment that optimize end-of-line packaging operations and protect products in transit. Signode brings this extensive product portfolio together under hundreds of trusted brands to offer complete transit packaging solutions to its customers.
Two tech pairings featured
At PACK EXPO 2019, Signode is featuring two technology pairings that underscore its ability to seamlessly integrate optimized transit packaging solutions that improve product integrity, enhance packaging efficiency, and increase worker safety.
"Customers benefit from our global footprint, investments in innovation, and understanding of the market trends that are impacting their businesses," Joe Albert, VP of Sales & Marketing, Stretch Technologies at Signode. "Our featured technologies have been delivering rapid ROI with our European clients and we're thrilled to show current and prospective North American customers how collaborating with our packaging specialists can meet their challenges, particularly in fast-growing e-commerce."
The first transit packaging combination comprises the H. BOHL orbital stretch wrapper and Little David Case Sealer SP-304. Widely specified in E-commerce applications in the EU, the orbital wrapper secures products to trays and the case sealer enables proper closure and sealing of the protective box.
Recently introduced in North America, the H. BOHL orbital stretch wrapper eliminates loose fill packaging material by providing superior load stability. The product is first placed on a suitable tray, with material type, size and weight determined by product, and placed inside the wrapper. The unique orbital design wraps the stretch film over and under the product, tightly securing it to the tray. After the product is placed in the outer box it is safely secured, minimizing or in some cases eliminating additional product protection or donnage.
North American manufacturers are discovering the Bohl is an ideal load stabilizing solution due to its intuitive design, high speeds, low material cost, maximum uptime, low noise operation, minimal setup times, and ability to link together with automated production lines.
When coupled with the Little David Case Sealer SP-304, the tray packing system delivers optimized results. Engineered for a range of uniform cases and industrial environments, it reduces labor costs associated with manual case sealing. Its automated three flap folder, with universal bottom flap folding bars, provides fast and uniform closure while automated taping seals the box. Equipped with interchangeable tape cartridges and top squeezer rollers, the Little David Case Sealer SP-304 features an automated Caselocker STTM tape cartridge that requires no lubrication and helps avoid the twisting motions known to cause carpal tunnel syndrome. The tape cartridge's knife guard system means that workers are not exposed to the blade as it is only exposed when the rollers have been depressed.
The second transit-packaging pairing features the Octopus™ Compact 20 automatic rotary ring stretch wrapper working in concert with StorFast, Signode's cart-based, high-density automated storage and retrieval system.
Octopus™ Compact 20 automatic rotary ring stretch wrapper is versatile for a variety of applications and environments. Compact and intuitive, the technology is engineered for manufacturers looking to increase productivity without compromising space or budgets. The modular design of the machine further allows for customized options to solve a host of pallet unitizing challenges.
The benefits of the Octopus™ Compact 20 are multiplied when combined with StorFast, Signode's high-density automated storage and retrieval systems (AS/RS). Widely used in the EU and increasingly in demand in North America, StorFast offers a full range of material handling solutions. It possesses superior cost and performance advantages when compared to other traditional automation systems. The modular, scalable AS/RS system can also be expanded as capacity requirements and SKUs increase- doubling building capacity for some clients.
"We invite all show attendees to come and witness and learn about these dual technologies in addition to a wide variety of transit packaging solutions," says Albert.
Companies in this article